DAY 5 OF FITNESS – Sivananda Yoga at Concourse Athletic Club
By Halen Adair
Name of fitness facility
Concourse Athletic Club
Name and length of class
Sivananda Yoga – 1 hour 15 minutes
Name of instructor
Shalondra Dahunsi
What do attendees need to know before class starts?
Arrive about 10 minutes before class to grab your mat and towel and find a place on the floor. No shoes are necessary for this class so make sure to bring socks (if you wish)!
How would you describe this workout? How does it compare to similar classes you've taken?
This workout is the perfect way to reset and refresh. Throughout the workout, you are stretching and doing different yoga poses that focus on your strength and your flexibility. Planks are used throughout this workout, but Shalondra makes sure it's just the right amount to where you are getting a good amount of workout without all the stress added to the body. I am not a big yogi so anything yoga is pretty new to me. Shalondra's Sivananda class is designed for every level yogi from advanced to beginners. There is also a wide range of ages and lots of males who also use this class as a retreat away from home and the other more high-intensity workouts the concourse classes have to offer.
What muscle groups did this class work the most? Was it a great workout for your abs, butt, arms, etc.?
Sivananda yoga targets your full body. You have to use a lot of your core muscle groups to stay balanced, especially doing the three-legged dog! You also use alot of breathing techniques to help you remain focus and level.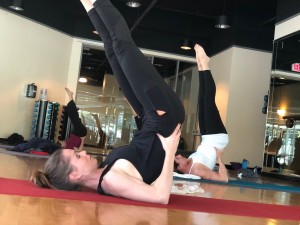 Did the instructor do anything to make the class extra special?
Shalondra is one of my favorite instructors. Her positive, calm energy radiates throughout the class. She always brings the best music, very calm and peaceful. She also brought along her aromatherapy so accents of lavender filled the room. There's also a part of Sivananda at the end where she allows everyone to put a towel over them for warmth and leads a meditation for about 10 minutes. It's an amazing way to really take the stress out of every part of your body and find your sense of calm which truly is the essence of this class.
How did you feel before, during, and after the workout?
Before this class, I had just done another class the Concourse provides called, "Cardio Conditioning". So, I was exhausted and my muscles were already stiffening. This class couldn't have been a better way for my body to loosen and heal. During Sivananda, my body was tested but not too an extreme. This class is more about focusing on your different muscle groups and creating an awareness of your body whereas other workouts are more go go go. It's such a nice change of scene, and my body is certainly thanking me for going. After the workout, a calming feeling took over me. I felt so refreshed and ready to take on the week ahead!
For a full recap of the class watch our Facebook live with Atlanta Best Media founder, Sherri Adair,  instructor Shalondra Dahunsi, and Motherhood Unstressed blogger Lizzie Carlile here.
What was the most enjoyable part of the workout?
My favorite part about the workout was the stretching components Shalondra shared. After my crazy week of trying all these new workouts, my body was in dire need of a relax and reset. The music selection along with the lavender essential oil was the perfect pair to a beautiful and calming experience.
Any other feedback you'd like to give about the Sivananda Yoga workout?
If you are new to yoga or just looking for a nice escape from the everyday hustle and bustle, this is a workout you do not want to miss. Shalondra is an amazing instructor who cares deeply about her practice and students. Sivananda is a great class for people who need time for reflection, meditation and discovery of self awareness. I would highly recommend giving Sivananda a try, even if you're a new yogi such as myself. You will always be welcomed in Shalondra's class with open arms and open hearts. Namaste.
Details: 8 Concourse Pkwy, Sandy Springs, GA 30328; Wellbridge.com/Concourse-Athletic-Club