TV Host and Corporate Emcee Tom Sullivan Gives Back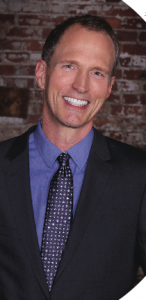 Media personality Tom Sullivan knows how to roll with the punches. His humble flexibility has allowed him to not just survive in an ever-evolving field, but to thrive.
Most people know Tom Sullivan. For decades, he's been a vibrant voice on the radio, a contagiously energetic personality on TV, he's made events memorable and he's popped up around town promoting various businesses and fundraised for heartfelt causes like SafeHouse Outreach, FOCUS + Fragile Kids, and SERV International. His passion for people inspired his start, and what he's done with that gift has made the ebb and ow of his nontraditional workweek worth every minute.
In 2010, he left his radio job to explore other options that could feed his strengths and expand his love for people and their stories. Molding a job into the career that he wanted has helped him remain a prominent, recognizable face (and voice) throughout various media platforms, and focus his energy and talents on the things he's truly passionate about. He's been able to adapt to a changing media landscape by adding several facets to his talent résumé, which now includes voice-over work, hosting Facebook LIVE videos, and broadcasting from around the country.
Throughout the years, he's found that it's important to know exactly who you are, learn from your experiences and continue growing. For Sullivan, that also meant an even deeper evolution in his own career. His mantra is: Put God first. Be yourself. And, it isn't about the money.
"I remember growing up in radio watching the Grammy Awards and seeing many artists start their acceptance speech by saying, 'First, I want to thank God.' I grew to understand how important that is to me. All of my success, everything is because of Him," says Sullivan. "I've stopped trying to be someone I'm not. There's only one Tom Sullivan and that's why I'm hired. When I started my career, I was chasing the dollar, doing any gig that paid. Now, I don't sacrifice my integrity or beliefs when booking an event. If the client doesn't value me or what I bring, I pass."
As he reflects on his personal growth, he advises others to "Keep growing, listen, and ask questions. Life is a journey, never stop learning."
www.tomonair.com | www.facebook.com/hostandemcee | www.instagram.com/TomSullivanHost | https://twitter.com/TomSullivanHost