Emmy-Award Winning Makeup Artist and Entrepreneur Nyssa Green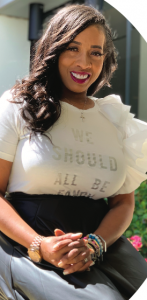 With the twirl of a blush brush, Nyssa Green became more than just a makeup artist—she became an entrepreneur that saw a unique opportunity in Atlanta's beauty industry.
Rome wasn't built in a day but Nyssa Green's booming beauty business practically was. The first day after Green did Monica Pearson's makeup in the late '90s, her brand took off. In fact, from doing Pearson's makeup to primping and prepping the team at CNN and being recruited by other local celebrities, Green founded her own booking agency in just a few months. The Green Room Agency was the first of its kind in Atlanta—a boutique agency for freelance talent in hair, makeup and styling services.
Since then, she's worked for numerous news anchors, mayors, presidents, movie stars, music titans, football teams, reality shows and more. In her chair, John Amos has spilled untold secrets from the set of "Good Times," Diane Warren shared her favorite cover of her song, "How Do I Live," and she's had serious girl talk with 11Alive and former Olympics correspondent Cheryl Preheim. She has six Emmys for her work in TV, and continues to train, manage and represent some of the city's hottest talent, earning her an expert beauty reputation synonymous with excellence.
"I love to be able to talk women into letting me go for it," says Green. "But I've learned to listen, more than I work. People are allowing me into a space that usually they are the only person in. Who else gets that close to your lips? Who else gets that close to your eyes? It's a big deal to me and I don't take it lightly, because it is such a personal thing." When she's not working, you'll find Green at home with her dogs, Bear, Keva, and Oreo— three of the reasons she's passionate about working with the Doggies on the Catwalk Foundation charity fashion show. She loves shopping and finding new foodie gems with girlfriends, and still gets giddy over anything beauty and makeup.
Meanwhile, The Green Room Agency continues to add new talent to its team, establishing the brand as a trusted source for hair, makeup and image development.
"When I first started, makeup artists were only behind the scenes," Green says. "Now, we're influencers building makeup brands, and more out [in] front. And there's going to be even more of this as the industry grows."
If it's at the hands of Nyssa Green, we can't wait.
www.thegreenroomagency.com | www.facebook.com/GreenRoomAgency | www.instagram.com/NyssaG | www.instagram.com/TheGreenRoomAgency