Recipe to Try: Cilantro Lime Chicken Kabobs with Riced Cauliflower and Garden Vegetable Salad
Four Seasons Hotel Atlanta Executive Chef Michael Patria is back with another easy and healthy recipe. As Chef Patria embarks on a weight loss journey this summer, each month he's sharing a nutritious recipe that he's been loving lately.
These Cilantro Lime Chicken Kabobs with Riced Cauliflower and Vegetable Salad are the perfect go-to for a fast fresh meal.
"One of the things I love about this dish is that it's not only delicious, but it's very quick to prepare. Working long hours and trying to fit in time to get to the gym or get in some form of exercise does not leave me much time to make healthy meals. Being able to pull something together in under fifteen minutes is key," says Patria.
Cilantro Lime Chicken Kabobs Recipe
Ingredients
Kabobs
Skewers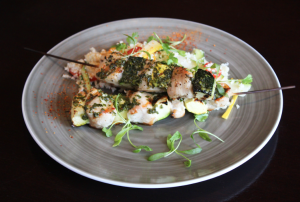 7 ounces of chicken breast
1/4 zucchini
1/4 squash
1 tablespoon chopped cilantro
1 tablespoon chopped parsley
1 lime
1 teaspoon + 1 tablespoon EVOO
1 cup riced cauliflower
1/4 cup peeled zucchini ribbons
1/3 cup peeled squash ribbons
4 grape tomatoes sliced into rings
Salt and pepper to taste
Garnish
1 tablespoon cilantro or micro cilantro
Dusting of espelette pepper or chili powder to taste
Procedure
Dice the zucchini, squash and chicken into 1-inch cubes. Thread chicken, squash, and zucchini onto skewers, alternating between vegetables and chicken. Season with salt and pepper to taste. Place on grill at 425 degrees. Cook for 2-3 minutes per side until chicken reaches 165 degrees internally.
Mix half the juice of the lime with 1 teaspoon of olive oil, parsley, and cilantro. Set aside.
Combine the riced cauliflower, zucchini and squash ribbons, and tomatoes. Mix with the juice of the remaining half of the lime, 1 tablespoon of olive oil, and salt and pepper to taste.
Once the kabobs are done, brush lightly with herb mixture.
Place cauliflower salad in the center of the plate and gently rest kabobs against the cauliflower salad.
Garnish with cilantro and chili powder.
Enjoy!