DAY 3 OF FITNESS – Pure Reform at Pure Barre Atlanta – Buckhead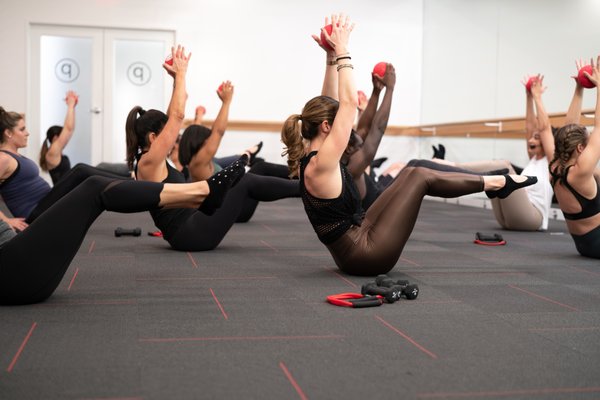 By Halen Adair
Name of fitness facility
Pure Barre Atlanta – Buckhead
Name and length of class
Pure Reform / 50 minutes
Name of instructor
Merrick LaLiberte
What do attendees need to know before class starts?
Plan to arrive 15 minutes before class begins. Be sure to bring socks, pants that cover your knees (for protection) and a water bottle—they will supply you with everything else! If you are a first-timer, arriving early is especially important so that the instructors are able to tell you about the different modifications you may need to use throughout the class. Also, they will be there to help you set up your station and explain the equipment to you.
How would you describe this workout? How does it compare to similar classes you've taken?
This full-body workout is very challenging and technique focused. You use two types of resistance bands, one is called an "upper tube" and the other is a "lower tube," along with two slider disks. This workout doesn't compare to many other workouts I have done, but that is what I loved about it. This class makes you listen to your body and hone in on those problem spots, or as Merrick would call them, "pockets," that you hardly focus on during other workouts.
What was the hardest part of the workout?
Concentrating on those weaker muscles. I am no amateur at working out, but after leaving Pure Reform, I found about three new muscles I never even knew I had.
What was the most enjoyable part of the workout?
There was absolutely no pressure to keep up with everyone in the class, which allows you to decide your own level. There was also a great selection of funky dance music and toward the end of the workout, they dim the lights so you can relax.
Any other feedback you'd like to give about the Pure Reform workout?
Pure Barre was such an amazing experience and I am proud of myself for finishing such a difficult class. The studio is super chic and has an adorable selection of merchandise to choose from and plenty of parking outside.
I would highly recommend giving Pure Barre a try, especially if you have ballet, dance, or gymnastics experience. This will be right up your alley! And even if you don't have a background in any of those things (like myself), you will be welcomed with open arms and you will get one of the best workouts of your life in less than an hour. You can't beat that!
Details: 3145 Peachtree Rd. NE., #169, Atlanta, GA 30305; PureBarre.com/Ga-Atlanta
Follow along with the rest of our 30 Days of Fitness Classes here.