Staycation Heaven and the Peachtree Road Race
Atlanta Best Media editors Alex McCray and Laura J. Downey share their experience at the 50th anniversary of the Peachtree Road Race and a stellar staycation at W – Atlanta Buckhead.
By Alex McCray
Ask anyone in Atlanta and they will gladly tell you that the Peachtree Road Race is more than just the world's largest 10K. The run is a city tradition that is as synonymous with Independence Day as fireworks and barbecues are with celebrating the Fourth of July.
There are many reasons why I love taking part in this epic event—from seeing the road I drive home on each weekday from a new perspective to browsing the massive event expo. However, the most important reason of all is that participating in the Peachtree has become a personal tradition.
For the past five years, my mother and I have completed the 10K together. She is an avid runner and is the person who introduced me to the race. It's been a staple in our Fourth of July routine ever since. We even design our own shirts for the event! What I love about the race is that it's not about setting a personal record, even though I applaud the many who do, it's simply about enjoying the day and the sense of community. Which is why, a few years ago, my mother and I started walking the majority of the race. We love waving to the spectators, chatting with each other, complimenting people on their festive outfits, and cheering on friends we see running. And there's nothing like crossing the finish line and seeing what the winning shirt design is.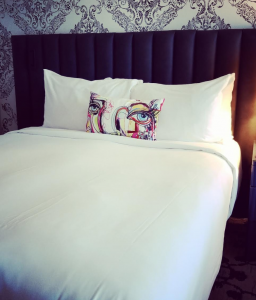 For the 50th anniversary of the run, I knew I wanted to do something extra special and the idea of a celebratory staycation sounded like just the ticket. When Atlanta Best Media managing editor Laura J. Downey told me this year would be her first time participating in the Peachtree, the timing could not have been more perfect.
We knew we wanted to stay somewhere in the heart of the action and with a chic vibe to match that of Atlanta. With its rooftop pool, fresh and punchy décor, and classic amenities, the W – Atlanta Buckhead is the ideal staycation spot. After checking in at 4 p.m., donning my 2019 Peachtree Road Race shirt, I headed to the ninth floor to explore our Fabulous Guest Room with two queen beds. On my way up, I was asked how the race went by fellow guests and even met a couple who had also completed the run that day. Clearly, this spot was a popular choice among locals and out-of-towners alike.
When I opened the door to 932, I was greeted by a nearly floor-to-ceiling window overlooking Buckhead, bright pink walls, and whimsical takes on hotel elements, like the directory aptly titled "Everything You Want to Know." Thoughtful touches to aid in relaxation like a new pair of headphones with "Tune Out" on the outside of the package were much appreciated.
After a trip to the pool, dinner was in order. Laura and I headed to the hotel's popular restaurant and lounge, Whiskey Blue, for a feast overlooking the city. We said cheers to the occasion with the bar's special Fourth of July themed drinks. I opted for the Star-Spangled Martini with Hendrick's Gin, which was complete with a classic firecracker popsicle. Laura and I then savored the Kale Salad, Grilled Market Vegetable Flatbread and Angus Beef Sliders. Each dish more divine than the next. Talk about the perfect post-race refuel! After a warm welcome from the manager, Joshua Meier, a few skyline photos, and plenty of laughs, we retired to our room for a night of well-deserved rest.
The next morning, as the valet attendants assisted me with my bags, I longed for another night's stay. All I can say is, another staycation is definitely in order soon!
The Peachtree Road Race is an Atlanta staple. So after talking to my colleague Alex McCray about her Peachtree Road Race tradition, I thought to myself, 'Laura, it's time to get in on the action!' I immediately joined the Atlanta Track Club, which guarantees placement in the race, and then I started running on my treadmill at least three days a week. 
When the big day came, I was a little nervous but not because I hadn't done a 10K before but because this is the biggest 10K in the world and this would be my first time participating in it … at 41! So as tons of people surrounded me, I made my way to the "M" wave and when it was go time, I took off running. 
As a first-timer, this experience was special for me. Here are the top five things I loved about the Peachtree Road Race and why I plan on doing it again. 
5. Looking to my left and right to see all of the sideline supporters cheering and clapping for us just made me smile.
4. Watching people of all ages, shapes and sizes running and walking their hearts out. 
3. Pushing myself to keep running even after I reached the 4-mile mark, which for me, is usually a stopping point in any race.
2. Watching one younger runner link her arms with an older woman to help her reach the finish line. And even seeing firemen in their heavy uniforms (mind you, it
was 95 F outside) carrying the American flag from Lenox Square to Piedmont Park reminded me of why I love the United States and why I love the human spirit.
1. Finally, getting to Piedmont Park and putting my hands on that coveted Peachtree tee. #Priceless — Laura J. Downey 
3377 Peachtree Rd. NE., Atlanta, GA 30326, marriott.com/hotels/hotel-information/atlbw-w-atlanta-buckhead