How Peach Out Power Yoga "Makes" Yogis in East Cobb
By Jennifer Colosimo
What's better than a fitness studio featuring your favorite workout class every single day? One that offers every kind of workout class under one roof. That was the idea that launched the newly renamed Peach Out Power Yoga in East Cobb, its new designation reinforcing the studio's tried-and-true reputation for a fun, laid-back interpretation of traditional yoga. As a result, it's the community's one-stop shop for all things fitness.
"The name Peach Out Power Yoga speaks to who we are," says owner Karen Patton. "It's been fun to create a name now that we really know who we are as a studio."
That "we" is a studio where anyone off the street can come in and feel comfortable and confident taking a yoga class. It's a relaxed atmosphere, far removed from the perfect poses and beautiful bodies reputation some traditional yoga studios carry.
"We're not your typical yoga studio," Patton says.
"We're approachable, welcoming, people aren't intimidated to come in. We're extremely different in that we play fun music, we dance and we're always trying new things. People have an image of what yoga is, and I think that can be scary for some, but our brand is vibrant, and although we absolutely deliver a powerful, traditional yoga class, we add our own twist and personality to it."
Not being in Buckhead, Patton knew it wouldn't be easy to attract yoga clientele. She sought to "make" yogis instead, and offered something different. On her class calendar you'll see a little bit of everything: non-heated classes to hot power yoga, basic fundamentals and slow flow to advanced classes, and fitness-minded classes such as Yogalates, Sculpt & Flow, Yin and meditation. Every class adapts to fit a variety of skill levels, interests and workout personalities. Plus, Patton carries chic yoga gear (it's the only local studio that sells lululemon), and new clients can try a class for free before committing to a membership.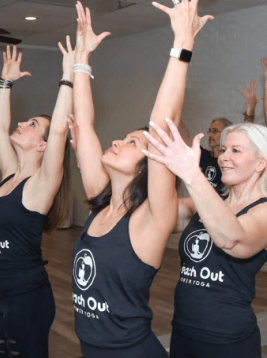 "We've built such a great community," says Patton, who started that camaraderie from the ground up, seeking out beginner yogis and offering them a place they could belong. "Everybody that walks through the door knows each other. This is their happy place, their home and the people here are truly their friends. I'm very proud of what I've built here. It is exactly what I had hoped for."
"You really have to come take a class so you know what I'm trying to describe, because there is just a feeling the second you walk in the studio," says Patton, who teaches classes alongside a staff of 13 instructors. "We've got something really special. Every instructor brings their own personality, style and energy to their classes, and I think that's why people connect—it's authentic. My energy and what I envisioned, I think it's infectious. My instructors embraced it from day one, and so did our clientele. It feels like one big family, really."
Because her instructors are part of her family, you'll most likely spot Karen at her studio, but she does frequent the (also newly named) East Cobb Tavern and Los Bravos Mexican Restaurant and shops Ivy Lane in Marietta.
Peach Out Power Yoga, peachoutpoweryoga.com, 3162 Johnson Ferry Rd., Ste. 440, Marietta, 470.299.5256.
The content for this article is brought to you by Peach Out Power Yoga.