DAY 15 OF FITNESS – Small Group at Atlanta Fitness Diva
By Caroline Simpson
Name of fitness facility
Atlanta Fitness Diva
Name and length of class
Small Group – One hour
Name of instructor
Pamela Molinari
What do attendees need to know before class starts?
The studio is on the second floor. Just bring yourself, water and a ready-to-seize-the-day attitude to class!
How would you describe this workout? How does it compare to similar classes you've taken?
Personally, I am a runner and do mostly body-weight exercises. At Atlanta Fitness Diva, all of the exercises targeted specific muscles in your body. I had no idea some of them existed! Unlike other classes I have taken, I felt like I got a full-body workout while enjoying myself the whole time.
Watch our Facebook Live below to see some of the new interesting workouts I was able to tryout!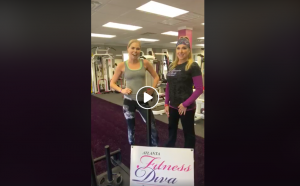 What muscle groups did this class work the most? Was it a great workout for your abs, butt, arms, etc.?
It was a full-body workout but there was definitely an emphasis on the booty! I will 100 percent be feeling it tomorrow and I love that!
Did the instructor do anything to make the class extra special?
Pamela was amazing. It was a small group class but it also felt as though she was my personal trainer. She catered to each the wants and needs of each participant, for example, she altered my workout so that I would get more glute work in.
What was the most enjoyable part of the workout?
I really enjoyed all of it! It was great to get out of my comfort zone and try something new. If I had to pick something, it would be the instructor/owner Pamela. She truly wants the best for her clients!
Any other feedback you'd like to give about the Small Group workout?
Go try out a class! You will not regret it!
Details: 855 Mount Vernon Hwy. NE. Atlanta; AtlantaFitnessDiva.com