A Guided Tour of Atlanta Wellness Hotspots
By Amelia Pavlik
Atlanta's wellness industry is alive and thriving, with new fitness studios, whole-food-focused restaurants, medical spas and more popping up faster than you can keep up with. Separating the true pros from the trend-followers is no easy task. My City Wellness Guides are here to give you the inside scoop on the best places to get fit, eat well and indulge in some healthy self-care in Atlanta (and beyond). Here's a peek at some of my favorite local spots:
Activewear Boutique: Stellar Bodies
In addition to offering fitness classes at their Buckhead studio, Stellar Bodies' boutique (which is only at this location) has been one of my go-tos for trendsetting activewear for years. With brands ranging from Beyond Yoga® to Ultracor®, the boutique offers something for everyone. I love anything by KORAL. Their black Lustrous Leggings are perfect for going from barre to brunch. And FYI, Stellar also offers an online shop where you can receive 10% off your first order.
Details: 3872 Roswell Rd., Ste. A4, Atlanta; stellarbodiesatl.com/boutique
Fitness Studio: SculptHouse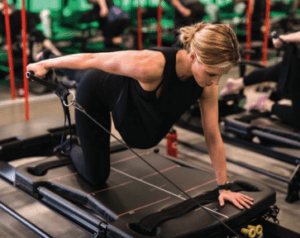 Fans of the Megaformer (a Pilates-based machine) will love a SculptHouse class. You can opt for a sculpt-only class or try my go-to pick—CardioSculpt 360. For me, it's the best of both worlds: resistance training plus a cardio session on curved treadmills. Post-class, don't forget to check out the activewear boutique, which is full of luxe brands like Bala, Alala and Year of Ours. (Also, there's a $15 first class special, so be sure to take advantage of this option when you book!)
Details: sculpthouse.com
Spa/Beauty: Icebox Cryotherapy
Looking for a less-traditional spa experience? Chill out with a treatment at Icebox Cryotherapy, which has locations throughout metro Atlanta. This cold therapy is known to help with health issues ranging from pain management to circulation problems. For three minutes, you step into a booth and are immersed in a deep nitrogenfueled cold. I can confirm that it's a mighty chilly experience, but it's not painful—and I felt invigorated and energized following my treatment. If you'd prefer to ease your way into cryotherapy, try one a CryoFacial, which stimulates collagen growth and reduces inflammation.
Details: iceboxtherapy.com
Indulgent Dinner: Marcel
I can't say it any better than the website, "Marcel is a return to the days when people appreciated every moment … when love lingered over the best meals." The ambiance at this Midtown gem is as intriguing as the sips and bites, with low lighting, dark leather and wood, and white tablecloths. Oh, and the food! I believe in a wellness routine that embraces moderation and indulgence. And Marcel is the perfect fit when I'm ready to indulge! Their menu changes with the season, but my must-orders include the clams casino and pommes dauphinoise. Every bite is like heaven on a fork.
Details: 1170 Howell Mill Rd., Atlanta; marcelatl.com
A veteran wellness journalist and fitness teacher of 20 years, Amelia Pavlik founded FRESHJUICE + bubbly to connect you to wellness indulgences that fit your budget. In addition to her reviews and advice regarding all things upscale wellness, Amelia offers a series of City Wellness Guides and personalized wellness concierge services. Join the #bubblylife community today at freshjuiceandbubbly.com.
---
Photos courtesy of (Stellar Bodies) Stellar Bodies, photography by Heidi Harris Photography; (SculptHouse) SculptHouse; (Icebox) Icebox Cryotherapy; (Marcel) Marcel, photography by Andrew Thomas Lee. Photography by (Pavlik) Heidi Harris Photography.