Join the Judson Collegiate & Legends Pro-Am Challenge
Few things are more motivating than a parent's love for their child, but a child's love for their parents is powerful too. When siblings Dean and Lauren Judson lost their parents, Jim and Beth Judson, in a 2010 plane crash, they knew they had to do something to commemorate them. Lauren, an avid collegiate golfer at the University of Southern Mississippi, wanted to honor her parents with a golf event. Jim and Beth had tirelessly supported Lauren's golfing aspirations, so it seemed like the perfect choice. With the help of family friend Jackie Cannizzo, the JCI Foundation was formed to house the golf event Lauren dreamed of.
"Sports help young girls to have a sense of belonging, build confidence and self-esteem," Cannizzo says. "Sports also teach us so many life lessons, like team work, collaboration, discipline, hard work, attitude, leadership and empathy. There is no down side to getting young girls into sports." Keeping these ideas in mind, they formed the Judson Collegiate and Legends Pro-Am Challenge, for which Cannizzo now serves as tournament director.
Now in its third year, the annual event features three components: the Pro-Am Scramble on June 27, the Legends Tour 1-Day Tournament on June 28, and the Collegiate 3-Day Competition from June 28 to 30. This third competition invites collegiate female golfers like Lauren herself a chance to compete with their peers and play one round alongside a professional female golfer – some of the best LPGA Legends players and a few Hall of Fame members will be in attendance.
This inspiring pairing motivates girls to keep working toward their goals in sports, both so they can earn their spot in the world-class tournament and so they can meet their role models. Maribel Lopez Porras, the 2013 Judson Collegiate champion, says, "Playing the Judson Collegiate has been one of the most amazing experiences of my life. It was the perfect combination of golf, experience and talent." Not only that, but it also raises money for Children's Healthcare of Atlanta and the JCI foundation to support young women through positive mentorship and further education.
The event also includes a leadership conference to complement the sporting events. Last year a two-hour workshop brought women like author and speaker Becky Blalock, golfer Kathy Whitworth, entrepreneur LeeAnn Maxwell, Dr. Lisa Perez and others together to teach young women how to take control of their careers. This year, the leadership conference has grown to a half-day program. Canizzo says, "Ideally we hope that these young people walk away knowing about the business culture in 2014, business etiquette and communication. We hope they leave with the thought that the C-suite is reachable if they want it." Young women in high school and college, whether they're golfers or not, can attend this conference for free with a student ID.
Whether it's keeping girls active in sports or inspiring them to go for their career goals, no doubt the JCI Foundation is a fitting way to remember Jim and Beth Judson. The wonderful work they do is no less than they did for their own daughter, who carries on their legacy today. To get involved, visit www.judsongolf.com for more details.
Judson Collegiate & Legends Pro-Am Challenge
Country Club of Roswell
June 26 – 28 | www.judsongolf.com
Schedule of Events
June 26
11:30 a.m. – Judson Women's Leadership Workshop at the DoubleTree by Hilton Hotel
June 27
11:00 a.m. – Pro-Am Scramble
June 28
8:30 a.m. – Legends 1-Day
Tournament
1:30 p.m. – Kids' Day
Evening – Concert in the Park
June 28-30
8:30 a.m. Sat., 8:00 a.m. Sun. and Mon. – Collegiate 3-Day Competition
Meet the Tournament Director
Jackie Cannizzo
As a skilled golfer, one of Golf Digest's Top Ten Teachers in Georgia and a dedicated mentor of all ages and skill levels, Jackie Cannizzo was a natural choice to lead this event. The event's other leaders recognize her unique ability to help varied groups work well together, as well as her fearless support of causes she believes in.
Luciana Bemvenuti
Since moving from Brazil, Luciana has played on the LPGA Tour for 12 years, recording several Top 10 finishes. Holes-in-One: 4
Pat Bradley
Pat started playing at age 11 under head pro John Wirbal and is now a member of Florida International University Hall of Fame. Holes-in-One: 6
Alicia Dibos
Alicia finished fourth in the 1994 U.S. Women's Open and won the 2006 BC Consulting Cup. Holes-in-One: 4
Cindy Figg-Currier
Cindy has played golf since age 7 and joined the Michigan Golf Hall of Fame in 2003. Holes-in-One: 2
Rosie Jones
Rosie served as co-vice president of the LPGA Tour Player Executive Committee in 2003. She is also an Atlanta resident. Holes-in-One: 5
Nancy Lopez
Nancy joined the PGA World Golf Hall of Fame in November 1989 and was named GOLF Magazine's "Golfer of the Decade" for 1978 to 1987. Holes-in-One: 3
Barb Moxness
In conjunction with her 10-year LPGA Tour membership, Barb supports non-profit organizations like "Family Hope Services." Holes-in-One: 4
Barb Mucha
Barb joined the LPGA in 1987 and has served as spokesperson for the Ohio Girls Golf Foundation. Holes-in-One: 3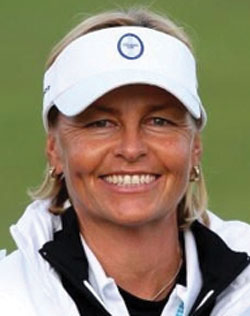 Liselotte Neumann
Liselotte represented Sweden in the European Team Championship in 1984 and the World Team Championship in 1982 and 1984. Holes-in-One: 4
Cindy Rarick
Cindy won the Most Improved Player in 1987 after joining the LPGA in 1985. Holes-in-One: 6
Nancy Scranton
A 21-year LPGA member, Nancy achieved three tournament victories on the 1985 LPGA Tour. Holes-in-One: 2
Val Skinner
Val was named GOLF Magazine's 1982 Collegiate Player of the Year and is currently the chairwoman of "LIFE" – LPGA professionals In the Fight to Eradicate breast cancer. Holes-in-One: 4
Sherri Steinhauer
Sherri won eight tournaments on the 1986 LPGA Tour as well as the 1992 du Maurier Classic and the 2006 Women's British Open. Holes-in-One: 2
Jan Stephenson
Jan began her pro career on the Australian LPGA circuit and was honored among GOLF Magazine's "100 Heroes" in 1988.
Sherri Turner
Sherri joined the LPGA in 1984 and won 3 LPGA Tournaments, including the 1988 LPGA Championship. Holes-in-One: 7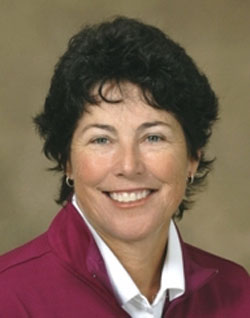 Lori West
Lori joined the LPGA Tour in 1983 and her best finish on the LPGA Tour was second in Hershey, PA. Holes-in-One: 2