Day 1 of Fitness – Performance45 At TURN Studio
By Halen Adair
Name of Fitness Facility
Turn Studio
Name and length of class
Performance45 – 45 Minutes
Name of instructor
Ashley Francis
What do attendees need to know before class starts?
Plan to arrive 20 minutes before class starts. Upon arrival, you will receive a tour of the facility. If you don't have spin shoes, don't worry. Just be sure to bring a pair of socks with you and then you'll be given a complimentary pair of shoes for class. You will also need to adjust your bike to ensure a safe and comfortable ride. If you need help, just flag the instructor who will give you a hand.
How would you describe this workout? How does it compare to similar classes you've taken?
The workout was great! It checked all the boxes for me. It was challenging, stimulating, high energy, and filled with people who really know how to WORK IT! I have done many spin classes in the past but Ashley, who is also the owner, truly pushes you to do your best.
The class has different spin phases. You will spend time standing up and pedaling, then cranking up the resistance, taking a break, and then trying to pedal as fast as you can. Each phase is designed to test your limits. I can easily say that I haven't had this much sweat come out of my pores in a spin class EVER, so be sure to bring a water bottle and to use their towels! I loved that after the workout everyone was treated to a cold washcloth infused with scented oils. It's perfect for cooling down!
What muscle groups did this class work the most? Was it a great workout for your abs, butt, arms, etc.?
This was a full-body, cardio workout. It felt like my legs, arms, and abs were being tested the entire time. I will definitely feel it in the morning!
Did the instructor do anything to make the class extra special?
Ashley told motivating stories and gave the class time for self-reflection throughout the workout. The music was seriously on point and the lights in the studio were amazing. I felt like I was at a dance party at times. It was so awesome.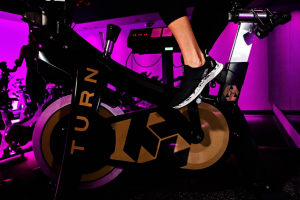 How did you feel before, during, and after the workout?
This was my first workout of 2019 and it did not disappoint. I came in a little nervous but Ashley made sure I was well prepared. During the workout, I felt a sense of empowerment. Ashley made sure this was a time for self-care and didn't let us quit on ourselves. After the workout, I felt a sense of accomplishment. I completed something very challenging, which was extremely rewarding for my mind and body.
What was the hardest part of the workout?
The hardest part for me was keeping my wattage (the amount of energy you exert on the bike) up and continuing to push through.
What was the most enjoyable part of the workout?
I really enjoyed the whole workout, but I would say my favorite part was Ashley's awesome music selection. The tunes ranged from high-energy electronic dance music to old-school rap songs. The beats kept everyone motivated and made class super fun. I also loved the overall energy of the class—everyone there was very friendly and ready to push themselves!
Any other feedback you'd like to give about the Performance45 workout?
I would absolutely recommend giving TURN a try. The facility is simply amazing and has everything you need (think free protein bars at the GOLD Bar beverage station) and so much more to ensure that you have the best experience possible. The entire studio has a beautiful gold-and-white color scheme and the women's locker room has showers and a great selection of all-natural body care products. Give TURN a chance to turn your 2019 goals into reality. You will not be disappointed!
Details: 6405 Blue Stone Rd, Ste. 220/230, Sandy Springs, GA 30328, TurnStudio.com
Follow along with the rest of our 30 Days of Fitness Classes here.