12 Natural Wonders of the Southeast
Explore these hidden health and wellness gems within driving distance.
By Melanie Preis
Among the chaos of back-to-school and the changing seasons its never too late to escape to the beauty and serenity of nature. We've rounded up our favorite outdoor sanctuaries that offer peace, charm and a little wellness 'what to do.' May these picturesque views and experiences urge you to put down your phone, put aside your worries and connect to the beautiful world around you.
1. Blue Spring State Park, FL
Drive time: 6 hours and 45 minutes
This oasis is a popular spot in winter to witness migratory manatees, which causes the spring run to close for all water activities starting in November. Skip the summer crowds and set off in the fall for a dip in the crystal-clear 72-degree spring water where you can come face to face with nature's finest.
Your Wellness 'What to Do': Launch a clear canoe or kayak (rentals available at the park), take a guided riverboat cruise or just spend time meditating shoreside while enjoying the surrounding wading birds and fish. Looking to go a little deeper? Certified divers can experience an underwater adventure with the Florida Dive Company during its Scuba Discovery tour. www.floridadivecompany.com
2. Suches, GA
Drive time: 1 hour and 45 minutes
Discover the "Valley Above the Clouds" with a drive to Suches, Georgia, sitting about 3,000 feet above sea level. Just north of Atlanta, this mountain town is a serene locale for nature lovers and the perfect spot to watch the leaves change.
Your Wellness 'What to Do': Hike along the Appalachian Trail and many more picturesque trails; fish at Toccoa River trout ponds or visit the Chattahoochee Forest National Fish Hatchery and explore nearby waterfalls. Get even closer to nature by staying among the greenery at Getaway's Chattahoochee tiny cabin or in a treehouse Airbnb. www.exploregeorgia.org/city/suches
3. Grandfather Mountain, NC
Drive time: 4 hours and 45 minutes
Located 75 miles north of Asheville, NC, push yourself with a hike along Grandfather Mountain. Known for its incredible vistas, view the entire Charlotte skyline from almost 6,000 feet above or discover the Mile High Swinging Bridge (the highest suspension footbridge in the country).
Your Wellness 'What to Do': Explore Grandfather Mountain's network of 11 hiking trails and visit the Wilson Center for Nature Discovery to learn more about local flora and fauna. Go on a vortex hike with Namaste in Nature or enjoy a much-needed foot soak at Wake. The Asheville Salt Cave offers the tranquil experience of salt therapy –visitors can enjoy 45-minute sessions that promote immunity, balance and serenity. www.grandfather.com
4. Daufuskie Island, SC
Drive time: 4 hours
Discover your inner zen at the tree beach on Daufuskie Island, South Carolina. This hidden gem is only accessible by ferry from Hilton Head Island and offers gorgeous views of the Lowcountry.
Your Wellness 'What to Do': Hike, fish, bike, swim, horseback ride and find calm among Daufuskie Island's bounty. Stay still on the water and you may see passing dolphins cruise by. Book an eco-tour through Tour Daufuskie and learn more about the birds, alligators, reptiles and plant life located throughout the island. www.tourdaufuskie.com/tour/wild-daufuskie-island-eco-tour
5. Captiva Island, FL
Drive time: 9 hours
Florida's Gulf Coast is a popular vacation spot for families and young adults, but enjoy a more laid-back vibe of the area by heading to Captiva Island, located near Fort Myers.
Your Wellness 'What to Do': Squeeze out the last drops of summer on the magical, white sand beaches. Consider biking, birding, sailing, snorkeling and more. Visitors can unwind at various spas and wellness centers located across the island and the neighboring island of Sanibel. www.sanibel-captiva.org
6. Blackberry Mountain, TN
Drive time: 3 hours and 45 minutes
Harness the power of stillness at Blackberry Mountain in Walland, TN (near the Great Smoky Mountains), a 5,200-acre property focused on wellness for the whole being.
Your Wellness 'What to Do':
This off-grid getaway offers one-of-a- kind experiences, like forest bathing, where visitors fully immerse themselves in nature with yoga and meditation, painting, reiki, guided journaling, soundbathing and more. Accommodations range from stone cottages and mountain cabins, to luxe treehouses and modern homes. www.blackberrymountain.com
7. Ruby Falls, GA
Drive time: 2 hours
Visit Lookout Mountain in Chattanooga to witness the majestic Ruby Falls. This underground destination offers remarkable beauty for visitors to explore during cave adventures. Tour guides take visitors down 260 feet by glass-front elevator into the mountain to discover stunning rock formations and waterfalls.
Your Wellness 'What to Do': After all that time spent underground, spend the night above ground at Treetop Hideaways at Ruby Falls for serene treehouse lodging overlooking Chattanooga. Beyond the cavernous settings of Lookout Mountain lies Rock City, a stunning spot 1,700 feet above sea level and the Incline Railway, carrying riders up a steep mile. Enjoy a pleasant meal at Hello Monty, inspired by the backyard cookout and located in Southside's Historic District. www.rubyfalls.com
8. Providence Canyon State Park, GA
Drive time: 2 hours
Known as "Georgia's Little Grand Canyon," this stunning state park in Lumpkin shows off the power of nature. Formed by the erosion of the Coastal Plain after years of poor agricultural practices during the 1800s, Providence Canyon now offers dramatic views and gorgeous hiking.
Your Wellness 'What to Do': During the fall months, temperatures drop making hiking and camping more pleasant. Visitors can travel into the canyon and along the rim. Primitive tent camping is available, and nearby Florence Marina State Park offers cottages and RV camping. www.gastateparks.org/providencecanyon
9. Wekiwa Springs State Park, FL
Drive time: 6 hours and 30 minutes
Skip the theme parks in Orlando this summer and head straight to Wekiwa Springs State Park to enjoy ecotourism at its finest. Just 16 miles from downtown Orlando, this watery jewel offers relaxing springs feeding the Wekiwa River, dense hammocks and countless opportunities to see local wildlife.
Your Wellness 'What to Do': Snorkel or just float in the water, hike along the wet-to-dry trail and relax while cooling down during Florida's warmer months. www.floridastateparks.org/parks-and-trails/wekiwa-springs-state-park
10. Gulf State Park, AL
Drive time: 5 hours and 30 minutes
Gulf State Park offers more than just a beach vacay. Go beyond the shoreline to enjoy hiking and biking in the backcountry, paddling at Lake Shelby, flowers in the Butterfly Garden and much more.
Your Wellness 'What to Do': Spend the night under the stars camping in the park or enjoy finer amenities at The Lodge at Gulf State Park. Even four-legged friends in need of some inner peace can enjoy themselves at the Dog Pond at Lake Shelby! The park's Woodside Restaurant offers a large menu, where visitors can dine inside the screened-in porch or under the shade of a large oak tree. www.alapark.com/parks/gulf-state-park
11.Weeki Wachee Springs State Park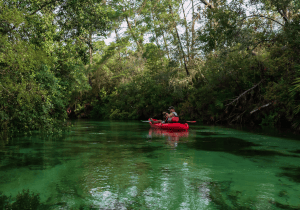 Drive time: 6 hours and 30 minutes
Located north of Tampa, Weeki Wachee is perhaps best known for its clear waters and live mermaid shows. But there's more to see here than an underwater rendition of The Little Mermaid.
Your Wellness 'What to Do': The breathtaking scenery of the Weeki Wachee River is best enjoyed by kayak. As you traverse the 5.5 miles of crystal-clear waters, surrounded by palm, cypress and oak trees, you may be lucky enough to find yourself floating alongside manatees, turtles and otters. Whether you're renting or bringing your own vessel, reservations are required through Weeki Fresh Water Adventures. www.weekiwachee.com
12. Cathedral Caverns State Park, AL
Drive time: 3 hours
Located just outside Huntsville, Cathedral Caverns State Park greets visitors with its massive entrance into the "Bat Cave." Step inside to enjoy the shade and discover the cavern's hidden architecture and eccentric residents.
Your Wellness 'What to Do': Take a tour of this historic cavern. It's hard to miss "Goliath," one of the largest stalagmites in the world, as well as waterfalls and other breathtaking details. The cave maintains a balmy temperature of 60 degrees year round, a great relief from summer's blistering humidity. This north Alabama site is located near other lush sanctuaries, including Monte Sano State Park and Lake Guntersville. www.alapark.com/parks/cathedral-caverns-state-park