Tannaz Modaresi Brings Top-Notch Spine Care to Alpharetta
Ever since she was a little girl, Dr. Tannaz Modaresi was fascinated with the human body and how it worked. "I can remember walking on my dad's back to relieve him from joint pain," she says. "So later, when I learned what chiropractic was, it clicked in my mind what I was doing, even back then."
Dr. Modaresi went on to receive her Doctor of Chiropractic from Life University in 2010. In 2014, she and her then partner, a well-known orthopedic surgeon, established Injury & Wellness Specialists of Georgia in Norcross. With convenient access to many of Atlanta's northern suburbs such as Roswell, Alpharetta and Sandy Springs, Dr. Modaresi and her team can treat patients from around the city.
When asked what type of pain she treats most often, she says car accident victims are the most common.
"I always recommend people see a chiropractor if they've been in an accident," she explains. "Even if you don't have pain at first or any obvious injuries, a lot of times there can be an underlying issue that will develop later. Chiropractic care is the best first line treatment for the majority of spine-related issues."
But not all of the patients who come to Injury & Wellness Specialists are in pain, there is a part of her clientele that seeks wellness care, too.
"Wellness care programs that focus on the spine allow people to have more energy, improved sleep, reduced anxiety and a boost in their immune system, as adjustments help calm your body's response to stress," Dr. Modaresi says. "Our lifestyles and daily habits
affect our bodies and can lead to problems in the future. Diet, posture and occupation all impact wellness and wellbeing.
"Chiropractic preventive care focuses on keeping the nervous system intact and running at its best. Implementing careful adjustments to your plan will make sure that your lifestyle will not be impacted over time by your current day-to-day tasks. Chiropractic care is capable of detecting issues before they get serious through comprehensive examinations of your physical state and your health history. Spine alignment is also critical for proper development, so we encourage families to start chiropractic care from a young age."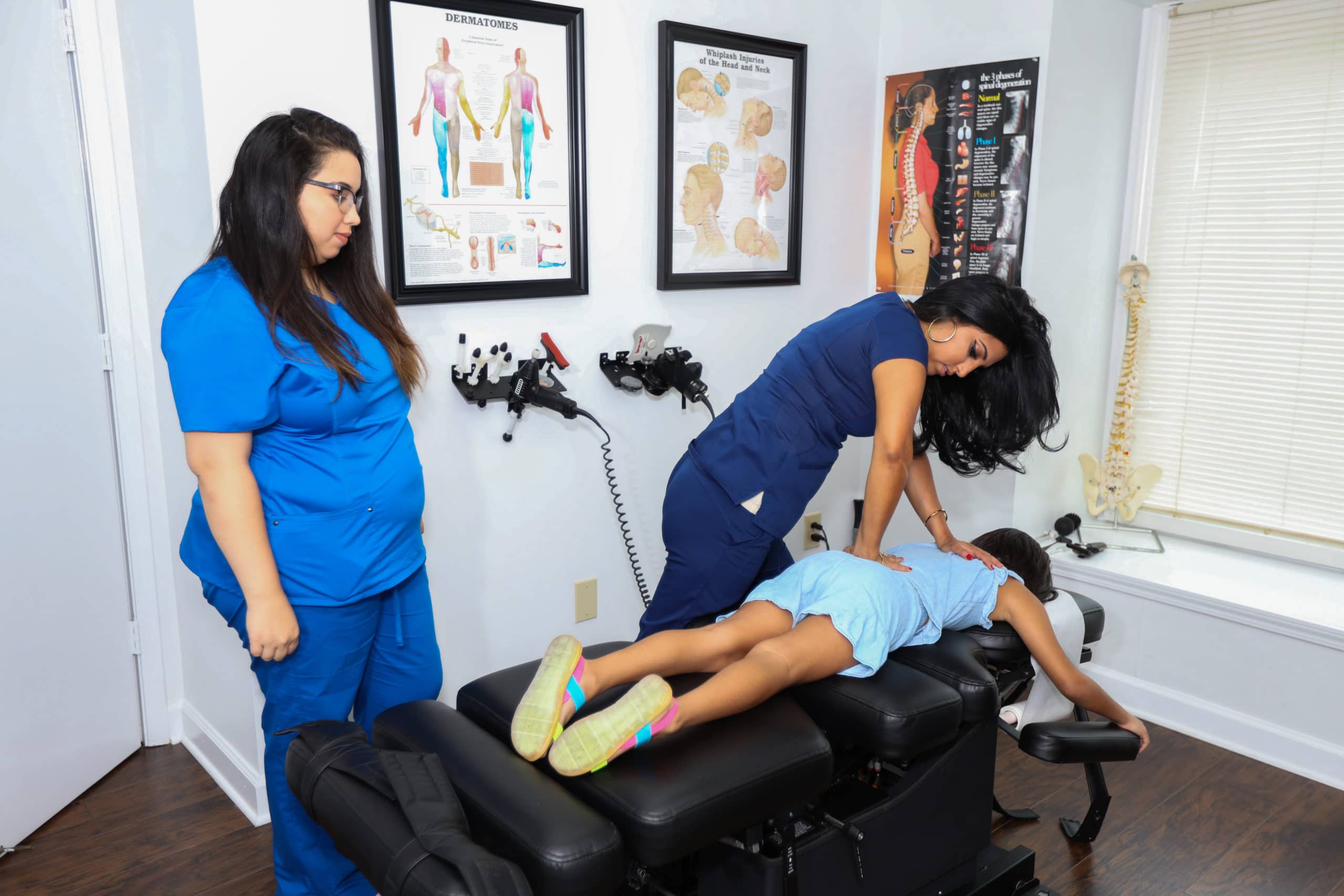 And customers seem quite pleased with the service they've received. Dr. Modaresi's clinic boasts a healthy 5-star rating. When asked the secret to satisfied clients she replies, "We treat everyone as our own family and shower them with kindness. We make it as easy as possible for our clients to do business with us, doing things for their convenience, not ours. We are accessible in trying to meet their needs." This includes the need for basic communication.
Injury & Wellness Specialists proudly lists itself as a multilingual facility, with Dr. Modaresi having seen a need for chiropractic care in the Hispanic community. "An increasing number of patients don't speak English and the healthcare field is taking action," she explains.
Dr. Modaresi's efforts towards pleasing her clients has paid off, earning her practice multiple awards including Best of Gwinnett 2018 & 2019, America's Best Chiropractors 2020, Top Doctor 2018 and Renaissance Women 2019. "America's Best Chiropractors is the award I am most proud of," she says. "It is an honor to be recognized amongst the best in my profession."
Dr. Modaresi has been a resident of Alpharetta since 2017, where her two children both attend Fulton Science Academy, of which her practice is an athletic sponsor. You may find her catching a bite to eat at Rumi's Kitchen or shopping around Avalon. She also spends her free time volunteering as a youth basketball coach.
What is nonsurgical spinal decompression therapy?
Nonsurgical spinal decompression therapy is a type of motorized traction that helps relieve back pain. It works by gently stretching the spine to relieve pressure off the vertebrae.
By releasing tension from the vertebrae, discs that may be bulging or herniated can retract. This leads to less pressure on the nerves and other structures in the spine, helping to promote movement of water, oxygen and nutrient-rich fluids into the discs so they can heal. This therapy can potentially treat conditions such as neck and back pain, pain from sciatica, degenerative disc disorders, worn spinal joints and bulging discs.
Injury & Wellness Specialists of Georgia, injurywellnessspecialists.com, 3800 Holcomb Bridge Rd., Ste. D, Norcross, 770.800.1000.
The content of this article is brought to you by Injury & Wellness Specialists of Georgia