15 Fantastic Atlanta Breast Cancer Support Organizations
By Ginger Strejcek
This year in the United States, 276,480 women and 2,620 men are projected to be diagnosed with breast cancer, according to the American Cancer Society (ACS). As the second most common cancer among women in the U.S. after skin cancer, early detection and treatment can mean the difference between life and death. But those with socioeconomic disadvantages often get the short end of the stick. In fact, the disparities are so great that breast cancer is now the leading cause of cancer death for Black women in Georgia, according to ACS, in part because they're more likely to be diagnosed with late-stage breast cancer. Thankfully, there's a battalion of organizations ready to provide resources for those in need, helping to ensure a greater chance of survival with increased access to breast health services. Though COVID-19 has affected how services are delivered, particularly for immunosuppressed patients, it has made advocates more determined than ever to put up their dukes.
Susan G. Komen Greater Atlanta

With a vision to create a world without breast cancer, Susan G. Komen is the largest breast cancer organization in the country. It takes a 360 degree approach to discovering breakthroughs for the most aggressive and deadly breast cancers, while ensuring everyone gets the care they need—no matter who they are or where they live. Komen provides local screening and diagnostic programs in communities that are home to populations most vulnerable to experiencing poor breast health outcomes. Through the Treatment Assistance Program, it provides financial assistance for basic expenses, transportation to and from treatment, prescriptions and more.
"In all that we do, Susan G. Komen remains focused on reducing breast cancer deaths," says Ciarra McEachin, Director of Development. "In metro Atlanta, we do this by strategically working to eliminate the breast
health disparity that exists for Black women, who are 45% more likely to die from breast cancer than their white counterparts."
Services: Financial assistance, screenings, diagnostics
How to apply: Call the Susan G. Komen Breast Care Helpline at 1.877.465.6636, select option 2 and ask for information about the Treatment Assistance Fund. Hours are from 9a.m.-10p.m., Monday-Friday.
3525 Piedmont Rd. NE., Bldg. 5, Ste. 215, Atlanta
404.814.0052, www.komenatlanta.org
Feel Beautiful Today
From stringing jewelry beads to painting pictures, Feel Beautiful Today (FBT) uses art as a tool for healing, tapping into the power of creativity to bring something positive to a patient's cancer journey. FBT's highly-ranked Arts in Health programs, designed to complement integrative oncology care, are offered at Northside Cancer Institute, Atlanta Cancer Care, Georgia Cancer Institute, Emory Winship Cancer Institute, Piedmont Hospital, Grady Hospital, American Cancer Society Hope Lodge Atlanta, and several other locations. "There is a critical need to help patients remember who they are outside of the diagnosis and encourage them to use their strength to persevere," says FBT founder and director Biviana "Bivi" Franco. "Introducing art allows them to redirect their thoughts to a more positive place and acknowledge the beautiful things in their life." Research increasingly shows the benefits of treating the mind, body and spirit, she says, adding that the workshops help relieve stress and anxiety, encourage better communication, boost well-being and restore a sense of normalcy through socializing and camaraderie. Programs are currently presented in an online format to preserve social distancing.
Requirements: Patients can receive services if they are undergoing treatment at a partnered center.
Services: Art therapy
How to apply: Services are offered through partnered cancer centers, patients may inquire with their oncologist, nurse or patient advocate.
560 W. Crossville Rd., Ste. 103, Roswell
770.757.1188, www.feelbeautifultoday.org
The Eric R. Beverly Family Foundation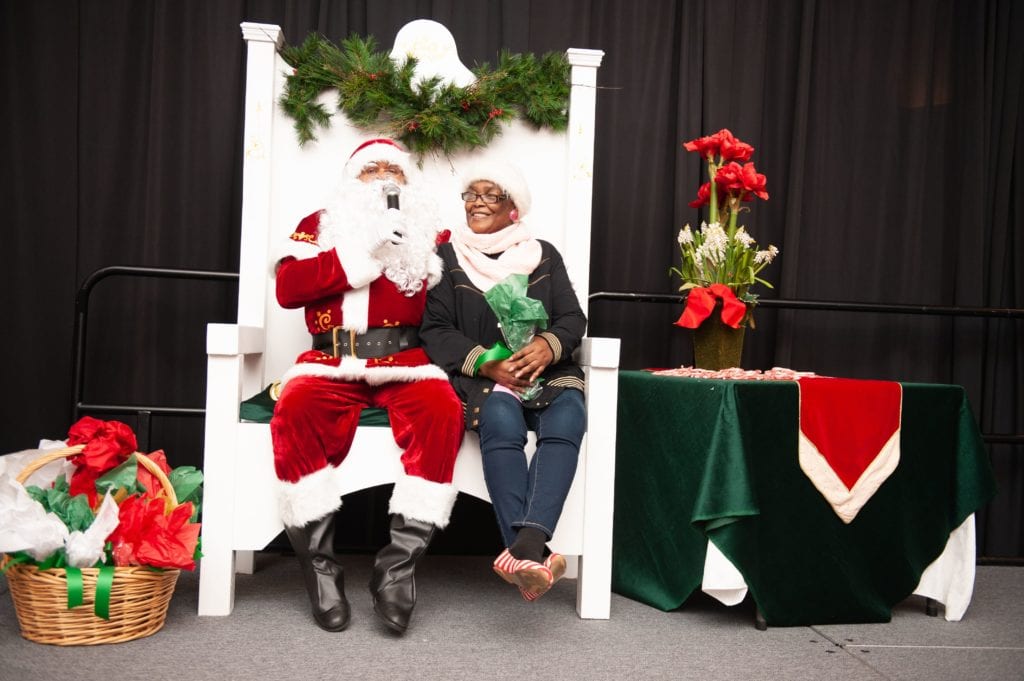 Dedicated to improving the survival rates of lower-income breast cancer patients, The Eric R. Beverly Family Foundation provides financial grants for emergency basic living necessities such as rent, utilities and groceries. "This support helps remove financial barriers to beginning and successfully completing their treatment," says Juliann Kaiser, executive director of the foundation. The program is facilitated by hospital social workers at the Georgia Cancer Center for Excellence at Grady Health System, who conduct needs assessment interviews and submit requests for assistance. Additionally, through the Hope for the Holidays program, the Center hosts a festive party for breast cancer patients and their families to celebrate the season without worry, with dinner and entertainment, presents, toiletries and gift cards for groceries and merchandise.
Requirements: Services are available to patients at the Grady Cancer Center for Excellence.
Services: Financial assistance
How to apply: Patients are selected by a financial assessment conducted by a hospital social worker, who then submits an assistance request.
890 Atlanta St., Ste. 201, Roswell
770.614.1779, www.beverlyfamilyfoundation.org
Atlanta Cancer Care Foundation
All too often, patients—especially those in underserved communities—are forced to make difficult decisions. For those grappling with the choice of paying the rent or finishing the next round of chemo, American Cancer Care Foundation (ACCF) is ready to help. The foundation provides critical financial assistance to adult cancer patients in the 17-county metro Atlanta area. Approved grants are applied directly towards daily expenses such as mortgage or rent payments, utility bills, groceries, transportation, durable medical equipment, prescription medications, lymphedema garments or similar expenses. "ACCF is highly focused on one thing: helping patients overcome the financial barriers to their treatment and, ultimately, recovery," says Executive Director Mitzy Sharp Futro, adding that ACCF has made more than $1.7 million in grants since 2001, including $256,000 to 826 patients in 2019, with nearly 40% of grantees diagnosed with breast cancer. ACCF works with patients to understand their situation, identify their greatest need and make payments directly to the service provider or creditor.
Requirements: Patients must be at least 18, reside in a serviced county, have a documented cancer diagnosis and undergone treatment within the past 12 months.
Services: Financial assistance
How to apply: Applications can be filled out online and require a referral from a medical professional. Bills that need to be considered for payment should be sent along with the application.
5670 Peachtree Dunwoody Rd., Ste. 1100, Atlanta
404.213.1667, www.atlantacancercarefoundation.org
TurningPoint Breast Cancer Rehabilitation
TurningPoint Breast Cancer Rehabilitation offers compassionate, comprehensive care for breast cancer patients through customized recovery plans in education, emotional support, nutrition and physical activity—with most on-site services now being offered virtually during COVID-19. Since 2003, the nonprofit healthcare organization has helped over 4,000 people and provided over 80,000 treatments.  About a quarter of patients receive financial assistance through complementary and reduced-fee services. "TurningPoint has been a game changer in our community and beyond. When a breast cancer patient walks into our clinic thinking they can't play tennis or golf again, or pick up their baby for fear of pain or doing other things that used to be routine, it is absolutely heartbreaking. Then to see them walk out of our doors after just one visit feeling physically and emotionally better is priceless," says Arelis Cortés, TurningPoint's Breast Event Coordinator. "We need to get the word out that we are here and that despite the many challenges breast cancer has thrust our patients into, they can heal and get back to doing the things they love, with the people they love."
Requirements: Patients must be referred by a medical professional.
Services: Counseling, physical therapy, massage therapy, exercise and nutritional counseling
How to apply: Patients can fill out an application online. Most insurances are accepted and there is also a
financial assistance fund to help cover the cost of services.
8010 Roswell Rd., Ste. 120, Atlanta
770.360.9271, www.myturningpoint.org
The Pink Fund
A national charity that serves all 50 states, The Pink Fund provides 90-day non-medical cost of living expenses to breast cancer patients in active treatment so they can focus on healing, raising families and getting back to work. The grant program is a godsend, with statistics showing that between 20 to 30% of women diagnosed will lose their jobs, 47% of women are using their retirement account to pay for out-of-pocket expenses and between 30-40% will pay for treatment with their credit card. As the financial support eases the burden of paying for such critical expenses as housing, transportation, utilities and insurance, it decreases stress levels and improves survivorship outcomes. "While fighting for their lives, women and men in active treatment for breast cancer often lose their livelihoods," says Molly MacDonald, founder/CEO of The Pink Fund and a breast cancer survivor. "I know all too well how stressful it is to struggle financially while fighting cancer and I'm determined to help prevent other women, men and their families from the same."
Requirements: Patients must have a medical referral and be making less than 500% of the federal poverty level.
Services: Financial assistance for up to 90-days for nonmedical expenses
How to apply: Patients can apply online.
P.O. Box 603, Bloomfield Hills, MI 48303
877.234.PINK (7465), www.pinkfund.org,
info@thepinkfund.org
Cancer Support Community Atlanta
Cancer Support Community (CSC) Atlanta is the local chapter of the world's largest nonprofit provider of psychosocial oncology programs. With a mission to enhance health and well-being, CSC Atlanta promotes active living and learning through support, education, nutrition, exercise, stress reduction and social gathering. The free programming, led by licensed and certified professionals, ranges from cooking demonstrations to gentle exercise classes. Due to the coronavirus outbreak, CSC Atlanta has suspended all in-person programs and shifted to an online virtual format. The majority of programs were previously conducted at CSC Atlanta's 8,000 square-foot space, located adjacent to Northside Hospital Cancer Institute, with whom it has an affiliation.
Requirements: Patients must be receiving treatment at Northside Hospital.
Services: Nutritional counseling, exercise counseling, education, social group support and stress relief
How to apply: Patients can apply online, all classes are free of charge.
5775 Peachtree Dunwoody Rd., Bldg. C, Ste. 225, Atlanta
404.843.1880, www.cscatlanta.org
Sisters By Choice
Founded in 1989 by surgeon Dr. Rogsbert F. Phillips-Reed as a breast cancer support group, Sisters By Choice (SBC) has evolved into a multi-faceted nonprofit organization that serves women in the metro Atlanta area and beyond. Each year, SBC provides over 1,000 free mammograms and breast exams to uninsured, unemployed and homeless women and conducts free educational seminars, workshops and health fair screenings to promote breast cancer awareness. SBC's state-of-the-art Mobile Breast Clinic, an all-inclusive screening and diagnostic unit that rolled out in 2015, brings advanced technology for early detection and treatment to underserved areas where access to resources is lacking. "Our goal is to eventually travel throughout the state of Georgia," says Dr. Phillips-Reed. Services include breast exams, digital mammograms and remote radiology support, comprehensive diagnostic testing, patient navigation, prevention education and treatment referral—with a breast specialist or physician assistant on-site.
Requirements: Patients must be referred by a medical professional.
Services: Mammograms, breast exams, health screenings
5910 Hillandale Dr., Ste. 104, Lithonia
770.987.2951, www.sisterbychoice.org
Other Fantastic Resources
American Cancer Society Health Insurance Assist For patients 64 or younger who either have no insurance or are at risk of losing their insurance, this service helps cancer patients navigate possible options. They do not provide insurance or financial assistance. 888-227-6333. The service is available Monday-Friday, 7a.m.-6p.m. CT.
211 Program (by United Way) This free hotline provides callers with local resources in their area for emergency situations including illness, disaster relief, homelessness, etc. Dial 2-1-1 for assistance.
Team Maggie for a Cure A national non-profit providing young women facing possible infertility from cancer treatments with access to fertility storage options. www.teammaggieforacure.org
Cancer Care Case Management A free oncological social work service to assist cancer patients in navigating the many financial, emotional and physical hardships of a cancer diagnosis. Free to any cancer patient.
Call 800-813-HOPE Monday-Thursday from 10a.m.-6p.m., Friday 10a.m.-5p.m.
Center for Black Women Wellness An Atlanta-based organization that provides free/low-cost health services to Black women. Their Wellness Clinic offers mammogram referrals and laboratory services. Clinic hours are Tuesdays, Thursdays and Fridays from 9a.m.-4p.m. For more information or to book an appointment call 404-688-9202 ext. 110
Cancer State Aid Program  A state-wide program designed to give financial relief to state residents without full health coverage. Patients must attend a partnered facility to qualify.Please visit www.dph.georgia.gov/cancer-aid
Road To Recovery
Free rides to treatment through the American Cancer Society. Please call 1-800-227-2345 well in advance of your appointment date to schedule.