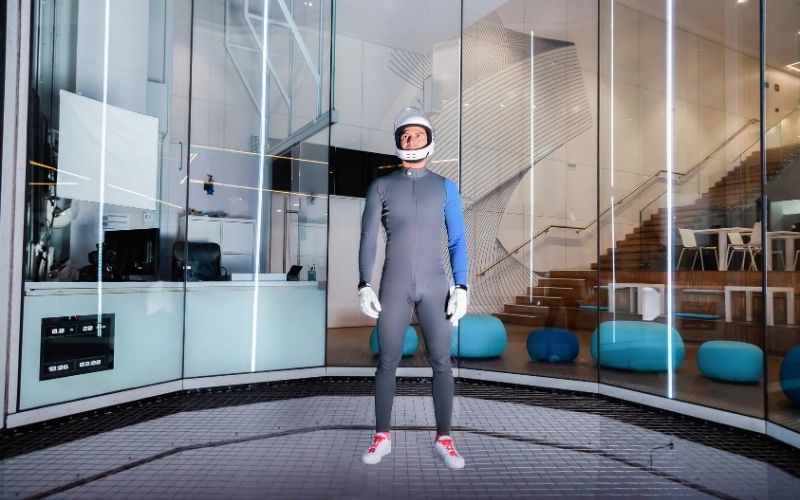 By Wyndi Kappes
I like to describe myself as a fearless woman. So the idea of skydiving—the excitement, the weightlessness, the cool factor—seems thrilling but I'd be lying if I said I didn't have a little apprehension about the safety involved. In an effort to experience the thrill of a dive in a controlled environment, my colleagues and I turned to iFLY, one of Atlanta's indoor skydiving facilities, for a team activity day. At Best Self Atlanta we love to try new things as a team and encourage our readers to do the same.
Our flight instructor, Harrel Kimball, greeted our group and whisked us away to learn the three basics of flying in an indoor wind tunnel: relax your body, keep your chin up, and straighten your legs.
After our training session, the reality of flying was setting in. Our instructor's reassurance that nothing bad would happen coupled with the general excitement of the group had me at the front of the line before I knew it.
Once he was in the tunnel himself, Harrel motioned for me to step forward toward the tunnel doorway. Placing my arms above my head, I slowly fell forward into the tunnel. Suddenly, you are weightless, the force from air circulating up from the bottom of the tunnel leaves you hovering in flight.
For my first flight, I only went as high as Harrel's shoulder and spent part of my time on the floor of the tunnel due to my inability to execute flight basic No. 1—relax. Designed to mimic the free-fall length of a true skydive, 45-60 seconds, each flight is 60 seconds long. Thankfully, everyone gets to relive that one minute with a second flight, since the first flight is basically you getting used to flying. The second time around, I relaxed and was able to fly a few feet higher. At one point, Harrel grabbed a hold of a handle on my jumpsuit so we were able to fly in tandem quickly descending up and down. It was much closer to the feeling I imagine jumping out of an airplane is like.
Overall, I left feeling alive from the adrenaline rush, belly sore from laughing at myself and my coworkers, and hoping for another chance to fly soon.
If you have something you'd like the Best Self team to try send an email to editor@atlantabestmedia.com. Some of our past adventures have included tai chi, POUND® fitness, ballroom dancing and gardening at Truly Living Well.
Details: 2778 Cobb Pkwy., Atlanta; iflyworld.com/atlanta