DAY 2 OF FITNESS – CrossFit at Atlanta Strength & Conditioning
By Halen Adair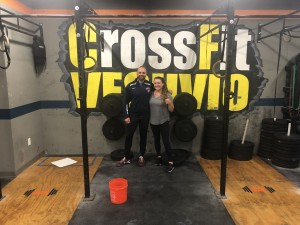 Name of fitness facility
Atlanta Strength & Conditioning
Name and length of class
CrossFit Workout / 1 hour
Name of instructor
Chris Romano, CSCS
What do attendees need to know before class starts?
Plan to arrive 15 minutes before class starts to stretch and warm-up with a resistance band and PVC pipe. Chris (or any other instructor) will show you how to stretch out your shoulders and warm up your legs if you need assistance.
How would you describe this workout? How does it compare to similar classes you've taken?
This was my first time doing a CrossFit class so I was a little worried about what to expect. The workout consisted of three sections. Section one focused on doing reps of five front squats using a barbell. You do five sets, each time adding weight to the end of the bar. I never did this type of squat before so Chris paid special attention to ensure that my weight wasn't too heavy but that it was still challenging for me. He also gave me great pointers on my form and told me how to make the most of each of round of reps.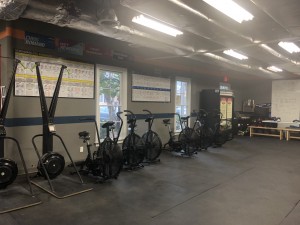 The second section was a full-body burn—more like scorch! During this part, we utilized an Assault AirBike (you had to burn six calories before moving on to the next exercise), did 20 bicycle crunches, and 10 box jumps. Oh, and not to mention, you have to do this all 10 times! After the 10 sets were completed, my shirt was drenched—but the fun didn't stop there. For the final section, we went back to the barbells for bicep curls. Twelve reps and eight sets later, I completed my very first CrossFit experience.
What muscle groups did this class work the most? Was it a great workout for your abs, butt, arms, etc.?
This was a full-body, interval training workout. Although we got in a good amount of arm strengthening at the end of the workout, I definitely felt the burn in my lower body (read: legs) after the class was over.
Did the instructor do anything to make the class extra special?
Chris kept everyone moving through the sets and he made sure I was accountable for each rep. He continuously pushed us to keep going and even had his son, Alex, as his little helper. After every set, Alex walked around and handed everyone a poker chip. Once you collect 10 poker chips, you're done.
How did you feel before, during, and after the workout?
As my second workout of 2019, I really enjoyed the focus on my legs and biceps. While I still got a full-body workout, it was nice to take time to tone those areas.  Chris and everyone at the gym made sure I felt like part of the family as soon as I stepped through the door. My new friend, George, helped me keep my squats in check. Did I mention that George is 74? That's right, people of all ages are welcome to visit Atlanta Strength & Conditioning. The family atmosphere Chris and his clients create makes you want to come back for years to come.
What was the hardest part of the workout?
The most difficult part of my workout was learning how to do the front squats. It takes time to master the technique that goes into making sure you get the best results while keeping your body safe.
What was the most enjoyable part of the workout?
The entire workout was awesome and effective because I was able to burn calories and tone key muscle groups. But, my favorite part overall was just having fun with the Atlanta Strength & Conditioning team. Laughing makes everything better (yes, even box jumps!) and cheering for your fellow workout comrades keeps the energy up and motivation strong. Although I was challenged every step of the way with this workout, I also had amazing support. I really appreciated Chris and his clients.
Any other feedback you'd like to give about the CrossFit workout?
If you haven't already, check out Atlanta Strength & Conditioning if you think you could be interested in trying CrossFit—even if you are a beginner. Chris also offers personal training, which is a huge part of the business model for Atlanta Strength & Conditioning. This gym is designed to help you succeed and reach every single goal you have when it comes to your body. It won't be easy, but with the support that this gym's atmosphere provides, and a CSCS certified instructor like Chris, it will be worth it.
Details: 1642 Powers Ferry Rd., Ste. 100, Marietta, GA 30067, AtlantaSC.com
 Follow along with the rest of our 30 Days of Fitness Classes here.