Day 19 of Healthy, Beautiful Skin – Complete Nourishment Facial at Remède Spa inside The St. Regis Atlanta
By Best Self Managing Editor: Laura Janelle Downey
I love going to the spa so when I was presented with an opportunity to have a 60-minute Complete Nourishment Facial at Remède Spa inside The St. Regis Atlanta, I couldn't have been more excited. For years, my friends have told me about how amazing the treatments at Remède Spa truly are. But to be able to experience the high-end spa's signature facial for myself made me a very happy woman.
I spent some time in the relaxation room noshing on pineapple chunks, chocolates and strawberries before Jacqueline Jensen, the lead esthetician and Remède educator came to greet me. She escorted me to the treatment room where I then took off my cozy robe and got underneath the sheets on the heated massage table.
Jacqueline started the treatment by giving my feet a treat. She applied a warm paraffin wax to them, which put me on Cloud 9. From there, she massaged my shoulders and I was extremely relaxed. After assessing the needs of my skin, I was sure to let her know that my nose gets oily and that I will probably need extractions to remove those ugly blackheads.
This customized facial included a series of steps. Jacqueline applied the Remède Alchemy Cleansing Soufflé first followed by a toner (Omorovicza Queen of Hungary Mist). From there, she applied SkinCeuticals Salicylic Peel followed by the Remède Intensive Double Serum. She finished the treatment with an application of the Remède Alchemy Advanced Night Cream.
What I loved about it was that my face was glowing when the service was completed. All of the products worked well together to offer my skin balance, hydration and the necessary minerals and nutrients that it needed. My face now feels soft to the touch and looks refreshed.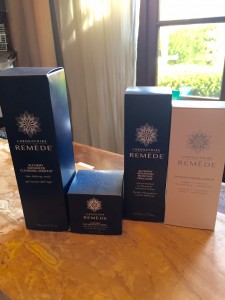 The takeaway? Jacqueline, who has been with Remède Spa for eight years, said that I have beautiful skin but in order to keep it that way, I should exfoliate, which will help rid my face of dead skin cells and oils. It's hard to cover it all in the morning when I'm getting ready to start my day but a facial like this helps me bounce back from a jam-packed schedule, which leaves me tired, and allows me to look my best. If you're in the mood to treat yourself, make an appointment at Remède Spa for its 60-minute signature Complete Nourishment Facial. It will be well worth it.
60-minute Complete Nourishment Facial, $185; 90-minute Complete Nourishment Facial, $265
Details: 404.563.7900. 88 W. Paces Ferry Rd., Atlanta, GA 30305. stregisatlanta.com
Skin Love!
As with any skin care regimen, consistency is the key to overall good results. A consistent daily regimen of cleansing, moisturizing and protection against the sun is a must. Also, don't forget to get your skin screened in support of good health and skin cancer awareness month.