Best Self Atlanta Connects in the Kitchen at Team Building with Taste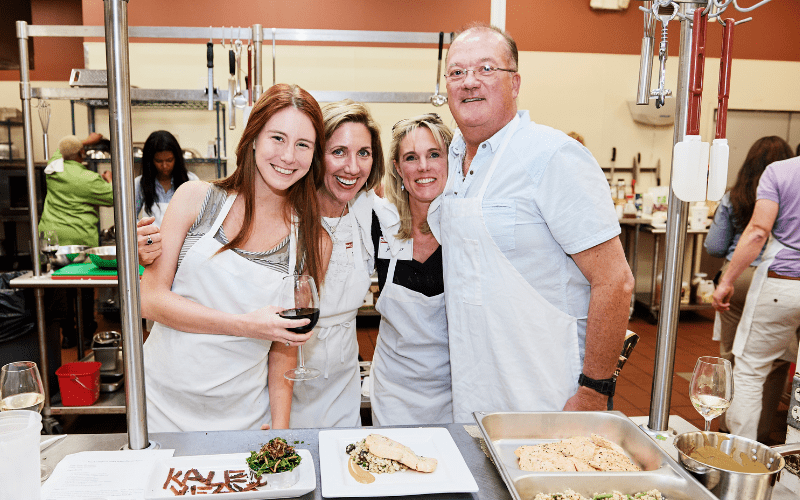 Best Self Atlanta took to the kitchen at Team Building with Taste to sharpen solidarity, add a pinch of trust and a dash of appreciation for one another.
By Annie Paschal
Love to watch "Chopped," Food Network's culinary showdown series? Can you turn on an oven or whip up crème brûlée like a pro? Want to connect more with your coworkers? If you answered yes to any of these questions, visit Team Building with Taste (TBWT). Best Self Atlanta, one of Atlanta Best Media's flagship publications, joined forces with its sister publication, My Home Improvement, and its friends in the home improvement industry to take on a cooking challenge.
Started by chef Paul McKeon and Jack Gerblick in 2012, TBWT invites businesses to strengthen their teamwork through collaborative cooking. During the culinary challenge, teams have 55 minutes to prepare a three-dish meal while handling the occasional curveball.
Our group was strategically split into four teams. This allowed people in departments that don't interact on a regular basis an opportunity to get to know each other better. Once the clock started, we were off to make the "healthy" menu (seven other menu options are also available, including Bistro, Italian, South of the Border and more). We got organized to make kale salad, poached salmon, and warm quinoa. Someone in each group immediately
took charge by assigning roles, brainstorming ways to enhance the recipe, and more. A pantry stocked with fresh vegetables, plenty of spices, bacon, cheeses, and everything in between was at our disposal. With written recipes in hand and a TBWT-designated chef at each station, the groups worked together to create a meal that would impress the judges.
When the timer sounded, everyone put down their bowls and added finishing touches to their plate for the judges. Then it was time to present our dishes to fellow competitors and convince the judges to choose their group as the winner. Some chose catchy sayings and others went with creative music and dances. Team Two featured editorial assistant Wyndi Kappes on the megaphone giving a funny speech and starting a "Kale Yeah!" chant. Getting the audience involved definitely scored them extra points.
Ultimately it was Team Four that smoked the competition with their Asian-inspired spin on the salmon and the off-recipe spontaneity (think flavorful touches and creative takes on technique) of Antonette Copeland, the design director at CR Home Design Center, and help from Paul Castell, president/owner of Dove Studio Kitchen & Bath.
After the judges made their decision based on presentation, plating, and taste, we enjoyed the fruits of everyone's labor by digging into each team's dishes. As we ate, we reflected on what we learned about our coworkers and our newfound trust, respect and dependence on each other.
Each team chose a member that added something extra special to the activity and crowned the individual "MVP" with a chef's hat. Sales/marketing assistant Halen Adair added spectacular creativity and quick thinking to team Team Three aka "This Just Thin." Overall, this unique team-building experience, which more than 25,000 people have participated in, received rave reviews from our group. Now we know why 80 percent of other participants said this was the best team-building activity they have ever done.
Details: 2715 Peachtree Square, Atlanta; TeamBuildingWithTaste.com