Meet Atlanta's Best of 2023 Winners
After tens of thousands of votes, you have chosen Atlanta's Best of 2023 Winners. From fitness and beauty to health and adventure, these businesses go above and beyond to provide you cutting-edge services and quality customer care!
---
Best 55+ Living Community
Mansions Senior Living
Mansions Senior Living retirement communities are located throughout the Metro Atlanta area and feature modern buildings, spacious apartments and appealing common areas that come together to create an upscale and inviting atmosphere for 55+ residents, their families and guests. Mansions' staff pride themselves in providing five-star, award-winning communities to seniors in the area, and they invite you to explore their campuses, discover an enhanced lifestyle and enjoy your retirement with family and friends.
www.MansionsSeniorLiving.com, 470.397.3961 
---
Best Allergy & Asthma Practice
Atlanta Allergy & Asthma
Atlanta Allergy & Asthma, one of the largest allergy groups in the southeast, has been providing quality care to patients for over 50 years. At 18 locations across Atlanta, their board- certified specialists treat patients of all ages who struggle with allergies, asthma, food allergies, sinusitis and immune disorders.
---
Best Assisted Living Community
Somerby Sandy Springs
A reward for a life well lived should be a life one truly deserves—and that's precisely what Somerby Sandy Springs fosters. Somerby's community is designed to create a rich, satisfying life for every resident, from the life-affirming support and services to the innovative programs and amenities, to the staff who provide expert, compassionate care. Somerby is committed to offering joyful experiences and creating a community that truly feels like home. 
www.bridgeseniorliving.com, 470.401.0368 
---
Best Back and Spine Care
Resurgens Spine Center 
Resurgens Spine Center has been providing expert spine care in metro Atlanta since 1999. With a dedicated team of 25 board-certified physicians and the convenience of 24 metro area locations, Resurgens Spine Center offers nonsurgical and surgical treatment options to address the full scope of neck and back issues, from herniated discs to sciatica and more. Resurgens Spine Center consistently wins top- place accolades, including Best Self's top spine center for eight consecutive years.
www.resurgensspine.com, 404.847.9999 
---
Best Bariatric Surgery Practice
Peachtree Surgical & Bariatrics
With over 35 years of excellent bariatric care and the most experienced bariatric surgeons in the state, Peachtree Surgical & Bariatrics stands out as Georgia's premier bariatric surgery group. Led by world-renowned surgeons who have shared their bariatric surgery techniques globally, this distinguished group delivers exceptional outcomes. Committed to personalized care and comprehensive support, Peachtree's team empowers patients on their weight loss journey. Experience unmatched excellence in bariatric surgery at Peachtree Surgical & Bariatrics—where expertise meets compassion for optimal results.
www.peachtreebariatrics.com, 404.977.5824 
---
Best Botox ITP
Charette Cosmetics 
Charette Cosmetics stands as the pinnacle of excellence in the realm of med spas. With a fusion of cutting-edge technology, personalized care and a team of highly skilled professionals, it redefines rejuvenation and self-care. From advanced skincare treatments, like the MelanX Chemical Peel, to noninvasive procedures, every experience is tailored to client needs. Charette Cosmetics ensures each client's journey is transformative, uplifting and undeniably the epitome of med spa brilliance. 
www.charettecosmetics.com, 404.430.4378 
---
Best Botox OTP
Allure Aesthetic Center
Since opening its doors in 2017, Allure Aesthetic Center has been a one-stop shop for all your aesthetic needs. With a strong focus on natural results and the ever-changing landscape of aesthetic treatments, Allure works diligently to always deliver A+ service. Allure's trusted team strives to educate clients and tailor treatments to each individual rather than a "one-size-fits-all" approach. Stop by to explore client's favorites like Semaglutide, Botox, fillers, threads, lasers and facials—just to name a few!
www.allure-medspa.com, 770.988.5559
---
Best Boutique Fitness Studio
9Round Fitness— Atlanta Peachtree St.
9Round Fitness—Atlanta Peachtree St. is owned by celebrity trainer and actress Geri Gonsalves. She and lead trainer Stormie Wallace have cultivated an environment where both novice and elite members feel at home. 9Round uses a beginner- friendly foundation of kickboxing to create a kickboxing-themed HIIT workout. Whether you're looking to burn fat, tone or build muscle, this is the gym for you. 9Round's motto is "Fitness where you fit in!" 
www.9round.com/locations/ga/atlanta/peachtree-st, 470.452.6008 
---
Best Brow Studio
Authentic Beauty Makeup Salon & Brow Studio
Authentic Beauty is an award-winning brow and makeup studio in Atlanta best known for its precise tweeze-only approach. Known for growing back brows that have been badly damaged by overplucking and waxing, the Authentic Beauty team often hears the phrase, "I never thought I'd have full brows again!" Authentic Beauty celebrates their 15-year anniversary this year with the launch of Genuist Beauty cosmetics. Find more info at www.myimagejourney.com.
---
Best Chiropractic Care
Vitality Family Chiropractic
For almost five years, Vitality Family Chiropractic has committed itself to helping East Cobb families improve their health and wellness through chiropractic services. Their team is highly specialized in pediatric and perinatal care, offering state-of-the-art chiropractic care while nurturing and empowering those they serve to live a lifetime of vitality.
www.lifetimeofvitality.com, 678.819.2556
---
Best Clean/Healthy Meal Delivery Service
Eat Clean
Eat Clean is a meal delivery service that provides easy-to-make, fresh, healthy and delicious dishes for those looking to improve their health and save time on cooking. With a rotating weekly menu, Eat Clean utilizes only premium ingredients to provide meals ready in two minutes. Catering to various diets, this healthy food delivery service gives you control over your lifestyle so you can enjoy every meal.
---
Best Childcare
Primrose School of Sandy Springs South
Primrose School of Sandy Springs South is a part of a national family of accredited early education and care schools serving infants through kindergarten and after schoolers. Mrs. Raneet Khurana, the owner, believes that through the Balanced Learn- ing® approach, teachers help empower children to reach their full potential by nurturing curiosity, confidence, creativity and compassion.
www.primrosesandyspringssouth.com, 470.685.1281 
---
Best Concierge Medicine
PartnerMD
The providers at PartnerMD go beyond the healthcare norm to offer you the ultimate doctor-patient relationship. As a leader in concierge medicine, PartnerMD guarantees the one-on-one time you need with your physician through longer visits, same- or next-day appointments, little to no wait times and more. And with two of PartnerMD's physicians, Dr. Rakesh Sarma and Dr. Jennifer Tutt, now accepting new patients at the Sandy Springs practice, it's never been easier to experience better healthcare for an even better you.
www.partnermd.com/sandysprings, 404.419.4747
---
Best Cooking Classes
Healthy Eating 101
Embarking on a culinary journey with Chef Megan and Healthy Eating 101 is the ultimate choice for food lovers, creative nights out and corporate clients looking for wellness-minded cooking classes. The deliciously crafted menus offer an exploration of culinary artistry, healthy lifestyle choices and nutrition. Enjoy a harmonious blend of taste and health and have fun in the kitchen while learning culinary skills that'll last a lifetime. Elevate your plate, energize your lifestyle and savor the distinction of being your best self–with Healthy Eating 101. 
www.healthyeating101.com, 404.692.1015 
---
Best Cosmetic Dentistry
Atlanta Smiles 
Dr. Dina Giesler built her Buckhead practice by personal referrals 24 years ago. Today, her commitment to excellence continues to shine at Atlanta Smiles, where she has partnered with Dr. Marianna Kovitch to offer comprehensive care in general and aesthetic dentistry. With over 50 years of combined experience and hundreds of continuing education credits under their belts, these highly credentialed dentists take a conservative approach to achieve natural and beautiful results, providing concierge-level private service in a stress-free environment.
www.atlantasmiles.com, 404.262.7733 
---
Best Cosmetic Dermatology
Dermatology Consultants
For over 80 years, the board-certified physicians and aestheticians at Dermatology Consultants have provided a comprehensive approach to skincare. By combining best-in-class dermatological skincare with innovative aesthetic treatments, Dermatology Consultants provides both optimal beauty results and superior medical care. The skilled team creates an individualized plan for each patient incorporating cutting-edge treatments like advanced laser technology, skin peels, injectables and fillers.
www.dermatologyconsultants.org, 404.351.7546 
---
Best Day Spa
Natural Body Spa in Buckhead 
Natural Body Spa promotes health and wellness during every visit with award-winning spa treatments delivered by the best staff in Atlanta hands down. From custom facials to Hydrafacials, body therapies, and brilliant massages—including deep tissue, hot stone, couples and pregnancy—choose from à la carte services or luxurious spa packages to meet your unique relaxation needs. With upscale Med Spa services coming in Fall 2023, Natural Body Spa is the place for all your beauty and wellness needs. 
www.naturalbody.com/spa-locations/ georgia-buckhead, 404.869.7722 
---
Best Dermatology Practice
Dermatology Specialists of Georgia & Aqua Medical Spa
At Dermatology Specialists of Georgia & Aqua Medical Spa, you'll find a full range of medical, surgical and cosmetic dermatology services. Dermatology Specialists' skin care experts specialize in skin cancer diagnosis and treatment, including Mohs micrographic surgery and image-guided superficial radiation therapy (IG-SRT). The experienced team also treats everything from acne to chronic skin conditions like psoriasis and eczema. Visit the Dermatology Specialists offices in Marietta and Tucker.
www.mydermspecialists.com, 770.952.2100
---
Best Divorce Attorney
Atlanta Divorce Law Group
Atlanta Divorce Law Group (ADLG) was founded in 2016 with the mission of helping clients make informed and empowered life decisions that lead to a life without regret; what the firm calls Happily Ever After® Divorce. The firm prides itself in helping clients make decisions based on their own values and priorities; and sometimes that involves guiding the client to discover what truly matters to them in times of conflict. With this purpose in mind, ADLG has created a process for divorce where the end goal is not just divorce, but to bring clarity, peace and security to their clients' lives.
www.atlantadivorcelawgroup.com, 678.203.9893
---
Best Ear, Nose and Throat Care
Northeast Atlanta ENT & Allergy
The providers at Northeast Atlanta ENT & Allergy understand the importance of providing comprehensive care for conditions related to the ear, nose and throat. Northeast Atlanta ENT's dedicated team of experts is equipped with the latest advancements in medical technology, ensuring accurate diagnoses and effective treatment plans. Whether it's allergies, sinus issues, hearing loss or any other ENT-related concern, Northeast Atlanta ENT & Allergy is here to provide personalized care tailored to each patient's unique needs.
www.myents.com, 770.237.3000
---
Best Event for Giving Back
The Tasting of Jewish Family & Career Services
In its 24th year, The Tasting of JF&CS is a fun, elegant affair that benefits the nonsectarian Zimmerman-Horowitz Independent Living Program, a supportive living program that serves individuals with intellectual and developmental disabilities — as well as their families and caregivers. At the event, guests can enjoy delicious bites from a fantastic list of curated restaurants and caterers, refreshing and refined libations, and the chance to bid on unique silent auction items, all while supporting adults with disabilities.
www.jfcsatl.org, 770.677.9300
---
Best Facial ITP
Institut' DERMed Spa
Institut' DERMed Spa has been changing lives by changing skin for the past 33 years. Established in 1989 by Master Aesthetician Lyn Ross, an Aesthetic International Association Academy of Legends inductee, Institut' DERMed Spa offers the latest in nonsurgical skin rejuvenation treatments for face and body in a luxury spa environment. The spa staff is composed of the most highly-qualified, licensed and clinical skincare-certified estheticians in Atlanta dedicated to helping you love your skin.
www.idermed.com, 404.261.5199
---
Best Farm-to-Table Restaurant
Milton's Cuisine & Cocktails
Milton's Cuisine & Cocktails is nestled in a restored 155-year-old farmhouse located in the historic district of Crabapple. The charming North Fulton restaurant serves contemporary Southern cuisine that utilizes fresh, local ingredients, many of which come from the restaurant's on-site garden called Milton's Acre. Executive chef Dean Wenzel showcases his regionally inspired comfort food with bold, modern flavors and hosts curated garden dinners throughout the year to highlight seasonal produce harvested from the garden.
---
Best Fillers – ITP
Alchemy Aesthetics
Directed by David B. Brothers, MD, Alchemy Aesthetics is the complimentary medical spa to the Plastic Surgery Centre of Atlanta. Alchemy's medical aestheticians and nurse injectors are fully licensed, credentialed and laser-certified, with rigorous training in analyzing and treating skin-related conditions and concerns. A complete skin analysis is only the beginning of your tailored treatment plan specific to your needs, goals and lifestyle. State-of-the-art products, lasers and quality services help unveil healthier, younger-looking skin. Call Alchemy Aesthetics today to schedule your complimentary consultation.
www.pscatlanta.com/alchemy-aesthetics, 470.712.5975
---
Best Fillers OTP
Timeless Aesthetics
Timeless Aesthetics of Atlanta is a comprehensive practice that strives to provide patients with the highest-quality skin care products, cosmetic skin treatments, and services using medical-grade products and state-of-the-art technology. The dedicated team of expertly trained cosmetic injectors, licensed aestheticians and laser technicians provides the latest innovations in technology and medical skin care.
www.timelessmedspaatl.com, 404.400.6222
---
Best Financial Planning/Services
Financial Innovations 
Financial Innovations is committed to helping people at every stage of life identify solutions for their retirement assets. Experienced advisors assist clients with their financial planning goals by creating tailored, strategic plans. Financial Innovations is proud to offer value-driven financial planning strategies, wealth management, retirement planning, estate planning, tax planning and insurance planning services.
www.financialinnovations.biz, 404.458.0065
---
Best Foot and Ankle Care
Resurgens Foot and Ankle Center
Resurgens Foot and Ankle Center has been providing expert, foot and ankle care since 1999. The physician team consists of 10 board-certified orthopaedic surgeons with specialized fellowship training, allowing them to offer nonsurgical and surgical treatment options for sprains, fractures, osteoarthritis and more. Resurgens physicians have led the way in performing surgeries, including minimal incision procedures and total ankle replacements. Resurgens Foot and Ankle Center consistently wins top-place awards, including Best Self's top foot and ankle center for three years.
www.resurgens.com/foot-ankle, 404.847.9999
---
Best Functional Medicine Practice
STAT Wellness
STAT Wellness is a one-stop wellness shop uniquely combining both medicine and movement under one roof. STAT Wellness offers functional medicine, physical therapy, dietitian services, health coaching, IV therapy and various fitness classes. Since opening its first location in 2019, STAT has since grown to three locations, 30+ employees and over 5,000 patients. The STAT team prides itself on offering the best customer service, transparent pricing and taking a root-cause approach to address all of your wellness needs.
www.statwellness.com, 404.254.5905
---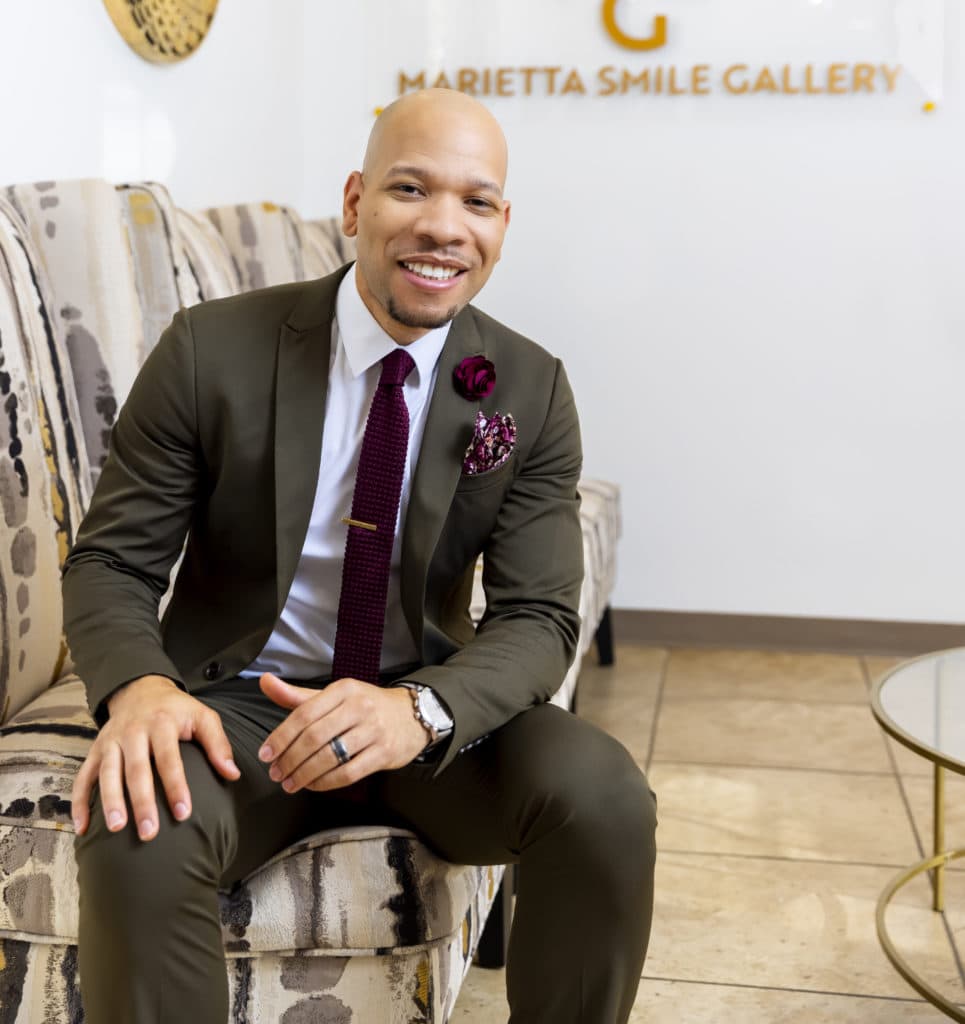 Best General/Family Dentistry
Marietta Smile Gallery 
Marietta Smile Gallery is your primary care dental provider, specializing in cosmetic, restorative and preventive dentistry. Beautiful smiles are at the core of their practice. Advanced technologies are vital in maximizing patient comfort level and care. Their team strives to improve the appearance of teeth, gums and your bite. Their approach to aesthetically appealing solutions is holistic, focusing on improvements from color to position, shape and overall smile appearance.
www.mariettasmilegallery.com, 770.627.5598
---
Best General/Family Doctor
Dr. Howard S. Yager
Dr. Yager and his staff believe in the benefits of developing relationships with patients in order to collaborate with them to achieve better health. His personalized approach means you and your loved ones will receive continuous, high-quality care at every stage of life.
www.howardyagermd.com, 404.261.1165
---
Best Golf Course
Bobby Jones Golf Course
Bobby Jones Golf Course is home to a public-access, reversible nine-hole golf course. After completing a full renovation in 2020, Bobby Jones Golf Course is proud to welcome golfers of all ages and abilities to play a round, hit balls on the driving range, take a lesson or grab a bite to eat at their restaurant Boone's. As a revolutionary course in design, Bobby Jones Golf Course features a unique tee box system designed to make golf more approachable for everyone.
www.bobbyjonesgc.com,404.355.1009

---
Best Hair Extensions
Craig McQueen Salon
Elevate your beauty with seamless hair extensions at Craig McQueen Salon. Craig McQueen's skilled stylists specialize in adding natural length and volume, ensuring a stunning result. Choose from a range of trending colors to complement your style. Embrace fuller, vibrant hair that leaves you feeling confident. Visit Craig McQueen Salon today for a complimentary color or extension consultation.
www.craigmcqueensalon.com, 404.266.9696
---
Best Hair Restoration Surgery
Anderson Center for Hair
Best Self Atlanta's Best of Winner 10 Years in a Row! With a dedicated surgical team that has over 175 years of combined experience in hair restoration surgery, AndersonCenter for Hair is at the forefront of leading technologies for fighting hair loss safely and effectively. Patients can have complete peace of mind on this life-changing journey, from knowing all the options and projected outcomes of their treatment plan, to post-surgical care and follow-up. It's no wonder that over 5% of their patients are themselves practicing physicians and surgeons. Visit Anderson Center for Hair at one of their two purpose-built hair loss centers in Atlanta and Alpharetta.
www.andersonhaircenter.com, 404.256.4247
---
Best Hair Salon for Blowouts
Salon Red
Welcome to Salon Red, Atlanta's premier destination for all things hair! A place where beauty and relaxation meet. Salon Red's expert stylists are at the forefront of hair trends and techniques and are committed to understanding your unique needs and preferences. Whether you're looking for a fresh new look or simply want to maintain your current style, Salon Red's stylists are here to make your hair dreams come true.
www.salonred.com, 404.373.2003.
---
Best Hair Salon for Men
18|8 Fine Men's Salon Brookhaven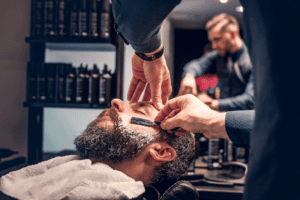 This isn't your dad's old barbershop—this is 18|8 Fine Men's Salon Brookhaven. After retiring from their corporate jobs, husband and wife duo Skip and Nancy Plesnarski followed their passion and opened a different kind of barbershop in 2014. They've taken the idea of the classic barbershop and given it an upgrade to bring it up to speed with modern times. They offer a wide range of professional salon services while integrating modern styles and grooming techniques to keep men looking sharp. Their signature Executive Haircuts will help clean up your look and leave you feeling rejuvenated! Appointments encouraged.
www.188brookhaven.com, 404.481.5368
---
Best Hair Salon for Women
Bob Steele Salon 
Bob Steele Salon was founded in 1979 and has six incredible locations throughout the metro Atlanta area. Bob Steele's stylists have completed an extensive internship to further their education prior to being on the floor, which means you're getting the highest-quality service with each visit! At this luxury salon, you'll find Redken color as well as an assortment of quality hair products such as Oribe, Pureology and Aveda. 
www.bobsteele.com, 404.262.9499
---
Best Integrative Medicine Practice
Tree of Life Healing and Center for Energy Medicine
For the past 11 years, Tree of Life Healing Center has been a trusted provider of acupuncture, neurolink, chiropractic and allergy/nutrition services to the Smyrna community. Now, more exciting healing is on the horizon with the recent opening of the Tree of Life Center for Energy Medicine. Visit the unique, state-of-the-art center to experience scalar energy-red light therapy, quantum detox foot baths, T*E*S*L*A plasma in zero gravity massage med bed chairs and more. The future of medicine is frequency, light, sound and vibration!
www.treeoflifeatl.com, Healing Center: 678.812.9817, Energy Center: 470.559.0576
---
Best Laser Hair Removal
Ranka Skin Med Spa 
At Ranka Skin Med Spa, you'll find a wide variety of medical-grade skin care treatments for people of all ages. This boutique med spa's therapies are patient- tailored to help rejuvenate, heal and improve your skin with innovative treatment plans customized for you. With over 12 years of experience working with aesthetic lasers, Hillary Grady Seymore is grateful to her supportive patients and peers and is honored to be named Best Laser Hair Removal in Atlanta.
www.rankaskin.com, 678.308.2908
---
Best Lash Studio ITP
Sweet & Lashful
Founded in 2014, Sweet & Lashful offers Atlanta's best luxurious eyelash extensions, keratin lash lift and tint, brow lamination and henna brows. Sweet & Lashful's other award- winning permanent makeup services include microblading/shading, eyeliner tattoo, lip blush, and cosmetic scalp micropigmentation. Select locations offer clinical skincare by Shim Aesthetics, including Buckhead's first Sylfirm X RF Microneedling. With their newest location in Toco Hills, you can visit the Sweet & Lashful website to book services or to purchase online gift cards. 
www.sweetandlashful.com, call or text 404.816.6006
---
Best Lash Studio OTP
The Lash Lounge Alpharetta 
The Lash Lounge Alpharetta isn't your average lash studio. The moment you walk in, you're treated to an incredible experience. The team's goal is to provide the best eyelash extension services in Alpharetta, delivering precisely the look they craft with you during their expert consultative process. 
www.thelashlounge.com/ga-alpharetta- old-alabama-square, 404.341.5274
---
Best Male Enhancement Practice
Prometheus by Dr. Malik
Prometheus is a patented, safe and medically-approved, permanent, nonsurgical penis enlargement procedure. Over 15,000 treatments have been performed, making this the choice for men who desire maximum sexual confidence. Imagine arriving at noon and, within two hours, leaving with a more impressive you. A double board-certified physician with over 15 years of experience and 500 five-star reviews, Dr. Malik emphasizes three areas that matter most to his clients: discretion, results and customer service.
www.prometheusxl.com, 888.365.1333
---
Best Med Spa ITP
Skin IQ Medspa
Skin IQ Medspa has been the secret skin spot of West Village in Buckhead for over 17 years. Founder Lidia Nistor-Reteneller's passion for medicine, preventative aging modalities, and her capacity to care and connect with her clients has translated into a remarkable level of customer loyalty. When asked about her best selling treatments, Lidia replied without hesitation "Sofwave for neck lifting, Glacial Treatment for pigmentation and Rosacea, and Diamond Glow Facial for monthly premature aging prevention."
www.skiniqmedspa.com, 404.277.0778
---
Best Med Spa OTP
Park Ave Cosmetic Center
Under the guidance of founder Jessica Park, Park Ave Cosmetic Center is honored to be recognized for its commitment to excellence in both traditional spa and advanced cosmetic treatments. Park Ave's dedicated team offers a blend of rejuvenating services and innovative anti-aging solutions in a serene environment. As a proud women-led business in Roswell, Park Ave Cosmetic Center prioritizes continuous education to elevate your wellness journey. Experience the Park Ave difference—where beauty meets passion and expertise.
www.parkavecosmetic.com, 770.299.1493
---
Best Nail Salon
Sugarcoat Beauty 
Locally owned and operated, Sugarcoat was established in 2010 with the vision of creating a clear, inviting and healthy beauty destination. Atlanta's go-to spot for nail art and nail design, Sugarcoat strives to provide their team members and customers the best environment with clean air filtration technology, sterilization of implements and never reusing nail files, pumice stones or buffers. With each location, they are constantly looking for ways to improve and innovate beauty. Group reservations for corporate events and parties are available.
www.sugarcoatbeauty.com, 404.999.8688
---
Best Nonsurgical Body Sculpting
Radiance Surgery & Aesthetic Medicine
Radiance Surgery & Aesthetic Medicine is the Atlanta destination for your aesthetic needs. Radiance's full-service surgery center and med spa offers premier, cutting-edge treatments provided by top-notch experts. Radiance prides itself in taking a concierge approach to your care. From Coolsculpting to Botox, fillers and medical-grade skincare using Obagi Medical and SkinCeuticals, you can take comfort that you're in good hands. This is evident in Radiance's glowing patient testimonials and 350+ five-star reviews. Drop by today and discover your Radiance.
www.discoverradiance.com, 678.412.0311
---
Best Nonsurgical Facial Rejuvenation
Marietta Facial Plastic Surgery, Laser & Aesthetics Center
As one of the southeast's most well-respected facial plastic surgeons for more than 25 years, Dr. Seth Yellin founded Marietta Facial Plastic Surgery, Laser & Aesthetics Center as Atlanta's premier facial cosmetic surgery practice. Being voted "Best Nonsurgical Facial Rejuvenation" is a testament to the dedication of Dr. Yellin's team as well as the success of the Injecta-Lift procedure he pioneered and popularized to reshape and rejuvenate the face with instantaneous and long-lasting results.
www.mariettafacialplastics.com, 770.425.7575
---
Best OB-GYN
Northside Women's Specialists
Northside Women's Specialists, part of Pediatrix Medical Group, has provided care to the women of Alpharetta and Atlanta since 1979. With more than 150 years of combined experience, Northside's clinical teams provide comprehensive OB-GYN services for women and a coordinated team approach for the management of routine and high-risk pregnancies. As one of the only practices in the area with obstetrics, specialized gynecology and maternal-fetal medicine under one roof, you can trust Northside Women's Specialists to provide the best care possible.
www.pediatrix.com/womensspecialistsnorthside, Alpharetta: 678.352.0254, Sandy Springs: 404.255.2057
---
Best Orthodontics Practice
Hiser Orthodontics
Hiser Orthodontics has served the North Atlanta area since 2001 with three convenient locations in Downtown Cumming, Midway Park and Alpharetta. With the same doctor and staff serving all locations, they are able to treat their patients with compassionate care while delivering fantastic results. As a Diamond Plus Invisalign Provider, you can rest assured you're in great hands when it comes to Invisalign clear aligner treatment.
www.hiserortho.com, 470.330.9083
---
Best Outdoor Dining
Gypsy Kitchen
Walk through the door at Gypsy Kitchen, on the second floor of the Buckhead Village, and you'll know you're about to experience something special—an eclectic bohemian escape and culinary adventure. Head out to the expansive rooftop patio where unobstructed city views and plush cushions welcome guests to settle in. Just like travelers collecting favorite memories and souvenirs, the Gypsy Kitchen team has gathered the most compelling flavors and techniques from Spain, Greece, Lebanon, Morocco, Israel and beyond.
www.gk-atl.com, 404.939.9840
---
Best Pediatric Dentist
Millkey Way Pediatric Dentistry 
Buckhead native and Board Certified Pedodontist Dr. Mary Millkey and her friendly, knowledgeable team members cater to the unique needs of patients from infancy until college. Located conveniently in the West Paces Ferry Shopping Center and central to many schools, this award-winning boutique practice provides state-of-the-art dentistry with an engaging outer space theme. By offering insurance network participation, a textable phone line, and evening appointments, Millkey Way shines bright among Atlanta's pediatric dental specialists!
www.millkeyway.com, 404.254.0750
---
Best Permanent Makeup
Janet Wix, CPCP
Janet Wix, CPCP, is a gifted master artist with a natural eye for beauty who has performed over 18,000 procedures since 2005. She collaborates with every client to achieve optimal results in hyperrealistic microbladed brows, eyeliner, 3D areola restoration, Aquarelle lip color and tattoo removal. She works in multiple locations in Atlanta including Woodstock and Marietta. 
www.janetwix.com, 404.933.8140
---
Best Physical Therapy
Druid Hills Physical Therapy
Druid Hills Physical Therapy has been your trusted partner since 2017 due to their unwavering commitment to personalized patient care, remarkable team culture and dedication to fostering community well-being. With several many years of experience, Druid Hills Physical Therapy stands out by offering individualized one-on-one treatments, working seamlessly with insurance, focusing on positive outcomes and cultivating exceptional team camaraderie. Experience the difference that makes Druid Hills Physical Therapy the best choice for your health and recovery needs.
www.druidhillspt.com, 470.427.3840
---
Best Pickleball
JOIN Pickleball – Atlanta 
JOIN Pickleball (JPB) operates award-winning pickleball leagues with 36,000+ players actively engaged. JPB leagues are divided by skill level and are offered in two formats, team-based "Club Challenge" leagues and doubles "Flex" leagues. These leagues provide a fun, socially-competitive experience that includes proprietary leading- edge technology. Leagues are played each season and culminate with league winners receiving a "GOLDEN TICKET" to the Atlanta Pickleball Championship, where City Champions for each skill level are crowned!
---
Best Pilates Studio
Stability Pilates & Physical Therapy
Here, small class sizes make all the difference as attendees receive individualized attention from Pilates instructors, who are often physical therapists. All staff has advanced training and credentials and provide hands-on correction and cueing. Stability offers physical therapy sessions, a selection of group classes, and private sessions that are designed to complement busy schedules. Each session promises to be fun, challenging and never the same.
www.stabilityatlanta.com, 404.303.9153
---
Best Plastic Surgery Center for Breasts
Luna Plastic Surgery 
Patients at Luna Plastic Surgery feel at ease in the care of its physician leader, Dr. Patricia Yugueros. Trained at the Mayo Clinic in Rochester, MN, Dr. Yugueros is a board-certified plastic surgeon who has won five consecutive plastic surgery awards from Best Self Atlanta readers. The English- and Spanish-speaking doctor, who is also the chief of plastic surgery at Emory Johns Creek Hospital, is known for her compassionate demeanor and revered for her achievements.
www.lunaplasticsurgery.com, 678.892.7820
---
Best Plastic Surgery Center for the Nose
The Swan Center for Plastic Surgery
Dr. Dean Fardo, Dr. Joseph Bauer, Dr. Cristen Catignani and the staff at The Swan Center are committed to helping patients. Their practice strives to provide a positive patient experience, from the very first consult up to the final follow-up. By focusing solely on cosmetic medicine, they are able to concentrate on providing top-notch care and beautiful results.
www.swancenteratlanta.com; 770.667.0904
---
Best Plastic Surgery Center for the Tummy/Midsection
Georgia Plastic & Reconstructive Surgery
Georgia Plastic provides outstanding all-inclusive, safe cosmetic plastic surgery services for Atlanta and the world. For over 13 years, Georgia Plastic, with its diverse, well-trained and experienced team, has offered comprehensive face, breast and body cosmetic procedures in their state-of-the-art, fully accredited and certified ambulatory surgery center and full-service award-winning Amachi Med Spa. It has received many awards and five-star reviews for its exceptional patient care services, transparent pricing and natural results.
www.georgiaplastic.com, 770.464.5485
---
Best Plastic Surgery for the Face
Atlanta Face & Body 
Dr. Elizabeth Whitaker of Atlanta Face & Body is a double board-certified facial plastic surgeon widely sought after for her vast anti-aging surgical expertise and for employing the latest advancements in surgical facial rejuvenation. Known as the Queen of Faces by many of her patients, Dr. Elizabeth has performed thousands of facelifts—focusing on natural- looking results to help her patients look their personal best. She has been nationally recognized as a Top Doctor by her peers (Castle Connolly) for 20 years in a row.
www.atlantafaceandbody.com, 678.888.3223
---
Best Salon for Color
Van Michael Salon
You can rely on the professionals at Van Michael Salon for all of your beauty needs. For nearly 40 years, their award-winning salons have been trusted by everyone from celebrities to their loyal clientele. Experience a salon like no other! 
www.vanmichael.com, 404.237.4664
---
Best School for Cosmetology
Aveda Arts & Sciences Institutes Atlanta 
Aveda Arts & Sciences Institutes Atlanta is reshaping beauty as a profession, positioning beauty education as the starting point for creatives to leave a lasting impact on the world. Aveda's cosmetology program offers comprehensive hands-on training, fusing theory and practical experience for a thorough grasp of beauty and wellness. Guests can also experience a full range of Aveda services delivered by supervised students at a fraction of the cost. Book a tour or service today!
www.avedaarts.edu, 877.892.8332
---
Best Smoothie/Juice Bar
Clean Juice
Clean Juice is locally owned and operated by Cile Wilson and Steve Schrock and is the only USDA-certified juice bar in Atlanta that offers the purest organic, cold-pressed (never high-pressure processed) juices and smoothies (with hemp and whey proteins). It also offers small bites like acai bowls, avocado toast, wraps and sandwiches to help you thrive and stay healthy on the go. Clean Juice is dedicated to promoting a healthy lifestyle in Atlanta neighborhoods, so you'll always find the team participating at various health and wellness events in the community.
www.cleanjuice.com, 404.565.0493
---
Best Spray Tanning
Opulence Spray Tan 
Voted Best Tanning Studio nine years in a row, Opulence Spray Tan has upped the standard for glowing skin. With a decade of experience and award-winning, all-natural formulas, Opulence's dedicated team prides itself on helping clients look and feel amazing in their own skin. Whether it's a Rosewater Gradual Tanning Mist or hydrating body oil, their collection helps your tan look flawless and authentically you. Mention Best Self to receive a Full Body Opulence Blend Spray Tan for $59!
www.opulencespraytan.com, 770.212.3935
---
Best Stretch Studio
StretchLab Buckhead
StretchLab Buckhead is the destination for one-on-one assisted stretching and truly provides a service that is beneficial for everybody and every body. StretchLab's team of exceptional Flexologists will customize your 25 or 50-minute session to fit your specific needs by focusing on problem areas and targeting certain muscle groups. Assisted stretching will help improve your range of motion, increase flexibility, reduce pain and tension and allow you to move, feel and live better!
www.stretchlab.com/location/buckhead, 404.480.0989
---
Best Urology
Scott D. Miller, MD, MBA, Wellstar Urology
A men's health advocate, Dr. Scott Miller believes patients should be informed and involved in their care. He has one of the largest, most diverse experiences in laparoscopic and robotic urology in the Southeast. Dr. Miller has been helping patients fight prostate cancer since he became a physician.
www.scottdmillermd.com, 470.956.4230
---
Best Waxing
Sweet Peach Wax Studio
If there's one place that makes hair removal a pleasant experience, it's Sweet Peach. Brazilian-born Raquel Souza brought the ancient art of sugaring hair removal to Atlanta with this beauty brand. The bright and modern studio is always peachy clean and whether it's your first time or you're a loyal regular, the estheticians will put you at ease. 
---
Best All-Around Athletic/Fitness Club – Concourse Athletic Club, www.concourseclub.com
Best Audiology Practice – North Georgia Audiology, www.yourhearinglink.com
Best Facial – OTP – Modern Holistic Skin, www.modernholisticskin.com
Best Massage Therapy – LaVida Massage, www.lavidamassage.com
Best Museum – Selfie Paradise Museum, www.selfieparadise.com
Best Private School – Galloway School, www.gallowayschool.org
Best Regenerative Medicine Practice – Atlanta Innovative Medicine, www.atlantamedicine.com
Best Senior Living Community – Winnwood Retirement Community, www.winnwoodretire.com
Best Team Building Program – Team Building with Taste, www.teambuildingwithtaste.com
Best Therapy/Counseling – Heal ATL, www.healatl.com
Best Urgent Care – Atlanta Urgent Care, www.atlantaurgentcare.com
Best Vegan Restaurant – Strive Foods, www.strivefoods.com
Best Vet Clinic – Animal Wellness Clinic – Milton, www.miltonawc.com
Best Weight Loss – Medical Weight Loss by Healthogenics, www.mdwls.com
Best Arthritis Treatment Practice – Atlanta Bone and Joint Specialists
Best Benefits & Wellness Company – Synergy Benefits & Wellness
Best Boutique – Jilli Boutique
Best Catering – Three Sisters Catering
Best CBD Store – CBD American Shaman – Smyrna
Best Craft Cocktails Place – Tiny Lou's
Best Cross-Training – TURN Studio
Best Cryotherapy – Ice Box Cryotherapy/Buckhead & Midtown
Best Dating/Matchmaking Service – Hatched Matchmaking
Best Day Trip Destination – Blue Ridge
Best Event Venue – Flourish Atlanta
Best Eye Care – North Atlanta Eye Care
Best Family Fun – Fernbank Museum
Best Farmers Market – Peachtree Road Farmers Market
Best Fitness for Moms – Aspire Fitness
Best Fitness for Seniors – E5fit
Best Food Festival – Taste of Alpharetta
Best Gastroenterology – Atlanta Gastroenterology/United Digestive
Best Hair Salon for African-American Hair – The Men's Refinery Clothing and Grooming Lounge
Best Health Food Store – Olea Oliva
Best Hormone Therapy Treatment – Vital Living Healthcare
Best Indoor Golf Simulators – Efil Golf
Best Infrared Sauna Studio – Floasis Float & Sauna Center
Best IV Hydration Therapy – DRIPBaR Atlanta
Best Joint Care/Replacement – Peachtree Orthopedics
Best Live Music – Roaring Social 
Best Microblading – Expressions Brow Studio
Best Nonsurgical Hair Restoration – Absolute Image Consulting
Best Personal Training – Sparkle Wellness
Best Pet Daycare – Puppy Haven
Best Pet Grooming – Barking Hound Village
Best Podiatry – Dr. Stephanie Michael – Village Podiatry
Best Rooftop Bar/Restuarant – Up on the Roof – Alpharetta
Best Spin Studio – SoulCycle
Best Winery – Wolf Mountain
Best Yoga Studio ITP – The Yoga Studio Atlanta
Best Yoga Studio OTP – Peach Out Power Yoga