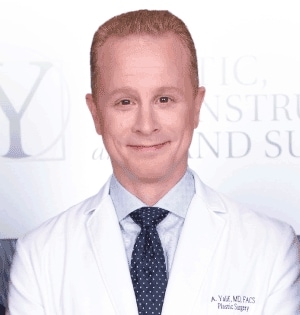 By Amy Meadows
About a year ago, Asaf Yalif, MD, founder of Y Plastic Surgery, became one of the first members to join WellStar North Fulton Hospital's Breast Cancer STAT (Specialty Teams and Treatment) Clinic, a clinic that brings together all the medical specialists a patient may need to see when diagnosed with breast cancer.
"To be part of a breast cancer team is a wonderful opportunity," he says. "It's an excellent approach to cancer care because patients get to see all of their doctors together at one time. In this way we can explain how we can help them through the entire process. We want these patients to have the best possible experience from the very beginning, especially through such a frightening time."
That patient-centered focus has been at the heart of Dr. Yalif's practice since he opened the doors to Y Plastic Surgery in 2008 after years of intensive training in locations like New York City, Buffalo, and Memphis. Today, with offices in Alpharetta, Roswell, and Woodstock, Dr. Yalif and his team offer a wide range of cosmetic and aesthetic services for the entire body, as well as specialized service in breast surgery, including cosmetic and reconstructive procedures. "The amazing thing about plastic surgery is that we have the opportunity to replace form," he observes. "In a situation like breast cancer, we can help patients cope with some of the loss required with a cancer operation. When a mastectomy is done, the entire breast is removed and patients may feel like they have lost a part of themselves, and we can help recreate it for them. Plastic surgery is the only discipline where I can help in this way."
We Really Care About Our Patients
Offering comprehensive counsel and support throughout the surgical process—regardless of the type of procedure being done—is of the utmost importance to Dr. Yalif and his staff, who make themselves fully available to patients to answer questions and address concerns. "We really care about our patients, and we want them to be in an environment that makes them as comfortable as possible as we help them through their journey."
Being a supportive team member extends beyond the office for Dr. Yalif, who has been inspired by his work with breast cancer patients to help raise funds for research toward a cure. In November, he will run the New York City Marathon for the second time with The Pink Agenda team. The Pink Agenda is an organization that focuses on raising money for breast cancer research and care, with a focus among young professionals. To prepare, Dr. Yalif rises at 4 a.m. six days a week for morning runs, some more than 20 miles. And every step of the way, he thinks about his patients.
"It's an honor to be able to help breast cancer patients," Dr. Yalif says. "We want to provide the best level of care—with compassion—to all of our patients. Whether it's cosmetic or reconstructive, we want the process to be an excellent one." YPlasticSurgery.com
3 Differences You'll Notice About Y Plastic Surgery
1. A "Family" Affair
According to Dr. Asaf Yalif, the staff is a tight-knit group. "Our team is like a small family," he says. "You will see the same faces and hear the same voices throughout your care here. We're always here for patients, to help them spiritually, emotionally and physically."
2. Best Results
Dr. Yalif uses the some of the most advanced techniques and technology to create the patients desired look—whether surgical or minimally invasive. "There are so many options available these days, and a new one pops up every week! We have to stay abreast of what is 'best practice' and master it," he reveals. "When we have discussions with patients, we want them to know that we will make choices based on their anatomy and their desires to create their best aesthetic."
3. Giving Back
Dr. Yalif and his team are active in the community. In addition to their commitment to breast cancer research, they also volunteer with numerous local and national charities. "Giving back to the community is very important to the heart and soul of Y Plastic," explains Dr. Yalif. "We always want to educate, enrich, and help the best that we can. Through running, raising funds, and engaging the community, we can bring about great change." Rebecka Stenberg, the front office coordinator, adds, "You can always check us out on our social media to see who we are raising funds for next!"