Wonder Women: 10 One-of-a-Kind Paths to Entrepreneurship
According to Georgia.org, our state ranks No. 5 in the U.S. for the highest number of women-owned businesses. 
Women-owned enterprises are booming, and with industry leaders like the ones in this article, we can only imagine that 
female-helmed firms will continue to thrive. Here, 10 of Atlanta's female entrepreneurs offer insight into their 
career paths and advice for dreamers everywhere.
Helen Ngo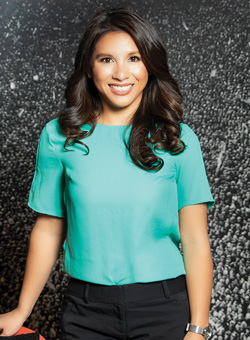 Helen Ngo says she started Capital Benchmark Partners, located in Sandy Springs, because she, "Saw a need for one-on-one financial planning for younger women, especially those who are just starting off in their careers and who didn't really have much guidance or accessibility to a financial planner." And so her company was born. Six years later, she helps women, primarily between the ages of 30 and 45, navigate all of the significant life changes that happen within that window of time. Think tackling student loan payments, purchasing a first home, and even getting married and merging finances—that means encouraging women to go after big dreams and big checks. "My mission is to inspire more women to want to make more money, and know that it's OK to talk about that. To just open up dialogue, but also help them manage their spending and savings."
What is one word that describes your 
entrepreneurship journey?
Tenacious. You have to be pretty relentless and tenacious about promoting yourself and putting yourself out there. A lot of people think entrepreneurs just open the doors and people start pouring into your shop or your business, and you make money, but that's not true. Being an entrepreneur is all about your ability to generate money and bring in business. That has everything to do with marketing and how you position yourself and even the way you talk. A big part of it is being relentless and not taking 'No,' for an answer. To me, when somebody says, 'No,' I always think of it as, 'No, not right now.' https://capitalbenchmarkpartners.com
Judy Mozen
Having been in the business world for 43 years, Judy Mozen, founder and president of Handcrafted Homes, Inc., has several incredible notches on her tool belt. Her Roswell-based company led the restoration of the home of Asa Candler, the founder of The Coca-Cola Company, and her team has been the recipient of a number of industry awards including National Contractor of the Year wins from the National Association of the Remodeling Industry (NARI). However, Mozen says one of her most rewarding career accomplishments was being the fourth woman ever elected as national president of NARI. "The leadership roles I've held in the industry have given me a platform to affect change by promoting more inclusion and diversity," she explains. Getting involved in professional organizations is one of Mozen's tools for success, and she advises that those looking to also break glass ceilings do the same. "When I first began in this industry, I was so busy establishing a business that I waited until later in the game to become active in professional associations and local nonprofits.
If I had a do-over, I would have applied to Leadership Atlanta, joined nonprofit boards, and become certified with NARI earlier. Getting involved in the community creates valuable connections with others and keeps you current."
What do you hope your legacy is?
I hope to impact the construction industry on three different levels. First, I have strived to reintroduce the remodeler to the consumer as a trusted professional: someone who is reputable, insured, and certified. Second, I would like my influence nationally to encourage other remodelers to promote diversity in their hiring practices. Finally, I want women to know that this is an exciting and rewarding profession in which they have the opportunity to excel.
https://handcraftedhomes-inc.com
Michelle Falconer
As the founder of Bailey & Hunter Realty, Michelle Falconer has learned how to roll with the real estate punches. She bought her first house at 19 and her first investment property at 20. "It was an empty shell," she recalls. Little did she know, that shell of a home would launch her passion for real estate. "Twenty-three years later, I'm still doing it," she says enthusiastically.
Bailey & Hunter Realty specializes in working with investors to help them find and manage investment properties. "It's the largest investment you'll probably personally make," says the mother of four who resides in Southwest Atlanta. "And no matter if you're buying a house to live in or [to use] to make a profit on, it's still an investment, and you need to treat it as such." Over the years, Falconer has met hardships head on, including the Great Recession. "When the market changed, property management became what everybody needed. There were all of these houses with no owners in them, so we became a hot commodity because we were already in that space. We became the largest minority, female-owned property management firm in the Southeast." Talk about turning lemons into lemonade.
Why is it important to you to inspire other women entrepreneurs, whether
or not they're going to be in your particular field?
When you're an entrepreneur, you're figuring it out as you get to it. So it's invaluable to learn from other people's mistakes and to share with them your successes.
What do you hope your kids learn from you as a business owner? I want them to learn that your life is a book, and there are different chapters. You can have long chapters, and you can have short chapters, but you can write whatever you want on your pages and start a new chapter whenever you want.
https://baileyandhunter.com
Andreia Guilmet
Thirty-four. That's the number of Brazilian Wax by Andreia salons there are throughout the Southeast. Andreia Guilmet founded her first salon in 2005 after spending five years making house calls and working out of her home. Since then, she has continually added more locations to her empire. Guilmet says her secret sauce (besides her proprietary wax) is hard work and generosity. "Everything that comes to me cannot stop with me; it must flow through and continue to bless others." As an emigrant from Brazil with less than $500 in her pocket when she arrived, Guilmet had to overcome everything from navigating red tape to learning a third language, but the East Cobb resident says throughout those challenges, one thing remained steadfast—her faith. "I believe all successful entrepreneurs and business owners must have faith. The reality is that there are day-to-day challenges out of our control that present themselves and must be navigated. When one realizes that it is not possible to control every situation, you begin to rely on faith. It is my faith in God that keeps me and my business moving forward."
What advice do you have for building a team that contributes to a brand's success? Everyone has their own set of strengths and weaknesses. You have to be patient and trusting while tapping into everyone's individual strengths. I respect my team members and give them space to grow, both personally and professionally. Watching them evolve over the years fills my heart and makes me proud.
What do you want fellow entrepreneurs, especially female entrepreneurs, to know about the beauty industry? The beauty industry is endless; there will always be opportunities for an entrepreneur to enter the market and fill a need. But women have a unique opportunity to cater to a different clientele, that men are unable to cater to. Over the past 10 years, we have seen more and more multimillion-dollar companies being founded, owned, or operated by women. Inspiring the younger generation is very important, and I believe we should all strive to be fruitful and productive in order to leave a legacy behind.
https://brazilianwax.com
Carrie Wright
There are few things more inspiring than a woman who has successfully been in one field for 20 years, only to make the switch to follow her dreams and create an equally successful endeavor in another. That's the case for Intown Salt Room's Carrie Wright. Wright's first path had her leading marketing initiatives for internet, media and hotel companies, but patience would bring her to her second passion: wellness. "When I started my entrepreneurial journey of opening the first salt room in Atlanta, dry salt therapy, also known as halotherapy, was basically a trend in the spa industry. My first two years of developing the business plan involved a lot of phone calls and internet searches to find research, resources, and vendors to learn more about the operational and business side of dry salt therapy. It was during my research that I saw the opportunity to create a stand-alone salt room offering a private experience for dry salt therapy, as well as an experience for meditation with sound therapy," she explains. Now, she notes how far she's come. "The proudest moment so far is celebrating Intown Salt Room's 1-year anniversary. The first year is the hardest for any new small business, and I'm humbled that I made it through my first year of business."
What challenges did you face when starting your business?
Surprisingly, finding the space and ordering the custom Himalayan salt for the décor was easy. However, as the first stand-alone salt room inside of the perimeter, there were obstacles regarding how to build out the space to incorporate the salt. It was also difficult to find a local contractor and architecture firm willing to take on a first-of-its-kind project in Atlanta.
How do you support other local entrepreneurs, especially women entrepreneurs?
Collaborating with local entrepreneurs, especially women entrepreneurs, is essential for how I'm able to generate awareness and grow my brand. Support has included co-hosting events, creating unique instructor led-experiences, exclusive product bundles and curated wellness experiences as well as studies with test groups on the benefits of dry salt therapy and meditation with sound therapy.
https://intownsaltroom.com
Lisa Marshall
In the 10 years since Lisa Marshall founded her Alpharetta-based business, Multisport Explosion, a triathlon training program held at facilities around
metro Atlanta, she's watched her high-performance team (the only one of its kind in Georgia) expand not only in size but also in caliber of athletes. In fact, the team finished the 2019 season with a No. 3 national ranking led by teens who have been with Marshall since the beginning. "The athletes that performed so well all season have been with us since we started this program in 2010. They were 7 to 9 years old. They bought into our philosophy and have become some of the top youth and junior triathletes in the country," Marshall explains. The road to success hasn't always been easy, especially in a male-dominated industry. "As a strong-minded and passionate female, I'm often referred to as 'aggressive' or 'difficult.' All the while, if a strong-minded and passionate male coach was to say, act or behave in the same manner, he'd be called a 'powerful' and 'passionate' coach. It's a double standard for women coaching any sport at a high level." Despite the challenges, Marshall says she hopes to inspire her athletes to be diligent and determined. "I want them to learn that hard work does pay off. If they put in the time and effort, they will see the results, and I want them to apply this to everything they do—from sports, school, relationships, and beyond."
How do you decompress?
I work out. I still train by swimming, biking, running and lifting weights like I have for 25 years when I started participating in triathlons. I just don't compete anymore. I have made the switch from being a competitive athlete to being a motivated coach. I have to stay in shape to keep up with these young athletes! I also like to escape to the beach or lake just to be near water and be still.
https://teamexplosion.org
Glenett Hannah
A former soldier in the U.S. Army and participant in the Veteran Women Igniting the Spirit of Entrepreneurship (V-WISE) Atlanta program, Glenett Hannah says her first love is giving back to veterans. She is a licensed clinical social worker with a degree from Columbia University, and she found that she connected to veterans and their families in a way that others didn't. "A lot of people do not understand veterans and all that they go through, and a lot of people do not even understand what the families go through. I knew that was my niche," she explains. Along with the tools, connections and support she received from V-WISE Atlanta, the Stone Mountain local got the final push she needed to begin her business when doctors found a blood clot in her lung in 2015, and then again in 2017. "I thought that was God saying, 'This is it. This is your path to becoming your own boss.'" Since launching Hannah Innovative Solutions, a consulting firm providing mental health counseling, administrative support, and training development, two years ago, Hannah has specialized in holistic counseling for veterans and their families as they reintegrate back into civilian life from the military. Through methods such as cognitive behavioral therapy, Hannah is able to provide a safe space for her clients to be open about their issues. "One of my most rewarding moments was when a 70-year-old Vietnam veteran was able to release the trauma, guilt, and tormenting thoughts and nightmares he had from serving. After a few sessions, the veteran broke down and said, 'Why did I live when so many of my friends died in front of me?' It choked me up to see how the darkness of war had consumed him and how being able to release the past allowed some sunshine to enter back into his life. I can't even imagine the trauma he carried all those years," Hannah says. "This is why I do what I do for veterans and their families."
What were some of the barriers you faced when launching Hannah Innovative Solutions?
I had no clue what it would take to start a business—from the kind of entity it would be to the accounting and legal advice I needed, there was so much to learn. Not to mention, the crucial questions I needed to ask myself such as, 'Who needs my services and why? What makes me different from all the other counseling services out there?' And most of all, 'Is this really something I want to do? Am I doing this for me?'
https://hanahis.com
Cyndi Sterne
You could say Cyndi Sterne's career has been peppered with perseverance. Through name, location, and concept changes, Sterne has managed to forge ahead. "Every business has challenges, some within our control, such as customer service, quality, and location, and some we can't control like the economy, competition, and trends," she explains. "You can't let the obstacles overcome you. You have to keep going and find different ways to make your business succeed." And succeed it has. Sterne's company, Yes, Chef! Culinary Events (formally named Hal's Kitchen) located in the Belle Isle Square in Sandy Springs, hosts everything from corporate team-building outings and private events, to rentals for television and movie production staff, and visiting chefs. She credits her success to her supportive spouse and children, her employees and her desire to make each customer's experience exceptional. However, she also notes that maintaining a work-life balance has been a bit of a learning curve that she's only recently mastered. "It's a challenge to remind myself to work 'on' the business instead of 'in' the business. A lot of my time is actually spent hosting the events, teaching classes and working with vendors. I have to remind myself to set aside time every day to make sure that I am continuing to grow the business. Also, setting boundaries. About four years into the business, I stopped answering the phone after 5:30. As Yes, Chef! Culinary Events has boomed, it has been important to set aside time to focus solely on my family."
Who is your mentor or entrepreneurial role model?
Sara Blakely is amazing! I admire that she talks about her fears, her family, and is supportive of other female artists and businesses owners.
How do you decompress?
Spin, baby, spin! I love the spin classes at Life Time Athletic, Sandy Springs. I've reconnected with old friends, made new friends, and a little bonus is that it has been a great place to network and promote Yes, Chef! Culinary Events. The best part, though, is an hour of time just for me.
www.yeschefatlanta.com
Peiru Kim
Peiru Kim's career launched like most young adults. She was a Georgia Tech grad and employed by a national real estate developer for over a decade. However, when the market took a turn for the worst, Kim found herself doing some soul searching. "I thought long and hard on what to do with the next chapter of my life.
I have always dreamed of owning my own business and have always been drawn to the beauty industry since I was a little girl. With a young baby in tow, I knew I wanted to start my own business and decided to pursue my dream." The Buckhead resident purchased the Atlanta Sugarcoat business in 2010 and launched her second career. "I made a commitment to create the ultimate nail salon. I envisioned myself as a customer and asked what I would want my beauty destination to look like. I enrolled in nail and esthetics school to learn the ins and outs of the beauty industry," Kim says. Today, nearly 6,000 women and men flock to her five Sugarcoat locations monthly for a luxurious nail care experience. Kim isn't slowing down anytime soon either, she plans to open two more salons in 2020.
Who is your mentor or entrepreneurial role model?
The entrepreneur that I look up to the most is Sonny Kahn of Crescent Heights. He was the chairman of the real estate development firm that I worked for. He emigrated from Israel and worked as a taxi driver and mechanic before getting into real estate development. Meeting him, working for his company, and learning of his life story at the beginning of my career really impacted me and made me a believer that through faith, hard work, and persistence, anything is possible. He is a great man of faith, who is full of kindness and love and gives endlessly to his employees and the community.
https://www.sugarcoatbeauty.com
Kim Wilson
Walking through her sprawling Buckhead store, which began as a vegetable stand, you're likely to find Kim Wilson stocking the latest treats from area bakers or putting together thoughtful gift baskets with bubble baths and mugs for local teachers. She often has a smile on her face, bounding from one customer to the next. But it hasn't always been as easy as Wilson makes it look. "Starting a business is such work. I had to look past the daily obstacles and be persistent to reach my goals. It's taken me 10-plus years to build my business—everything from my customer base to relationships with my vendors, it all takes time and perseverance," she says. Knowing how much work goes into starting a business, Wilson is doing her part to pass it on. "We provide female entrepreneurs a platform to develop and showcase their brands. We currently support over 20 women-owned-and-created businesses that sell products at Lucy's Market. I regularly meet with new vendors who want to test packaging and receive feedback from customers and who are looking to expand a product line. I want to support other women the way that I was supported when my business was beginning."
What are some of the greatest business obstacles you had to overcome?
One of my most memorable challenges was balancing a job that required me to be up and out of the house before dawn. I would meet farmers at the market before my children woke up and then have them sit between crates of fresh produce as I drove them to school.
Another obstacle was trusting that success would come from all of my hard work. I had to trust my instincts when other people thought I was crazy.
https://lucysmarket.com