Meet The Doctors and Aesthetic Specialists at The Top of Their Fields by Clicking Below

Dr. Jaeson Courseault—Sports Medicine—Trif3cta Sports Medicine, A LifeHope Company
When rest and ice aren't cutting it, Dr. Jaeson Courseault is here to help. At his new, state-of-the-art facility, Trif3cta, a multi-specialty team is available to diagnose and treat almost any sports injury. No more running around to five different offices for your treatment. The one-stop shop offers physical therapy, chiropractic services, massage therapy, strength and performance training and more, all on the same floor. Read more by clicking here.
Shannon Dixon—Hair Replacement—Absolute Image Consulting
Shannon Dixon and her team at Absolute Image Consulting have been Atlanta's go-to experts for nonsurgical hair replacement for 20 years. Their state-of-the-art private hairdressing salon is dedicated to making clientele feel relaxed and a part of the family, a safe space where you can explore your concerns and ask questions. Read more by clicking here.
Dr. T.C. Elliott—Primary Care—Elysium Primary Care
True connections through authentic doctor-patient relationships are the foundation of excellence at Elysium Primary Care. After practicing in Atlanta for four years, Dr. T.C. Elliott recently opened Elysium as the newest addition to the LGBTQ healthcare landscape committed to putting the human touch back in medicine. Read more by clicking here.
Dr. Jonathan Goss—Telehealth/Diagnostics—Emergent Testing, EmergentNow, Lux Diagnostics
Dr. Jonathan Goss is shaking up the healthcare industry by making it his goal to bring dedicated, passionate care to the community outside of traditional hospital walls. Seeing the limited access to COVID-19 testing during the pandemic, Dr. Goss, an emergency care physician turned entrepreneur, created Emergent Testing and the LUX Diagnostics laboratory to assist Atlantans in providing quicker results to keep families safe. Read more by clicking here.
Dr. David M. Mastro—Cosmetic Dentistry—Alluring Cosmetic Dentistry
For over 40 years, David M. Mastro, DDS, PC, has raised the standard for cosmetic dentistry, providing exceptional care to his patients in Atlanta and its surrounding communities. His commitment to delivering customized care to transform smiles has solidified his excellent reputation at his practice, Alluring Cosmetic Dentistry. Clients praise his natural-looking results that boost their confidence and stand the test of time. Read more by clicking here.
Dr. Scott D. Miller—Men's Health & Urology—Wellstar Urology
For over 25 years, Scott D. Miller, MD has been a prominent men's health expert and urologist in metro Atlanta. His diverse experience in laparoscopic and robotic urology led the way for his peers to name him a Top Doctor for the 13th consecutive year. Read more by clicking here.
Dr. Kristina Price—Eye Health/Aesthetics—Opal Aesthetics at Georgia Eye Partners
They say our eyes are the window to our soul, but did you know they are also our most revealing facial feature? Because we primarily express ourselves with our eyes, we begin to see puffy, sagging eyelids or eyebrows that make us appear fatigued and angry when we age. No need to worry though. The providers at OPAL Aesthetics, the Oculoplastics division of Georgia Eye Partners, are here to help you rewind the clock. Read more by clicking here.
---
Premier Practices
Achieve Occupational Therapy Solutions, Inc.—Occupational Therapy
At Achieve OT solutions we treat individuals of any age needing therapy due to stroke, concussion, brain injury, cerebral palsy, autism spectrum disorders, ADHD, learning disabilities, processing disorders, and binocular vision issues. We exist to provide exceptional quality care to individuals who are struggling with activities of daily living secondary to a debilitating incident or a developmental disorder. We strive to provide rehabilitation solutions and adaptive strategies to help our clients achieve optimal performance in all areas of their lives (work, school, driving, sports, self-care, household management). We have over 14 years of experience in orthopedic and neurological rehab! achieveotsolutions.com, 770.509.2232
---
BenchMark Physical Therapy—Physical Therapy
Our physical and occupational therapists work with patients on their journey to better health. Whether the goal is less pain or increased mobility and function, our industry-leading clinicians are highly-trained and our treatment methods are designed for results – providing patients with exceptional care and a remarkable experience. Most of our therapists hold advanced certifications, meaning better outcomes for patients. We are committed to providing evidence-based interventions, wholeheartedly serving our communities. benchmarkpt.com, 844.264.5307
---
Center for Allergy and Asthma of Georgia—Allergy & Asthma Care
Center for Allergy and Asthma of Georgia is an award-winning allergy practice with 10 locations throughout Metro Atlanta. They offer state-of-the-art care and treat all forms of allergies including nasal allergies, allergic skin, food allergies, conditions including hives and eczema, sinus issues, asthma, and other allergic conditions such as cough. They offer same and next-day appointments to new and established patients to get them well and help keep them free of allergies and related problems.caageorgia.com, 770.285.5200
---
Dermatology Center of Atlanta—Dermatology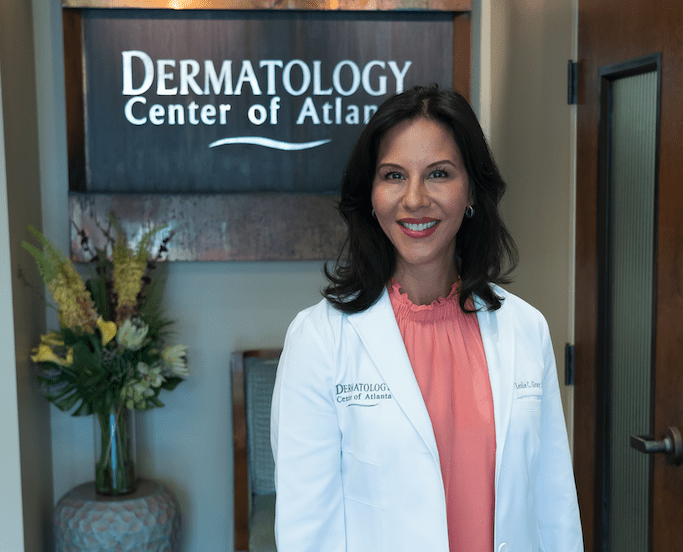 Proudly serving the Atlanta community for more than 20 years, Dermatology Center of Atlanta is thrilled to be recognized as a leader in medical and aesthetic dermatology. From our expert providers at DCA to our talented aesthetic team in our Advanced SkinCare Center and our Advanced BodySculpting Center, we are committed to excellence and are proud to have been awarded "Best Dermatology Practice" and "Best Botox Practice" for multiple years in a row. dermatology-atlanta.com, 770.497.0699
---
North Atlanta Primary Care—Primary Care
North Atlanta Primary Care (NAPC) is a multi-site primary care practice founded by Dr. Thomas Bat in 1988 dedicated to improving people's health and quality of life in Greater Atlanta Communities. NAPC is Georgia's most awarded independent primary care practice for its excellence in patient care and satisfaction. NAPC currently has 16 state-of-the-art facilities serving communities in counties in Metro Atlanta and surrounding areas. With more than 70 providers and more than 200 medical staff members, NAPC provides complete medical care, including acute and chronic illness treatment, preventative health procedures and diagnostic services. NAPC.md, 770.442.1911
---
Springs Dermatology MD—Dermatology
Dr. Shereen Timani is thrilled to serve her community in the heart of Sandy Springs, at City Springs. Amidst the hustle and bustle of the venue, you'll find Springs Dermatology MD; A beautifully appointed comprehensive dermatology practice. Dr. Timani is a rare specialist, she is triple-board certified in Dermatology, MOHS surgery and Dermatopathology. Her education and 19 years of experience are unrivaled. She has practiced in Johns Creek for a dozen years and is very excited to share her perspective in dermatology with you all. As a Sandy Springs local, she enjoys the growth, diversity and optimism of this city. She thoroughly enjoys challenging skin conditions and thrives on making a difference. springsdermatologymd.com, 470.769.9400
---
Concierge Psychology & Psychiatry—Mental Health
Concierge Psychology & Psychiatry is a boutique mental health practice providing top-tier bespoke services in the luxury of your home, at their Buckhead office or at another location of your choosing. Services are discreet and customized, allowing their therapists to utilize an integrative and individually tailored approach to psychotherapy and coaching. conciergepsychology.com, 678.635.9830
---
Atlanta Face and Body Center—Nonsurgical and Surgical Facial Treatments
The importance of self-care to our physical and mental well-being cannot be understated. At Atlanta Face and Body Center, Dr. Elizabeth Whitaker and her team offer the full spectrum of self-care, from cutting-edge nonsurgical treatments to surgery. Whether it's skincare, facials, peels, fillers, laser treatments, Ultherapy or microneedling, you can find whatever treatment you desire in the chic medical spa environment. The office-based surgery center is AAAHC accredited for those interested in facial procedures. The goal at Atlanta Face and Body Center has always been to offer a complete continuum of care all in one convenient location. atlantafaceandbody.com, 678.888.3223
---
Participating Partners
Atlanta Oral & Maxillofacial Surgery and Dental Implant Center
Buckhead ENT
Dermatology Consultants
DiFrancesco Plastic Surgery
Heal ATL Counseling & Wellness
Marietta Smile Gallery
OMS Urgent Care
Premier Dermatology and Mohs Surgery of Atlanta
Vitality Family Chiropractic