VEINAtlanta: Total Vein Care
Experience the Best Treatments for Unsightly Veins
At VEINatlanta's two locations, full-time surgeons redefine excellence when it comes to modern treatment of a variety of vein disorders.
Varicose Veins
Varicose veins are enlarged, twisted, blue veins that are close to the surface of the skin. Because valves in them are damaged, they hold more blood at higher pressure than normal.
Varicose veins can be treated using:
Radiofrequency (RF) Ablation
RF Ablation involves delivering radiofrequency (RF) energy to close the vein wall without any incisions. As the RF energy is delivered the vein wall is heated, causing the collagen in the wall to shrink, the vein to close and circulation to improve. Patients should be able to walk after the procedure and recovery time is quick.
Endovenous Laser Ablation (EVLA)
EVLA is a minimally invasive procedure used to correct venous reflux disease—the underlying cause of varicose veins and other venous disorders. Using ultrasound guidance, laser energy is delivered to close the vein permanently. The procedure takes just 30 minutes, and patients can drive afterwards.
Ambulatory Micro-Phlebectomy (AP)
AP is used to treat bulging and visible varicose veins. It is usually performed as part of a comprehensive vein treatment plan. The procedure is performed in the office with local anesthesia. Using specialized instruments, the vein is carefully removed in small sections.
VenaSeal™
VenaSeal™ is the first FDA approved "superglue" treatment to permanently treat venous insufficiency (reflux), which causes bulging varicose veins. Patients can return to their normal daily activities immediately with no pain or bruising after the procedure.
Spider Veins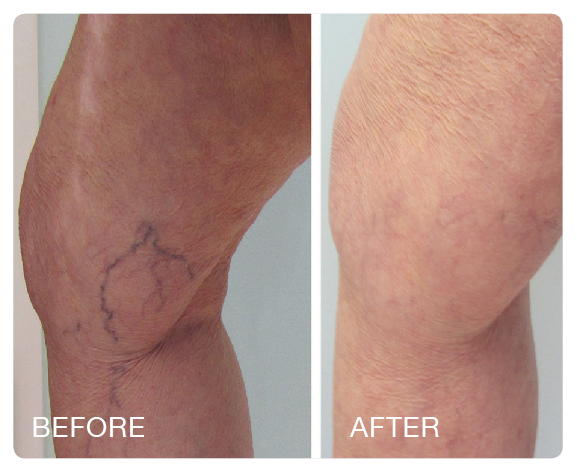 Spider veins are caused when blood backs up into smaller veins, enlarging them as they fill with stagnant blood and become visible to the eye. Spider veins can be an isolated cosmetic issue, or they can be the "tip of the iceberg," indicating deeper, more significant venous disorders such as chronic venous insufficiency.
Sclerotherapy
Sclerotherapy is a method for treating spider veins and small varicose veins. An FDA-approved medicine called Asclera™ (polidocanol) is injected into the vein using a fine needle. This causes chemical irritation to the inside lining of the vein and the vein closes down.
Ultrasound-Guided Foam Sclerotherapy
Ultrasound guided foam sclerotherapy involves using an ultrasound machine to help deliver polidoconol foam in the deeper larger "feeder" veins, causing the vein to
close down.
Surface Laser Therapy
At VEINatlanta, we use the most state of the art Cutera laser with both 532nm and 1064nm for surface laser therapy. The laser energy is absorbed by the blood in the vein causing the vein to close. This treatment is often combined with sclerotherapy.
Facial Veins
Facial veins are dilated blood vessels found on the nose, cheeks, and chin and around the eyes. They can be thin, red spider veins or blue reticular veins. These tiny, painless and harmless veins can occur in both men and women.
Surface laser therapy can be used to treat facial veins. The laser energy causes the vessels to close down. Over the next several weeks, the body absorbs the unwanted veins and they disappear. Surface laser treatment can also be an option for small spider veins.
Periorbital Veins
These are the blue veins under the eye, side of the eye and sometimes on the forehead.
Spider Veins
Spider veins can appear on your face typically around your nose, cheeks and chin. They can occur in both men and women.
Rosacea
Rosacea is redness of on the cheeks, nose, chin or forehead.
Hand Veins
Bulging veins on the back of the hands can develop over time as we age. The elastic fibers in vein walls lose their elasticity, causing the veins to dilate. Most dilated hand veins do not signify any serious vascular condition; the concern is primarily cosmetic. Hand veins can be treated with Sclerotherapy and Ambulatory micro-phlebectomy (AP), which involves using specialized instruments to remove the vein in small sections via small nicks made along the skin.
FOOT VEINS
Just as in hand veins, unsightly veins can result in the feet. As the skin becomes thinner, veins show more prominently. Foot veins can also be treated with sclerotherapy and Ambulatory micro-phlebectomy, both done in the office.
VULVAR VEINS
Vulvar veins occur in approximately 10% of pregnant women. They can become uncomfortable with prolonged standing and can grow larger and more painful during premenstrual and menstrual cycles. Vulvar veins can be treated in the office with foam sclerotherapy.
Pelvic Congestion Syndrome
Symptoms of pelvic congestion syndrome include a dull, aching pain and discomfort in the lower pelvis, vulva, lower back and abdomen. This condition is caused by venous insufficiency of veins located in the pelvis. VEINatlanta helps diagnose this condition and manage its treatment.
VEINatlanta | TWO LOCATIONS:
1100 Johnson Ferry Road NE, Suite 165 | Atlanta, GA 30342
601-A Professional Drive, Suite 170 | Lawrenceville, GA 30046
Phone: (404) 662-3407 | VEINatlanta.com