By Alexandra McCray and Wyndi Kappes
In five unique places around the world, people are consistently living to be over 100 years old. These people aren't superhuman, and they haven't found the fountain of youth; they are simply a product of their location, culture and lifestyle. These five Blue Zones (Okinawa, Japan; Sardinia, Italy; Nicoya, Costa Rica; Icaria, Greece; and Loma Linda, California), dubbed such because of the abnormal longevity and health of their inhabitants, can teach us a lot about how to live a better life and what wellness really looks like.
What is wellness? It can be hard to define and even harder to work towards. Here, for anyone wanting to overhaul their life or simply focus on one particular area, we use the model of Blue Zone inhabitants to break down the ambiguous essence of wellness into five easy-to-grasp pillars: move and recover, eat, sleep, mindfulness and community.
Move & Recover
How we move our bodies is often the first thing to be examined on our path to wellness. 
"When it comes to movement, it's important to start small and find something you love. That's the only way you'll stick with it and make progress," says Tony de Leede, a serial fitness entrepreneur and founder of Australia's Club W, a wellness club coming soon to Atlanta.
"Taught by world-class instructors, Club W's workouts are broken down into short 5-, 10-, 20- and 30-minute snippets, perfect for the busy mom or a fitness newbie," says de Leede. "The real difference between Club W and other gyms is the element of community that is fostered in our wellness lounges that provide the support and accountability we all need." 
Once your workout is over, it's essential to take the time to rest and restore. Numerous holistic treatments and services are available to enrich your fitness regimen. Here are just a few:
Book an infrared sauna session. These saunas differ from standard ones as the infrared light heats you directly, helping reduce inflammation and decrease muscle pain. Book an infrared sauna visit at SweatHouz, and your suite includes access to an antioxidant-rich, vitamin-C infused shower after your session.
Take a cold plunge via a cryotherapy chamber. Full-body cryotherapy can ramp up your heart rate and blood circulation, which helps with pain management and decreases inflammation. Not ready for a full plunge but want to dip your toe in cryotherapy? Try a cryo-facial with master cosmetologist Lisa Clevenstine at the Alpharetta Wellness Collective.
Try intravenous (IV) therapy. If you feel a little dehydrated or less than your best, IV therapy with a dose of vitamins might be the answer. IV infusions can support your immune system and up your nutrient and energy levels.
You no longer have to go to five different places for these holistic treatments. Wellness memberships provided by businesses and professionals like those included in this article make it possible for you to find a one-stop shop for care. Additional wellness membership models include Exhale, Heal Thyself Atlanta and Intown Salt Room.
Be sure to take advantage of your company's wellness program, too. If your employer doesn't have anything in place, encourage them to reconsider. As Michelle Hodgson, president/CEO of Synergy Benefits & Wellness LLC, says, "Healthy businesses are made up of healthy people."
Next Level Wellness
In this new day and age, wellness has taken center stage in our lives. The epitome of this all-encompassing wellness movement is that of wellness centers. Places like Club W and Decatur Healing Arts allow people to connect over exciting treatments and classes. At the forefront of this movement is the Human Upgrade Center. The company's Upgrade Labs, located in southern California, feature the very latest treatments that are pushing the envelope on what biohacking can do. Here are just a few of our favorites:
Ozone Sauna—A hyper-oxygenated chamber that helps strengthen the immune system and ease muscular and arthritic tension through circulation.
Atmospheric Cell Trainer—This futuristic pod uses changes in air pressure to create a workout for your cellular energy system helping your cells detox and increasing the production of stem cells.
The Big Squeeze—A full-body detox massage with lymphatic drainage technology. This FDA-cleared system helps your body expel toxins and strengthens your immune system.
Learn more about Upgrade Labs here.
Start Small with 3 Easy Action Items:
1. Walk outside daily for at least 30 minutes
2. Try a new group fitness class
3. Treat yourself to a recovery session
Eat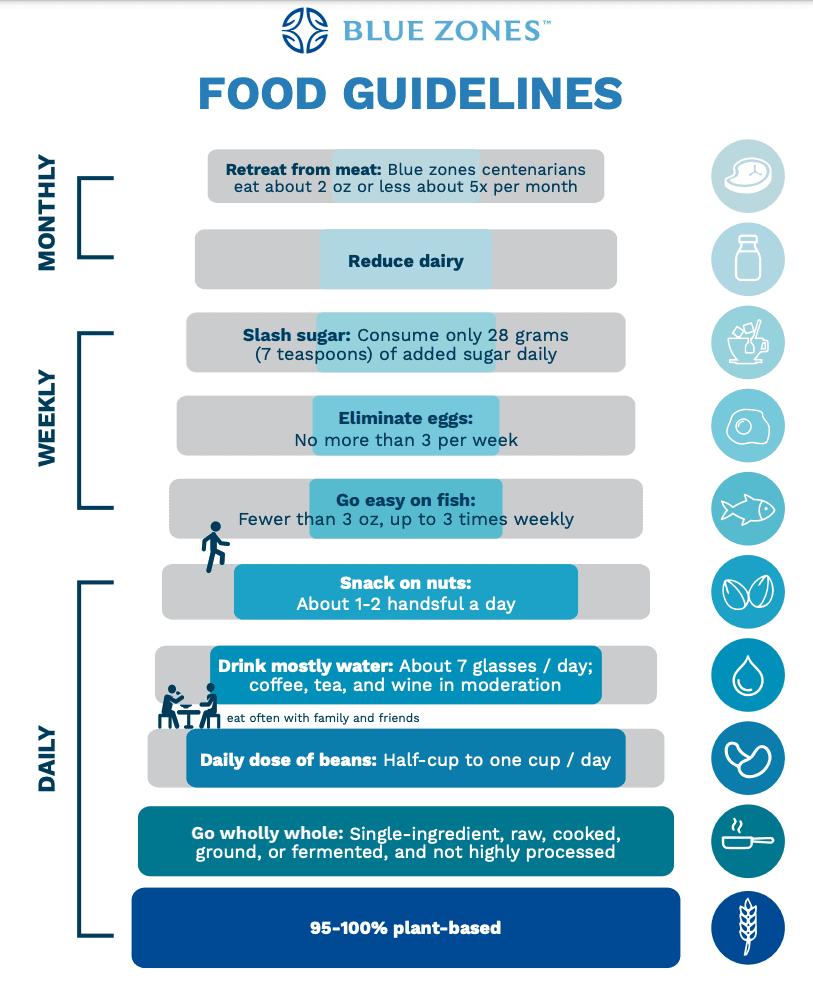 While there are hundreds of healthy diet options, the best way to eat for wellness is to enjoy food that makes your body feel good. However, if you are looking for some guidance, researchers have developed 11 short guidelines for healthy eating based on the diets of some of the longest-living people in Blue Zones.
Many of us know the food and drinks we should consume, but confirming that we're meeting all our nutrient needs can be a different story. "One of our favorite sayings is 'test, don't guess,'" says Kristin Oja, CEO and founder of STAT Wellness, a boutique holistic-healthcare practice that also offers nutrition and fitness coaching.
While adding a specific supplement to your routine or purchasing a custom daily vitamin pack is well-intentioned, Oja says it's better to seek professional guidance. "Custom daily vitamin packs can support general wellness," she says. "However, we suggest getting labs done to know exactly what your body needs. For example, you may need higher doses of vitamin D or lower doses of iron."
Start Small with 3 Easy Action Items:
1. Keep nuts on hand for snacks
2. Drink at least seven glasses of water a day
3. Consider supplements
Sleep
The importance of getting good sleep cannot be overstated. According to the Center for Human Sleep Science at the University of California, Berkeley, an adult sleeping only 6.75 hours a night would be predicted to live only to their early 60s without medical intervention.
Don't fret if you struggle with getting the prescribed eight to nine hours a day. The wellness industry is booming with ways to help people sleep, from prescribed sleep aids to supplements. "I recommend melatonin, valerian root, magnesium, L-theanine, GABA and CBD," says Dr. Sonza L. Curtis, founder of Three D Wellness, a functional medicine practice. "My favorite supplement is Cortisol Manager by Integrative Therapeutics."
Oxygen therapy may be beneficial, too. At Alpharetta Wellness Collective, clients receive the treatment in-office and rest in recliners while wearing a nasal cannula like you'd see at a hospital. Dr. Sarah Druckman, the founder of Alpharetta Wellness Collective, says that added oxygen can aid brain function and improve sleep.
Start Small with 3 Easy Action Items:
1. Ditch the screens 30 minutes before bed
2. Try oxygen therapy
3. Turn down the temp to 67 degrees
Mindfulness
Studies have shown that mindfulness practice doesn't just improve your mental outlook by helping relieve stress, but it has real physiological benefits that can lead to a longer life. Those who meditate regularly often report lower blood pressure, a reduction in chronic pain, improved sleep and fewer gastrointestinal difficulties.
Studies have shown that mindfulness practice doesn't just improve your mental outlook by helping relieve stress, but it has real physiological benefits that can lead to a longer life. Those who meditate regularly often report lower blood pressure, a reduction in chronic pain, improved sleep and fewer gastrointestinal difficulties.
If you struggle with getting in the zone, certified yoga instructor and hypnotherapist Diamond King says to invest in making a space in your home that your mind associates with calm and peace.
If you want to meditate, regardless of where you are, she says to focus on getting it in rather than worrying about how much time you can allot. Some other mindfulness favorites to help you get in the zone include:
Somadomes are high-tech meditation pods with LED color and light therapy, binaural beat meditation and magnetic therapy. The Somohome is a lightweight, affordable model that will be released soon.
Sound baths are fast becoming a wellness favorite. According to Eve Smith, a gong bath practitioner at Decatur Healing Arts, gongs create a vibration that is thought to take your brain waves from a beta state (thinking and planning) to a theta state (deep meditation and lucid dreaming).

 

Muse, a real-time meditation trainer, is a multi-sensor device that provides real-time feedback on your meditation through EEG brain wave monitoring. When your mind is calm, you'll hear peaceful weather. Busy mind? You'll hear stormy weather that cues you to bring your attention back to your breath.
Start Small with 3 Easy Action Items:
1. Take 5 minutes each day to meditate
2. Set up a space to be mindful
3. Find a method that helps you be more mindful
Community
Last but certainly not least, an essential cornerstone of the five pillars of wellness is community.
Community inspires us to make changes, take care of ourselves and be active members of the world. This, in turn, improves our mental health and gives us a sense of purpose and connection that has been shown to increase life expectancy.
Here are some easy ways to get more involved in your community.
Join a group with similar interests. Whether it is a wellness group like de Leede's Club W or a book club, some of the strongest relationships are born out of common interests.
Reconnect with family. A study in the Annals of Behavioral Medicine found that people who discussed difficult times in their lives had a lower pulse and blood pressure when they had a friend or family member by their side.
Foster a chosen family. Connecting with family isn't always easy. That's where chosen families come in. We are happy to have you as a part of our Best Self family and encourage you to engage with our upcoming social and membership opportunities. For more information, visit www.bestselfatlanta.com/join.
Start Small with 3 Easy Action Items:
1. Call a family member today
2. Explore hobby groups you can connect with
3. Volunteer this weekend
Wellness isn't always easy, but it's always worth it. We hope this guide will help you take actionable steps to improve your wellness each day.
---
Sources
Alpharetta Wellness Collective, www.alpharettawellnesscollective.com
Blue Zones, www.bluezones.com
Cleveland Clinic, www.my.clevelandclinic.org
Club W, www.clubw.com.au
Decatur Healing Arts, www.decaturhealingarts.com
Diamond King, www.therealdiamondking.org
Healthline, www.healthline.com
Mayo Clinic, www.mayoclinic.org
Somadome, www.somadome.com
STAT Wellness, www.statwellness.com
SweatHouz, www.sweathouz.com
Synergy Benefits & Wellness LLC, www.synergybenefits.com
Three D Wellness, www.threedwellness.com
Upgrade Labs, www.upgradelabs.com
WebMD, www.webmd.com