Meet the 2018 Over 40 & Fabulous! Advisory Board
Body Plastic Surgery Expert
Dr. Stanley Okoro
Founder and Lead Surgeon
Georgia Plastic & Reconstructive Surgery
When Dr. Stanley Okoro was a medical student, he observed numerous reconstructive surgeries. He experienced pure awe during procedures where the patient had previously undergone breast tissue removal. Dr. Okoro was amazed at how talented surgeons could skillfully make something out of nothing. In fact, it sparked his interest in breast reconstruction as a field of study.
"Little did I know that it would open the door to an interest in cosmetic procedures from head to toe," says Dr. Okoro, who is the founder and lead surgeon at Georgia Plastic & Reconstructive Surgery. Today, he performs everything from his famous Brazilian Butt Lift to a Mommy Makeover, breast enhancements to liposuction and more. But Dr. Okoro's treatment plans look different than perhaps other plastic surgery offices. They include a personal experience on a powerful journey from before to after, unique to his professional personality, resulting in many patients' shared sentiments of pride in their courage to seek out their best self.
"Many people think plastic surgery is all about vanity and that each patient is vain, but honestly, the first thing everyone does when they wake up in the morning is do something to make themselves look better. Plastic surgery is a permanent or semipermanent way of elevating your current appearance. The most satisfying part about my job is that I can help enhance patients' looks so they can enjoy their lives," he says.
Dr. Okoro's passion for improving people's perspective of life extends beyond his U.S. surgical center. He has participated in several mission trips to Africa in the last 15 years, goes to Nigeria biannually for medical and surgical missions, and serves as the Georgia chair of the Association of Nigerian Physicians in the Americas.
"I live a purpose driven life," Dr. Okoro says. "I want to be the best version of myself, the best plastic surgeon, and provide the best care for my patients."
Make the Most of Your Surgical Experience
Dr. Stanley Okoro offers advice for maximizing your investment in yourself.
Choose Wisely
"Always pick a board-certified plastic surgeon. Plastic surgeons have more training and, most importantly, can treat any complications that arise from their procedures."
An Atlanta patient had this to say about Dr. Okoro and his or her search for the right physician. "I had already interviewed two other board-certified plastic surgeons before I met you [Dr. Okoro]. I even went to a follow-up appointment with both. Afterward, I didn't feel like I received all the information I needed. I continued to search for the right surgeon for me, one that I felt completely comfortable with. My search ended when I met you. You spent over an hour in the consultation and even asked if I had more questions at the end. You are caring and understanding Dr. Okoro."
Spend Carefully
"In the long run, if patients look for the cheapest cosmetic option, they often end up paying more because they need revisions."
Think Efficiently
Procedures such as a Mommy Makeover are efficient because they target multiple issues at once, including breasts, tummy, stretch marks and sagging skin.
The content for this article is brought to you by Georgia Plastic & Reconstructive Surgery.
Georgia Plastic & Reconstructive Surgery
(770) 464-5485 | GeorgiaPlastic.com
Marietta
2285 Asquith Ave. SW., Marietta, GA 30008
---
Feminine Rejuvenation Expert
Dr. Monte Slater
Medical Director, Aesthetic Body Sculpture Clinic & Center for Anti-Aging
Dr. Monte Slater was already a successful ob-gyn when he decided to focus his practice on the kind of medicine that would specifically benefit older patients. Now, 11 years later, aesthetic and antiaging medicine are the main focus of the practice. And Dr. Slater is helping more and more women gain control of their bladders and get back to normal, healthy and active social lives, truly thriving both internally and externally.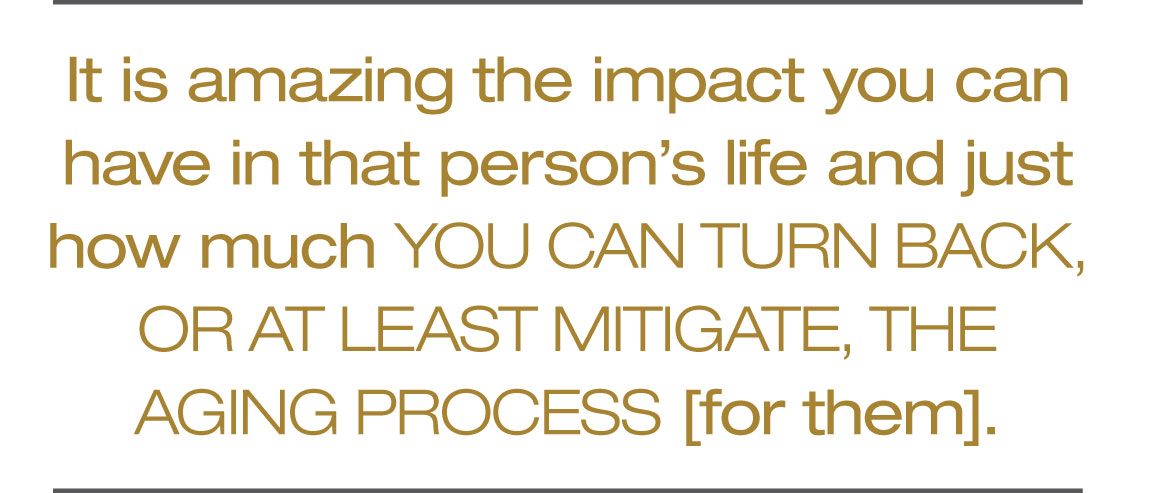 "How enjoyable and rewarding it is to help people to not only feel good physically but to help them to feel good about how they see themselves," says Dr. Slater, whose influencers—a myriad of medical professionals, even outside his own field—have helped him develop a unique approach to the relationships he maintains with his patients.
"I feel that if you treat people with respect and provide a high level of competency and pride in what you do, then the business aspect will take care of itself," Dr. Slater says. "I also think it is important that we treat patients how we would like our daughter, sister and mother to be treated. We want the best for our family and that is what we strive for with our patients."
Working alongside his wife of 36 years, Dr. Slater does this in two ways. One, he has created a comfortable and happy environment in which patients can easily feel like family. Two, he's thrown the idea of a one-size-fits-all approach out the window, instead addressing each patient as an individual, from consultations and diagnosis to treatment plans and procedures. This way, he can address the extremely personal physical, mental and emotional issues that aging inevitably brings, truly optimizing a patient's entire well-being.
"It is amazing the impact you can have in that person's life and just how much you can turn back, or at least mitigate, the aging process [for them]," he says.
"We get to do things that change people's lives! That is a really great feeling to experience."
Feel Beautiful Again
At our clinic, we love to make our patients look and feel their best! In addition to providing feminine rejuvenation, we are also a full-service antiaging and aesthetic clinic. We offer all-natural, BioIdentical Hormone Replacement therapy and state-of-the-art procedures. And we offer The ABS Clinic Non-Invasive Body Contouring System with guaranteed results. It is painless and not only does it trim off inches, it tightens skin! We were first to feature The Vivace Experience™, the skin treatment that has people raving about it on the internet. Vivace combines microneedling with thermal heat to tighten and contour the face, neck, and hands. We really can turn back the hands of time and restore your youthful glow. Also, we were first in Georgia to offer the Motus AX Alexandrite, the first pain-free laser hair removal treatment for all skin types. Come see us and we will help you to love the skin you are in!
A patient had this to say about her feminine rejuvenation experience, "Thank you, Dr. Slater, for giving me my life back. After having back surgery in 2010, I was having problems with incontinence. … I made an appointment with your office for the V-Lase® in September. I was very nervous, but your kind and considerate staff made me feel very comfortable and put my fears to rest. The results were immediate!"
The content for this article is brought to you by Aesthetic Body Sculpture Clinic & Center for Anti-Aging.
Aesthetic Body Sculpture Clinic & Center for Anti-Aging
Sandy Springs
(770) 777-7707
4840 Roswell Rd. NE.
Bldg. D #100
Atlanta, GA 30342
Warner Robins
(478) 225-2379
400 Corporate Pte.
Warner Robins, GA 31088
---
Fitness Expert
Karen Foley
General Manager, Windy Hill Athletic Club
Karen Foley is the kind of person who will tell you that age is just a number. And as the general manager of Windy Hill Athletic Club, she works every day to help people feel whatever number they want. She makes it look easy, but it wasn't always a no-brainer for her. As her own "number" started to increase, she realized she could keep doing the things she loved to do if she stayed active and implemented movement into those activities. Little did she know that her decision would lead to a career change.
"I believe active, social people lead happier, healthier lives," Foley says. "As long as you are moving and having fun, you are a better version of yourself each day." With this mantra, and Jeff Jones as her fitness coach, she found herself unexpectedly inspired to teach that attitude to others. "I remember going to one of his small group trainings and seeing how much fun everyone was having—I knew that this had to be the way to a fun career," she says.
As general manager, Foley can motivate and inspire others (4,000 and counting), as Jones did for her. "Not only is the fitness industry always changing, but overall, the concept of fitness is changing," Foley says. The facility's standout staff, many of whom are over the age of 40 themselves, share Foley's goal to encourage members through movement, community and personal attention. Sales Manager Jeff Williams, Tennis Manager Trip Baisden, Facility Manager Mark Goffi, Mind Body Coordinator Susan Walker, and Children's Programming Manager Shannon Lindsay are just a few of these talented team members.
Windy Hill Athletic Club's activity list can keep you busy, but above all, they've created a safe place where your workout buddies are your family, offering members a huge support system throughout their fitness journey … and—if we're still talking numbers—that's priceless. "Knowing that we are transforming people's lives, that's what keeps me motivated," Foley says.
In Their Own Words
Windy Hill Athletic Club members and staff share why they love being a part of its community.
Jennifer Phillips, member
"I joined Windy Hill Athletic Club 10 years ago after having my daughter because I needed to lose the rest of the baby weight. At first I would do my own quick 30-minute thing but soon learned the value of attending group classes. The group classes became my go-to and I haven't stopped taking them since. … Windy Hill Athletic Club is my haven to build a strong body, be inspired and have fun with friends."
Susan Walker,
Mindy Body Coordinator
"For me, being fit over 40 means freedom. Freedom to continue with the activities I love because my body will allow it. I feel lucky that I am in an environment that supports my lifestyle. Windy Hill Athletic Club has been a steady, strong force that challenges me physically and mentally."
Daniel Grider, member
"I've put a deliberate focus on trying to live a healthy and active lifestyle since college. … As I've gotten older, I've learned it's a better experience when you mix family and a little fun into a fitness journey. … When I moved to Atlanta in 2011, I was lucky to find a fitness home at Windy Hill Athletic Club, which has a contagious attitude toward self-improvement. Someone once said, 'Age does not define you, but attitude does.'"
The content for this article is brought to you by Windy Hill Athletic Club.
Windy Hill Athletic Club
(770) 953-1100 | WindyHillClub.com
Windy Hill
135 Interstate N. Pkwy., Atlanta, GA 30339
---
Vein Expert
Dr. Louis Prevosti
Owner and Chief Physician
VEINatlanta
For 25 years, heart surgery was at the center of Dr. Louis Prevosti's medical career. As healthcare evolved, he shifted his clinical interest and expertise to venous disorders. Dr. Prevosti founded VEINatlanta in 2011, where he serves as medical director and dedicates 100% of his time to helping patients with venous problems.
"I have always been interested in the cardiovascular system, physiology and physics," Dr. Prevosti says. "Helping people motivates me to be my best. Vein medicine and surgery are ways I can use my medical knowledge and surgery skills to improve lives."
Knowing that venous disease affects 25 million people in the U.S. and is twice as common as heart disease, it's no surprise why Dr. Prevosti shifted his focus. "Venous disease is all too common, yet it is frequently overlooked or ignored," he says.
"I want VEINatlanta to deliver the best possible vein care in the world," he says. "If you suffer from leg or foot pain, leg cramps or swelling on a daily basis, it can often impair your physical and emotional well-being," Dr. Prevosti says. "The symptoms of venous insufficiency can diminish your activity and energy levels, while extensive surface veins can make you feel self-conscious. But correcting these issues can improve your quality of life and get you back to feeling and looking your best," he adds.
"Nothing is more rewarding to me than a satisfied patient—a mom who can keep up with her young children, or a woman who can finally get a good night's sleep without suffering from night cramps. I love hearing patients tell me that their legs feel better, that they no longer suffer from pain and that they're more confident about the appearance of their legs," notes Dr. Prevosti.
The VEINatlanta difference
VEINatlanta goes beyond treating the unsightly signs of venous disease, such as spider veins or varicose veins, it also treats the underlying symptoms. These symptoms can include leg pain or legs that are tired, achy, heavy or swollen. Some people may even experience these symptoms without any visible signs.
VEINatlanta provides comprehensive vein care, including accurate diagnosis and state-of-the-art treatment methods. Its team of full-time, board-certified surgeons exclusively treats venous problems.
Most treatments are considered medically necessary and are therefore covered by insurance. VEINatlanta accepts all major insurance providers, including Medicare.
If you experience leg discomfort or have unsightly veins, call (404) 662-3407 today for a free screening.
The content for this article is brought to you by VEINatlanta.
VEINatlanta | (404) 662-3407 | VEINatlanta.com
Sandy Springs
1100 Johnson Ferry Rd. NE., Ste. 165, Atlanta, GA 30342
Lawrenceville
601-A Professional Dr., Ste. 170, Lawrenceville, GA 30046
Camp Creek
3886 Princeton Lakes Way, Ste. 140, Atlanta, GA 30331
---
Hair Expert
Ming Matthews
Luxe Level 10 Hairstylist
Bob Steele Salon
Ming Matthews always knew she would be a hairstylist. Dating back to the days she spent watching her aunt make people look and feel beautiful, she's always felt a connection to seeing people experience a burst of confidence from getting a new look.
Today, she's driven by a yearning to make a positive impact on an individual's happiness and do more than just cut and color from behind the chair. In an industry that is constantly changing, Ming has capitalized on her ability to truly listen to a client's needs, overcoming a language barrier to understand those desires, both on the inside and out. It's no wonder she has hundreds of happy clients. "It always brings me joy to see people look in the mirror and be confident and happy with their look," Ming says.
She goes even deeper—to the root, you might say—of why a fantastic hairstyle can truly make a difference in someone's life. When one of her favorite clients, who had recently been through a divorce, came to her depressed and with an outdated look that was lackluster, Ming seized the opportunity to suggest a fresh 'do. She saw it as a chance to introduce the client to something fun and positive to focus on during an otherwise difficult chapter of life. The result was a boost in self-assuredness and an enhanced perspective on what life could look like moving forward. And it all started with simply changing her look.
Her life has been full of excitement and adventure as she's lived all over the world, Ming is now at the top of her profession and loves it. She says, "It's so exciting to be on the cutting edge of fashion and change peoples lives."
She's been doing just that at Bob Steele Salon for almost two decades—almost as long as she's been in America—where she's motivated by a team who shares her passion for listening to a client's needs, is trained by professionals from all over the world and works together to ensure every single client leaves feeling happy, refreshed and confident.
Trusted Talent
The Bob Steele Salon team is made up of superstars just like Ming Matthews. Learn more about its top talent.
• Education is extremely important to Bob Steele Salon. By being committed to the ongoing education of their stylists, the salon ensures that guests will continue to receive high-quality service at every visit.
• Many of the stylists begin as cosmetology school graduates and must complete an extensive internship after they are hired and before they can begin working with clients.
• At the Verge level, stylists work through a demanding graduate course and refine their skills until they achieve the level of Elite stylist. Those with many years of experience and high demand move on to the salon's Luxe levels.
The content for this article is brought to you by Bob Steele Salon.
Bob Steele Salon | (404) 262-9499 | BobSteele.com
Alpharetta
2500 Old Milton Pkwy.
Ste. 130
Alpharetta, GA 30009
Atlanta
4403 Northside Pkwy.
Ste. 160
Atlanta, GA 30327
East Cobb
2960 Shallowford Rd.
Ste. 202
Marietta, GA 30066
Roswell
625 W. Crossville Rd.
Ste. 122
Roswell, GA 30075
Smyrna
1265 W. Spring St., Ste. C, Smyrna, GA 3008
---
Media Ambassador
Tom Sullivan
TV Host and Corporate Emcee
It's hard to live in Atlanta and not know who Tom Sullivan is. Locally, he's been a well-known voice on the radio, a familiar face on television and an emcee at many of the events you may have attended over the decades. He's known around the country for discovering Ryan Seacrest, being nominated for an Emmy Award for his work on "Atlanta & Company," being a five-time semifinalist on "Survivor," rubbing shoulders with Kelly Ripa and Oprah, and even appearing in a few Hollywood films and TV shows.
It's all part of the daily grind for Sullivan to add exciting things like hosting the first annual CyberHub Summit and working with Robert Herjavec from ABC's "Shark Tank" to his résumé.
Sullivan truly does it all, but he doesn't do it for fame.
"I am blessed with a career that changes all the time, so every company or event is different and there are always new people to meet and connect with. I'm constantly discovering new opportunities and ways to grow and improve what I do," he says. Despite a busy calendar, Sullivan stays laser focused on strengthening his relationship with God and nurturing his health before anything else. In 2015, he met Beau Lotz, founder of Buckhead Elite Training Studio, and began a workout program. "Combined with Cryo Elite Therapy, I'm in the best shape of my life," Sullivan says.
Don't believe that it's easy, though. Sullivan will be the first to tell you that the only reason he's where he is today is because of the years of hard work he put into getting there. And it's hard—physically and mentally. "I had to keep believing in myself and boosting my self-confidence," he says. "When I first started in radio, I was the 'Quixie Quacker' mascot for WQXI radio. Years later, I decided to hang up the duck costume and grow as a disc jockey. I conquered my fear! Change is scary but necessary."
Part of that change includes Sullivan's dream to be a part of a television show that empowers people, not surprising from a guy who's passionate about local charity work with SafeHouse Outreach and Buckhead Thriftique, as well as traveling to do mission work with SERV International. "Watching people experience joy in all forms lifts me up," Sullivan says. "Using your talents and gifts to help others is something each of us can do."
Tom's Top 3 Moments
Throughout his multidecade career, there are three events that Tom Sullivan will always remember.
1 "I was invited [to 'The Oprah Winfrey Show'] by Harpo Studios because I was an 'ultimate' viewer—having watched all 25 years. I was then invited onstage by Sally Lou Loveman (audience producer) to warm up the crowd. I was floating!"
2 "'The Price is Right' is one of my favorite shows. The unexpected joy that you feel from being selected is exhilarating. Time literally stood still. [In this photo,] I just found out that I was the correct bidder and headed onstage to play."
3 "I won a Jaguar XJ-S from a local radio station. Here I am [photographed] in front of the famous Swan Coach House. I sold the car and bought a condo. Radio stations later changed contest rules to exclude other local radio employees from winning their contests."
---
Hair Restoration and Skin Care Expert
Dr. Ken Anderson
Founder and Director, Anderson Center for Hair & Aesthetics
Hair Restoration
Dr. Ken Anderson is a motorcycle enthusiast. On a sunny day, he can often be found taking his cruiser along winding mountain roads in North Georgia, the sun on his face and appreciating helmet hair more than you might know. Yearning for the latter is the reason hundreds of patients come to see him at Anderson Center for Hair & Aesthetics.
Surprisingly, loving to run his fingers through his hair wasn't why he got into the field of hair restoration. No, in fact, Dr. Anderson grew up loving art, actually, and constantly exploring his creative side, pursuing a degree in facial plastic surgery instead. But once he was in that field, his hopes to blend his intrinsic loves with his medical degree weren't fully satisfied. The technical practice of facial plastic surgery wasn't creative enough. Hair restoration—what he calls, "a perfect combination of art and science"—became his new passion.
"I had never seen happier patients before, which was something I didn't expect," Dr. Anderson says. "They were so excited and happy about their new hair; I knew I had found the perfect place to practice in the medical field."
The positive reinforcements of his change of career continued coming, too. Dr. Anderson found himself surprised at how genuinely life-changing hair restoration could be for his patients, transformational even.
"I've had actors tell me they owe their career to me, but it's really just the increased confidence and self-esteem they experience," he says. "I expected they would be happy, like most plastic surgery patients, but it was so much more for so many of them."
"We all embrace a philosophy of being the best version of ourselves," Dr. Anderson continues. "When my patients feel good about how they look, it makes them more confident, more outgoing, and it changes how other people perceive them because it has changed how they perceive themselves."
With the new, exciting advancements in technology and procedures used for hair restoration, Dr. Anderson's team works together toward a common goal of helping people enjoy a more positive self-image. Every day, he gets to use the things he's most passionate about to restore vibrancy and confidence to a huge part of the population. It's no secret why this is his dream job.
The Best in Hair Restoration Technology
Anderson Center for Hair & Aesthetics offers several revolutionary hair restoration services performed by a staff of highly trained experts.
ARTAS® Robot-Assisted Follicular Unit Extraction (FUE) Method: This noninvasive method involves removing hairs from the back of the head and placing them into sites on top of the head.
Low-Level Laser Therapy (LLLT): This nonsurgical treatment option focuses on the stabilization of hair loss. Anderson offers patients the Capillus® and Lasercap® brand devices, which are convenient and cover the entire scalp at once. When used, the therapy can increase cell metabolism, halt the progression of hair loss and more.
Stem-Cell Therapy: Anderson will soon begin offering stem-cell therapy for the treatment of hair loss. Another nonsurgical option, this therapy delves into the molecular realm and can help stimulate hair growth.
Skin Care
Dr. Ken Anderson opened the first location of Anderson Center for Hair & Aesthetics in 2012. It was, in large part, due to his inspiration to help patients replace their self-confidence through hair restoration procedures. However, he also wanted to utilize his skills and knowledge as a facial plastic surgeon. As a result, offering patients an opportunity to restore the same vitality to their skin that he was delivering on top of their head was a natural addition to the services he already offered.
"I love everything about what I do," Dr. Anderson says. "It really is my dream job. I am able to take the things I am passionate about and help others fight Father Time, help them feel young, vibrant, and confident again."
That confidence starts with the experience he offers patients from the moment they walk in the door. He's created a luxurious, uniquely equipped medical spa with the latest technology for procedures like laser skin treatments such as the Photofacial and TempSure™ Envi Skin Tightening.
"We work to restore youth and self-esteem with the services we offer, helping every patient discover cosmetic outcomes that are not only natural, but also uniquely perfect for their age and skin type," Dr. Anderson says.
The most satisfying part about his job is that he gets to see the results of his work even after the patient has left the office. Because he's focused on making patients feel comfortable in his care, they'll often send pictures showing off their new look, or share how they've developed new personal relationships with others.
4 Treatments That Rejuvenate
Turn back time and refresh your skin at Anderson Center for Hair & Aesthetics with these top-notch treatments.
TempSure™ Envi Skin Tightening
Using radio-frequency waves, this FDA-approved device tricks the body into thinking it has been injured, thus spurring it to create new collagen. The result is skin that is firmer and has fewer wrinkles.
Platelet-Rich Plasma Treatments (PRP)
PRP treatments, such as the popular Vampire Facial, use platelets from your own blood to encourage cell turnover. This natural procedure features no downtime and can leave you with rejuvenated skin.
HydraFacial™
For improved skin tone and texture, turn to this procedure. Deep cleansing, exfoliation, extraction, and fusion are combined to create a facial that simultaneously purifies the skin while infusing it with antioxidants, hyaluronic acid and peptides.
ThreeForMe™ Laser Treatment
Say goodbye to dull skin with this two-step procedure. The first phase targets discoloration and facial veins. The second phase utilizes fractional laser technology to treat fine lines and wrinkles. Results can be seen after one treatment and continue to improve over time.
The content for this article is brought to you by Anderson Center for Hair & Aesthetics.
Anderson Center for Hair & Aesthetics
(404) 256-4247
At the Perimeter
5555 Peachtree Dunwoody Rd., Atlanta, GA 30342
At Avalon
2710 Old Milton Pkwy., Alpharetta, GA 30009
---