Meet 9 Men Changing the City of Atlanta
By Nicole Letts
Photography by Richie Arpino Photography. Photo shoot hosted at O-Ku Atlanta.
Success in any aspect of life takes dedication, passion, and ambition. From health and fitness to entrepreneurship and charitable endeavors, these nine Atlanta men are committed to being the best versions of themselves in all areas of their lives. Here, we learn their secrets to accomplishing personal goals, how they keep themselves and those they love a top priority, and the ways they positively impact the local community.
Jarryd Wallace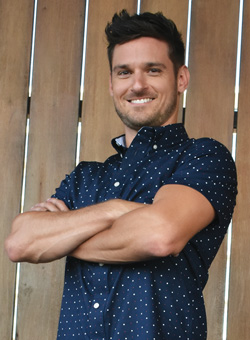 As a professional track athlete, it goes without saying that Jarryd Wallace's fitness routine looks a little different than your average Atlantan because Wallace is anything but average. He's the defending 200 meter World Champion in the men's T64 classification and is currently training to maintain that title and grasp a few others this November at the World Para Athletics Championships in Dubai, United Arab Emirates. He also has his sights on an even bigger goal: a gold medal at the 2020 Paralympic Games in Tokyo, Japan. "This will be my third Paralympic Games and my third shot to take home a Paralympic gold medal—currently the only gold medal I have not won from an international event." Beyond claiming titles, Wallace is also tackling another feat: executive producing and starring in a documentary. "'Race to Tokyo' is a film following myself and Ken Endo, an engineer in Japan, as we try to develop the fastest blade in the world heading into the Tokyo 2020 Paralympic Games. Through what we learn with this technology, we hope to develop a more cost-effective blade for society and help create opportunities for those with amputations to become active again."
What's your life motto?
'Faithful is He who calls you, and He also will bring it to pass.'
—1 Thessalonians 5:24
What would be your walk-out song?
Probably the intro to 'Smells Like Teen Spirit' by Nirvana
What are staples in your bathroom?
Every Man Jack shampoo, face lotion, and deodorant
Stevie Baggs Jr.
Meet health and wellness ambassador for the City of Atlanta, Stevie Baggs Jr. An actor, author, speaker, former professional athlete and Young Living brand ambassador, Baggs is charged with educating city employees about healthy living, but he doesn't stop there. He also runs the Creating Empowerment Through Autonomy (CETA) foundation, which he founded with his mother. "I call myself an octopus because I do eight different things, but they all go in the same direction, and they all intersect at the same spot. It's all connected to my passion and my purpose," Baggs says. Today, CETA works with 10 centers in Atlanta, like the Rosel Fann Recreation Center, for after-school programming. "We have a curriculum called True Wealth, where we help young people develop their character and leadership, and learn about health, wellness and technology," Baggs explains. "Essentially, the things they'd never get in the regular education system."
What's your favorite way to work out?
Because I played football for so long, there's a lot of wear and tear on my joints, so one of the hobbies that I've taken up and that I really love is road biking. I'm a road bike fanatic.
What are staples in your bathroom?
Shea butter and essential oils. The essential oils, of course, are by Young Living, but the shea butter is made locally by Henry Fitzgerald 'Gerald' Jones. His company is called Essentials Of Ma'at, LLC.
Mitchell Anderson
When an old Hollywood friend called on Mitchell Anderson to star as Jason in Amazon's "After Forever" series, which recently won five Daytime Emmy Awards, he knew it was too good of a role to pass up. "It's an incredibly rangy part with both intense drama/sadness, but also a touch of whimsy and comedy. I had never had that kind of all-encompassing role before," he says. Once an actor starring in the likes of "Party of Five," these days Anderson is often found behind the scenes as the founder and owner of Midtown's popular health-focused eatery, MetroFresh. Since the show wrapped its first season, Anderson has been moving full steam ahead to open his second MetroFresh location, and following his own advice. "It was great to do the show without anything riding on it. I have a big life. I'm happy and fulfilled with what I've been doing for 15 years. I believe that's why the work was so much better. When we allow ourselves to show up without self-judgment, I truly believe we can fly!"
How do you rest and recharge?
When I come home from working in the kitchen, which means I'm up at 4:20 a.m. and on my feet for nine to 10 hours, I get on my bed and open a book. I'm constantly reading. I also do that to fall asleep for a 40-minute nap! It takes me months to finish a book, but that's how I unwind. Well, that and a nice glass of pinot noir around 5 p.m.
I usually work six days a week, but I try as hard as I can to keep my Sundays free of work. I recharge on Sundays by puttering around the house doing 'not too strenuous' chores, going out for a long brunch, and usually, reading the Sunday edition of the New York Times on the couch with my eyes closed. By Monday morning, I'm ready to do it all over again!
Who helps you look and feel your best?
100% my husband, Richie Arpino
Nick LaMonte
Nick LaMonte, My Home Improvement magazine's 2019 Rising Stars of the Home Industry cover winner and 2018 Rookie of the Year for Harry Norman, REALTORS®, says when it comes to fitness and nutrition, it's all about moderation. "I stay pretty strict when it comes to my diet during the week, and I will prep most lunches and dinners. It's definitely what works for me with such a busy schedule. I go to the gym to weight train at around 7 in the morning, and I run roughly three to four times a week at night after the craziness of the day is over." Craziness is one word for it. LaMonte lives an active lifestyle, professionally and personally. He gives back through different ministries at his church and is also a mentor for a student at Woodson Park Academy elementary school. His secret to success? "Staying consistent is key. Whether it is in the gym or for my business, I am consistent—doing the things every day that will make me better, even when I don't want to."
What's your favorite unhealthy indulgence?
Any pastry. I am weakest with doughnuts, so about once a week I will knock out four to five.
How do you recharge?  
Friends and family have always been my best way to recharge. I love to surround myself with people who have the same interests, goals, and love for everything that I do. It allows me to take time to just enjoy life in the moment.
What would be your walk-out song?
That's a super tough question but it would probably be Frank Sinatra's 'Come Fly With Me.'
Shane Lord
Serenbe resident Shane Lord says his home plays a significant role in his inspiration for looking and feeling his best. "Serenbe helps people get their vitamin N
('N' for nature). We are surrounded by wooded hills, grassy meadows, streams, ponds and nature trails.
We have an organic farm across the street from our house, horse stables up the street and an animal farm on the far end of the property." As far as doing good goes, that's where Lord's employer comes in. A corporate attorney in the legal department of The Home Depot, Lord says the company emphasizes philanthropy. "Two key values for The Home Depot are 'doing the right thing' and 'giving back.' We preach and live these values. After joining The Home Depot in 2013, the company asked me to support The Home Depot Foundation, Team Depot, and The Homer Fund, which are the charitable arms of the company. The Home Depot literally pays me to help it do the right thing and give back!"
What's your favorite way to work out?
I enjoy exercising at The Gym at Serenbe with my 17-year-old son, Koby. He pushes me and we joke and laugh the entire time. As far as routines, my favorite is to do a combination of weight training and CrossFit training, followed by interval training with cardio exercises.
What's the best advice you ever received?
My mom met my wife, Julie, when we were dating, and she whispered in my ear, 'don't blow this one.' I followed her advice! Julie makes me a better person.
Jamie Adams
Il Giallo Osteria & Bar's co-owner and executive chef Jamie Adams (formerly the executive chef at Veni Vidi Vici) might be known for his delectable Italian dishes to Atlanta residents, but to those close to him, he's also known, ironically, for his heart. Chef Adams underwent quadruple bypass surgery in 2000 at 41. Beyond inspiring health and wellness changes, his ticker scare also made him even more invested in his passion for helping others. He's worked with CURE Childhood Cancer, Moving in the Spirit, Atlanta Community Food Bank, Jewish Family & Career Services, and takes part in the 300-mile Chefs Cycle to fundraise for No Kid Hungry. "I give from my heart as my [Christian] faith directs me. I don't like the 'give back' thing, as I have not taken anything from anybody. My faith teaches to give, save, and then live on the rest. Take yourself out of the center and put others in front."
How do you stay fit?
W.E.R.C., that is 'wildly erratic road cycling,' which translates into grabbing every gap in my schedule to get out on the roads! I aim for 100 miles a week—two shorter rides during the week and longer ones on the weekends. I like to go all the way to Lake Lanier.
What's your favorite healthy meal?
Healthy is eating clean food that is free of chemicals, genetic tinkering, processing, etcetera. So my favorite go-to meal is a great thin-crust pizza (I love a little kick from a spicy Calabrese salame), a little salad with tasty greens, beets, a simple vinaigrette, and something crunchy like toasted hazelnuts, and a great glass of Barbera!
Eric Payne
Eric Payne describes his fitness routine as a journey. "I began on January 1, 2017, with one pushup, one situp, and one pullup and became disciplined. I added more reps with each passing day. I'm currently participating in an online 90-day fitness challenge, which has me working out on average 60 minutes a day, six days a week." By day, Payne is a freelance marketing and communications consultant, but his current project is even more intriguing: an interactive digital novel called "Just Between Us," which readers can purchase one chapter at a time or once the tale is finished. "It's the story of a 40-something guy who thinks he has it all—great job, beautiful wife and family—then he suddenly loses all of it. I hope it will not only entertain, but give hope and direction to those who find themselves facing unbelievable odds and feel it's too late to turn things around," Payne says. Adding, "It's interactive because it isn't complete and I have the ability to alter the storyline based on the way the characters evolve or to poll readers to find out how they'd like the story to go and write accordingly."
What's your favorite way to work out?
I love jumping rope because you can get creative with crossovers, boxer skips, double unders, etcetera. It's rhythm. It's poetry in motion.
Who helps you look and feel your best?
It's not a who, but a what that inspires me to look and feel my best. Both of my parents are elderly, and unfortunately, haven't been the best stewards of their health and wellness. Watching them decline rapidly and ultimately having to manage their care has solidified for me that you have to take care of yourself, first and foremost, to the best of your ability before you can take care of anyone else.
Hank Stewart
When asked to describe his day job, Hank Stewart says he's more of an around-the-clock man. "It's certainly not 9-to-5. I'm a published writer, author and poet. I have won an Emmy. I have two books that were on bestseller lists for Essence, and Congressman Hank Johnson, of the 4th Congressional District, made me the poet laureate of his district," he explains. Stewart also co-founded The Stewart Foundation with Gwendolyn Mason. "What we saw, particularly in the African-American community, was a lot of our civil rights legends passing away. However, we didn't see a whole lot of torches being passed. We wanted to develop an organization that was developing leaders and developing young people who were concerned and conscious," Stewart says.
What is your fitness routine?
I have not gone a single day without working out since Dec. 30, 2016! I don't care where I am—
St. Croix, Chicago, in D.C. for board meetings. I was just in Vegas. Every single place that I go, I take workout clothes. I might walk that city and get my 10,000 steps in, or if I'm in Atlanta, I have an elliptical in my house.
What is the hardest personal challenge you've had to overcome?
Losing my sister to breast cancer taught me to live life to the fullest. Tomorrow is not promised.
What's the best advice you ever received?
Help as many people as you can, give as much as you can, work as hard as you can, and then sit on your can.
What do you consider your life motto?
My motto right now is, 'It's my time; it's my turn, and if I don't do my part, it's my fault.'
Kevin Palmer
As CEO of PalmerHouse Properties, a residential and commercial realty business that has been recognized more than once by the Atlanta Business Chronicle as one of the Best Places to Work in Atlanta, Kevin Palmer knows a thing or two about leadership. "It really isn't 'what we do' that creates our culture but rather, 'how we treat you.' Every business decision that is made at PalmerHouse is based on what is best for the agent," he says. On the success side of things, Palmer notes the benefits of collaboration. "I have had the honor to work with amazing leaders and entrepreneurs. I've seen what has worked and what hasn't, what made me [and the company] successful, and what caused me to fall short of my goals. The common denominator for not being successful is not having a clear goal or not remaining focused on seeing the goal coming forth." His secret sauce? Meditation. "So many times we look for the answers outside of ourselves. I believe that the answers are always within us."

How does PalmerHouse Properties give back to the community?
We launched PHP CARES in December 2018. PHP CARES was established to give our agents an easy way to give back to the community. Based on recommendations made by our agents, this year PHP CARES will donate to Team Summer and Englewood Animal Rescue Sanctuary. Team Summer was created by Summer Dale, the daughter of one of our Atlanta agents, Lynne Dale. Diagnosed with cancer at 15, Summer realized kids with cancer were the only ones who could truly understand what she was going through. She began surprising them with special gifts to cheer them up and to connect with them for support. Summer lost her battle in 2012, but her approach to gift giving continues to uplift children fighting cancer. Team Summer raises money to fund the gifts, and all gifts are given from one child with cancer to another child with cancer.
What's your favorite way to work out?
I enjoy the low impact yoga has on my body while using my own body weight to strengthen my core and tone my muscles.