Local and Thoughtful Gifts for Mother's Day in Atlanta
By Jennifer Colosimo
We hardly need a reason to celebrate just about anything this year, but the chance to celebrate Mom is a category all on its own. Whether she prefers cute and creative gifts she can unwrap and relish, fun experiences to make memories together or priceless mementos to cherish forever, we've rounded up a few ideas to splendidly spoil the one we love so much.
Artful Anecdote
Charlotte-based contemporary artist Leslie Poteet Busker combines her emotional, raw-edged style of lines and layers to create this Mother and Child series—a thoughtful gift for your family's main mama. Each 8-by-6 original work is done with pen and ink on paper and available for purchase at Buckhead Art & Company. Starting at $75.
Details: 288 Buckhead Ave. NE., Atlanta; buckheadartcompany.com
Gifting Goodness
Curate your own gift for mom with the Gift Box Bar from SustainAble Home Goods. Choose from the line's local food goodies or wellness products to soothe, pamper and encourage the ultimate in relaxation and self-care. Each box is wrapped, dressed and ready to gift. Starting at $60.
Details: 675 Ponce De Leon Ave. NE., Ste. N211B, Atlanta; yoursustainablehome.com
Boost Your Bouquet
Upgrade your grocery store bouquet for a vibrant and modern handmade floral arrangement from your local experts in the flower game. JJ's Flower Shop in Ponce City Market bundles and arranges unique blooms and greens in tissue and ribbon, glossy terra cotta vases and more for gift options that are simply beautiful.
Details: 675 Ponce De Leon Ave. NE., Ste. 174, Atlanta; jjsflowershop.com
Baking Buddies
Celebrate Mom by bringing her a homemade breakfast in bed. Little Rey's chef/owner Ford Fry has bottled his dry hotcake mix and syrup to cook up fantastic flapjacks at home. The 10-cake kits include two bottles of syrup and a resealable pack of pancake powder for less than ten bucks (and pair perfectly with Ford's cookbook).
Details: littlerey.com
A Pampered Polish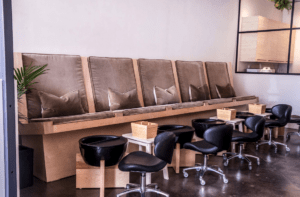 Treat Mom's toes to The Water Room's Level 03 Pedicure boasting Buckhead's best foot soak, shea butter scrub, nail and cuticle care, a deeply nourishing and moisturizing organic hot oil treatment, and a decadent, don't-be-in-a-hurry foot and lower leg massage. She can then top her toes with an array of fun color options.
Details: 3872 Roswell Rd. NE., Ste. C3, Atlanta; thewaterroom.com
The Gift That Gives
For subtle swag that steals an envious glance, the Kinderstern Handbag Charms at Akris come in bright pops of fun colors and let you double down on looking good and doing good. A portion of their sales will be donated to children's charities, so you'll quite literally reach for the (albeit abstract) stars this Mother's Day. $195.
Details: 213 Buckhead Ave. NE., Atlanta; us.akris.com
Skip The Dishes
The Optimist lets you treat Mom to a rare brunch at the modern coastal cuisine corner spot as it serves up a limited menu of classic favorites like deviled eggs and lobster salad, plus new dishes like crispy oysters and sticky cinnamon buns. FYI, they all pair well with something bubbly.
Details: 914 Howell Mill Rd., Atlanta; theoptimistrestaurant.com/atlanta
Sending Love from a Social Distance
Many Atlanta-area assisted living centers are still closed to family and friends, requiring staff to get a little creative to celebrate moms this year. "We're their surrogate families right now," says Traci Wade, activities director at Brighton Gardens of Buckhead, currently planning their Mother's Day Tea. "We want to make sure days like this are extra special and that they feel cared for and loved. We'll go above and beyond to make this tea reminiscent and fancy because it's always something they look forward to." She recommends celebrating virtually as well, or sending gifts, photos and cards, and even coordinating with staff to drive by with decorated cars, homemade signs and balloons to brighten up a socially-distanced visit.
Details: 3088 Lenox Rd. NE., Atlanta; sunriseseniorliving.com
Find more Mother's Day deals here.
—————————————————————————————
Photos courtesy of (Art Aneddote) Buckhead Art & Company; (Boost Your Bouquet) JJ's Flower Shop, photography by Emily and Carlos Vila; (Gifting Goodness) SustainAble Home Goods. Photos courtesy of (Baking Buddies) Little Rey; (Skip the Dishes) The Optimist; (A Pampered Polish) The Water Room, photography by Heidi Harris Photography; (The Gift That Gives) Akris.