Leta Brooks Hays: One Kidney Down, Three Volcano Summits to Go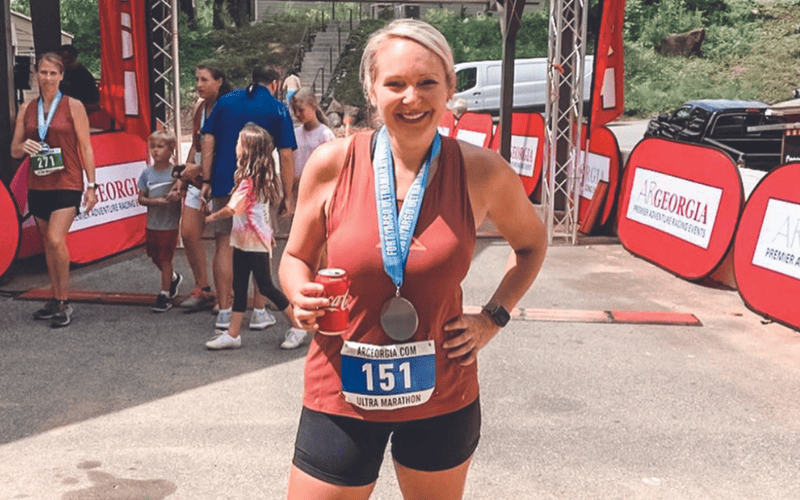 By Wyndi Kappes
Ultramarathon runner and 2019 Over 40 & Fabulous Fab 5 winner Leta Brooks Hays believes in a life without limits. In 2017, the interior designer and mom of two put her plans and active lifestyle on hold to donate a kidney to her father. "The gift of life is the greatest gift I could give. I feel honored to have been a match, and I am so grateful I could help him," she humbly said.
A dedicated dancer, runner and adventurer before the donation, after a few months spent recovering, Brooks Hays proved the doubters wrong and continued her pursuit of challenges, completing a 25K race in 2021 with only one kidney in tow. Her inspiring journey caught the attention of Kidney Donor Athletes (KDA), leading to an incredible opportunity.
Selected from hundreds of applicants, Brooks Hays is one of the 18 kidney donors across the US who will participate in KDA's Three Volcano Summit in Guatemala this December. The nonprofit adventure challenge aims to raise awareness about kidney donation and highlight the capabilities of donors.
"Athletes make the best donors because they are in the best physical condition going into surgery, and recovery can be much easier," Brooks Hays explains. "I am doing the Three Volcano Summit because I want to shout this literally from the mountain tops. I want to show everyone else that if I can do this on one kidney, then you can be a donor and do this too. You might not want to summit volcanoes, but you can still be an athlete, live a healthy lifestyle and do hard things."
The summit involves conquering three active volcanoes back-to-back. Brooks Hays will camp on the sides of dormant volcanos before climbing to the summits in the early morning hours. She'll fight exhaustion, dehydration (the biggest fear for those with one kidney), altitude and the elements. Undeterred, Brooks Hays embraces the challenge to show the world the power of donors.
"Over 100,000 people are waiting for kidneys in the US alone," Brooks Hays emphasizes, fueling her dedication to this cause. "Donors have a once-in-a-lifetime opportunity to give the gift of life, and I'm here to show them they can do so and live a life without limits."
The countdown is now on to December 2, when Brooks Hays will fly to Guatemala City to embark on this grand adventure. In the meantime, Brooks Hays will be fundraising on behalf of KDA both online and at this year's Over 40 & Fabulous Fashion Meets Passion Showcase.
Join us as we rally behind Brooks Hays' mission to conquer mountains, literally and metaphorically!