Recipes & Entertaining Tips From Atlanta's Top Chefs & Bloggers
Cook, Decorate and Celebrate with Ideas and Inspiration from Atlanta's Top Chefs and Bloggers
The holidays hold a special place in my heart. From fond childhood memories of Christmases spent playing with my cousins to Thanksgivings spent gathering around my grandmother's beloved spinach artichoke recipe, food has always played a special role in our celebrations. I truly believe the dishes we share each holiday are a special way to share our hearts and lives with each other. Here, we take an intimate look into the lives of several Atlanta chefs to learn more about their favorite seasonal recipes and celebrations. I hope you find inspiration for your own holiday meals in the pages that follow. Cheers!—Liz Attaway, @adventuresinatlanta, www.adventuresinatlanta.com
Setting the Scene with Kevin Francis O'Gara of Kevin Francis Design
A happy hosting pair, Kevin and his brown standard poodle Leopold love having friends and family over for seasonal gatherings indoors and out. @kfogara, @kevinfrancisdesign, www.kevinfrancisdesign.com
Decor Tips
Some suggestions for spicing up your tablescape:
• Use citrus for a pop of color in table settings during the winter. Bonus points if you can find some at the market with leaves still on them.
• I love to stick to shades of green for flower arrangements since there's such a lack of it outside.
• Brass accents are a great way to warm up your tabletop and look so lovely with candlelight.
Outdoor entertaining can still be cozy even as the temperatures drop.
• To keep things toasty as the sun goes down, try throwing sheepskins on your dining chairs.
• Add insulating curtains to your porch.
• Use lots of large pillar candles to add a warm glow to your dining area.
Finally, entertaining can be stressful, especially during the holidays, so give yourself easy options when it comes to dinner plans.
• I like to have Marcona almonds, rice crackers, dried apricots and goat cheese on hand to set out for last-minute hors d'oeuvres.
• Having a lasagna or flatbread pizza in the freezer that you can dress up with fresh herbs, an arugula salad and a nice bottle of wine gives you an approachable option for when it's just too busy to cook a full meal for guests.
---
A Shareable Dip with a Twist by Deborah VanTrece of Twisted Soul Cookhouse & Pours
After 25 years of exploring the world as a flight attendant and now chef, Deborah VanTrece is finely attuned to the vast depth of worldwide cuisines and what foods excite and inspire. Established in 2014, VanTrece's critically acclaimed restaurant Twisted Soul Cookhouse & Pours serves up "global soul food."
Of this delicious rice dish, she says, "It's named after my grandmother because she devised it as a way to make me eat spinach. And it worked! I add some of my favorite flavors—vinegary artichokes, the combination of cheeses—until the result becomes the best spinach and artichoke dip you've ever had, but with rice."
@chefdeborahvantrece, www.twistedsoulcookhouseandpours.com
Grandma Lue's Spinach Rice
A side dish that will make you love eating your spinach
Ingredients
• 3 cups cooked white rice, chilled
• 2 large eggs, beaten
• ½ cup (1 stick) unsalted butter
• ½ cup chopped celery
• ½ cup chopped red bell pepper
• 1 cup chopped red onion
• 4 pounds fresh baby spinach, washed and trimmed
• 1 cup chopped marinated artichokes
• 12 ounces cream cheese, at room temperature
• ½ cup sour cream
• 1 cup grated Parmesan cheese
• 2 cloves garlic, minced
• ½ teaspoon freshly cracked black pepper
• ½ teaspoon onion powder
• ½ teaspoon garlic powder
• 1 teaspoon kosher salt
Instructions
Preheat oven to 350°. Generously grease a deep casserole or 13 x 9 inch baking pan. In large bowl, stir together cold rice and beaten eggs. In large skillet over medium-high heat, melt the butter. Add celery, peppers, onions and spinach and cook, stirring occasionally, for 2 to 3 minutes, until onions are translucent and spinach is wilted. Reduce heat to medium and stir in artichokes, cream cheese, sour cream, Parmesan and garlic. Cook 5 to 7 minutes, stirring occasionally until cream cheese has melted and all ingredients are well combined. Add spinach-cheese mixture to rice. Stir in black pepper, onion powder, garlic powder and salt. Pour into prepared casserole dish and cover with foil. Bake for 20 minutes, then remove foil and bake for an additional 10 minutes, or until the top is nicely browned. Let rest for 15 minutes before serving.
---
A Healthy Pre-Dinner Snack by Mitchell Anderson of MetroFresh
Inspired to cook initially by the women in his family, Mitchell Anderson found himself hanging out in the kitchen with Atlanta restaurateur Jenny Levinson after leaving his acting career in Hollywood behind. Her improvisational approach to cooking helped him transition into the second chapter in his life, starting the MetroFresh healthy food restaurants. There, he could tell a story every day in the "thought" section of his menu, fusing the perfect fit between chef and storyteller.
A customer favorite at MetroFresh, the Veggie Trail Mix salad reminds him of the trail mix his Aunt Ginny would take on hikes. This light, straightforward salad will add crunch and color to any holiday spread. @metrofreshatl, www.metrofreshatl.com
Veggie Trail Mix salad
A bowl of delicious greens and other goodies to kick off the meal
Ingredients
• 1 bunch broccoli, stems removed
• 1 head cauliflower
• 4-5 diced carrots
• 1 cup dried cranberries For the dressing
• ½ cup seedy Dijon mustard
• ½ cup honey
• ½ cup fresh orange juice
• 1 cup olive oil/canola oil blend
• Kosher salt to taste
Instructions
Finely chop cauliflower and broccoli with a sharp knife. Chop carrots lightly in a food processor. Toss in a bowl with cranberries and dressing. Serve immediately or refrigerate. Will keep well for up to two days. As an option, you can add walnuts, pecans, toasted pumpkin seeds and/or bleu cheese crumbles.
---
A Guilt-Free Side Dish by Jenny Levison of Souper Jenny
Atlanta's favorite soup slinger, Jenny Levison found her passion for food and the inspiration for her signature recipes during an 18-month trip across Europe, the Middle East and Asia in the late '90s. Since then, she has spent more than 20 years serving up her healthy, gluten-free, vegetarian and vegan soups, salads, and sandwiches to hungry customers at her five community cafes.
"This dish is one of my holiday favorites and is a great way to sneak veggies into your kids," says Jenny. "The Parmesan gives it that comforting mouthfeel of high-carb mashed potatoes, but you won't walk away from the table stuffed." @souperjennyatl, www.souperjennyatl.com
Cauliflower and Fresh Herb "Mashed Potatoes"
A sumptuous side dish without the guilt
Ingredients
• 1 large head cauliflower
• 1 teaspoon garlic, minced
• 3 tablespoons ghee or butter
• 1 teaspoon fresh chives, chopped
• ¼ cup grated Parmesan
• 1 tablespoon Greek yogurt
• Salt and pepper to taste
Instructions
Set a stockpot of water on stove and bring to a boil. Trim cauliflower and place whole in boiling water for 10 minutes. Drain. Add cauliflower and all other ingredients in food processor and puree. Salt and pepper to taste.
---
A Magnificent Main Course by Kevin Gillespie of Red Beard Restaurants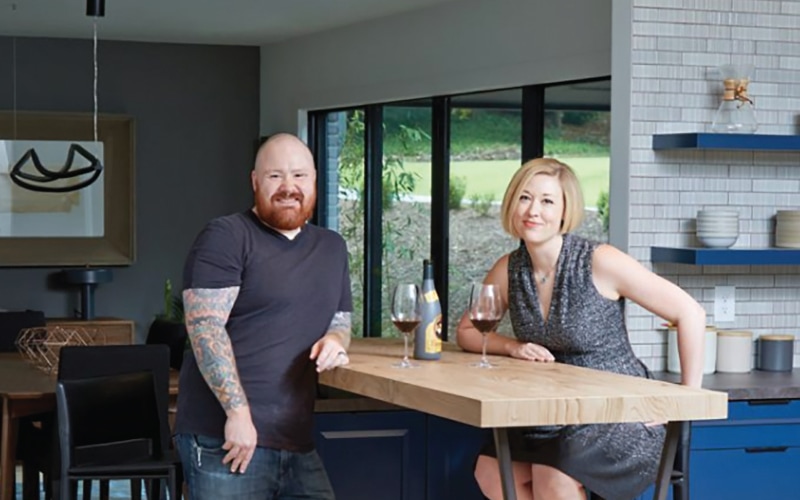 A Georgia native, Kevin Gillespie grew up surrounded by his large, extended family, where he watched his granny, Geneva Gillespie, cook each day. After rising to fame following his finalist appearance on Bravo's "Top Chef," the red-bearded, tattooed chef has established some of the most recognizable restaurants in Atlanta, including Gunshow and Revival.
While perusing a cookbook on royal court cuisine, he stumbled upon an extravagant dish fit for a special Gillespie Thanksgiving:
a whole pork loin with apples, dates and duck liver. He adapted it into this dish, which includes bacon fat and dried fruit. It may be a little complicated, but it's worth whipping up for Thanksgiving, Christmas or any other fantastic feast.
@chefkevingillespie, www.redbeardrestaurants.com
Celebration Pork Rack Stuffed with Dried Fruits
A monumental main dish
Ingredients
• 1 loaf sliced white bread, crusts removed
• 1 large onion
• 2 tablespoons bacon fat
• 4 teaspoons kosher salt
• ½ teaspoon ground ginger
• ¼ teaspoon ground cinnamon
• ¼ teaspoon ground mace
• 1 (6-bone) center-cut frenched pork rack, about
4 pounds
• 2 egg whites
• cup heavy cream
• 1 tablespoon finely chopped fresh sage leaves
• 1 cup packed mixed, diced dried fruit (apricots, cranberries, currants, golden raisins)
• ½ cup ham broth (or chicken stock)
Instructions
Heat oven to 325°. Cut bread into ½-inch cubes; you should have about 2½ cups. Toast bread on baking sheet until crispy, about 8 minutes. Leave oven on. Finely dice ½ cup of onion and saute with 2 teaspoons of bacon fat in skillet over medium heat until softened and translucent, about 3 minutes. You should have about ¼ cup sauteed onions. (You'll use the remainder later.)
Combine 2 teaspoons of the salt and all of the ginger, cinnamon and mace in small bowl. Lay pork rack boneside down on cutting board and carefully slice down, across the bones toward the meat, leaving the meat intact in one piece; you're basically unrolling and slicing the meat to 1-inch thickness (see photos). When you get to the eye (the long tubular muscle that runs lengthwise), continue slicing about an inch at a time until the eye is about 2 inches in diameter. Remove pork eye and finely chop it. In food processor fitted with a metal blade, combine chopped pork eye, egg whites, cream and remaining 2 teaspoons salt until it's a smooth, sticky paste, about 2 minutes. Add sauteed onions and sage and pulse to combine. Transfer to bowl and fold in toasted bread and dried fruit. This is your stuffing. Melt remaining 1 tablespoon of pork eye plus 1 teaspoon bacon fat in skillet for later use. Coat roasting pan and rack with nonstick spray.
Sprinkle pork rack with seasoning mix, coating both sides. Beginning where meat starts on bones and using about half the stuffing mix, spread a thin layer of stuffing over rack and meat. Lightly brush with some of melted bacon fat.
Starting at meat end of rack, gently and lightly roll meat back onto the bones, being careful not to squish stuffing out the ends. Using butcher's twine, tie the rack, wrapping between the bones and around the end. Brush rack on all sides with some of the melted bacon fat.
Brush a deep, 2-cup baking dish with some of the melted bacon fat; place remaining stuffing in dish and brush with bacon fat. Bake until cooked to internal temperature of 150°, about 30 minutes. Coarsely chop remaining onion, spread in center of prepared roasting pan under roasting rack, and place pork bone-side down on roasting rack, over the onions. Roast to internal temperature of 145°, about 1 hour. Remove roasting rack from pan and place over plate to catch any juices that run off. Place roasting pan over medium-high heat, add ham broth, and, using a wooden spoon, stir in pan drippings and onion to deglaze pan. Add salt and pepper to taste. Strain sauce and discard solids. Let pork rest for at least 20 minutes before slicing. Stir any accumulated juices into sauce. Slice the rack into 1-bone chops and serve with pan sauce and scoop of baked stuffing on the side.
---
An All-American Dessert by Veronica Dalzon of Monster Cravings Cookies
For stay-at-home mom turned cookie queen Veronica Dalzon, dessert comes first. After some inspiration from her wedding venue's fresh-baked stack, she aspired to create the best chocolate chip cookie around. The aha moment to start her company Monster Cravings Cookies came when people would ask, "Where did you buy these cookies?" Since then, she's turned her beloved pop-up into a now permanent stall at the new Chattahoochee Food Works.
There's nothing more American than apple pie, so for her dessert, Veronica took her love for the fruit-laden delicacy and put it in cookie form. @monstercookies_atl, www.monstercookiesatl.com

Apple Pie Cookies
A dessert you'll definitely want to leave room for
Ingredients
Cookie dough
• 1½ cups all-purpose flour
• 2 teaspoons ground cinnamon
• 1 teaspoon baking soda
• ½ teaspoon salt
• 1 cup unsalted butter, at room temperature
• 1 cup packed light brown sugar
• ½ cup granulated sugar
• 1 large egg
• 2 teaspoons pure vanilla extract
• 2 cups rolled old-fashioned oats
• 1 cup dehydrated apple pieces 
Topping
• 1 can apple pie filling
• 1 cup crushed-up butter cookies of your choice
• Salted caramel
dessert topping
Instructions
Preheat oven to 350°. Line baking pan with parchment paper. In mixing bowl, whisk together flour, cinnamon, baking soda and salt. In bowl of an electric stand mixer fitted with paddle attachment, cream together butter, brown sugar, granulated sugar and vanilla until combined. Mix in egg, being careful not to overbeat. Add flour mixture and mix just until combined, then stir in oats and dehydrated apple pieces.
Shape dough into 1½-inch balls, then transfer to prepared baking sheet, fitting 12 balls per sheet and spacing
2 inches apart. Bake until golden brown on edges and nearly set (center should look underbaked), about 12 to 14 minutes. As cookies are cooling, pulse butter cookies in food processor until it looks like coarse sand. When cookies are totally cooled, top with a tablespoon of apple pie filling, crushed butter cookies and a drizzle of caramel.
---
Take Time Out for You with Liz Carlile of Motherhood Unstressed
Liz Carlile is a TEDx speaker and host of the top parenting podcast Motherhood Unstressed. Every week, Liz interviews brilliant creators, mothers and bestselling authors with the intention of empowering and uplifting her audience of women all over the world to live their lives with less stress and more purpose and joy. Here, she shares her top tips for slowing down during the hustle and bustle of the holidays and taking time for yourself.
@motherhoodunstressed, www.motherhoodunstressed.com
Tips for Holiday Self-Care
1. Schedule time for you. Everyone knows they should meditate, workout, read and rest, but it often doesn't happen unless it's on the calendar. Set a date with yourself and don't let anything get in the way of that 25 to 45 minutes a day.
2. Remember that a perfect house isn't better than happy kids. Be gentle and forgiving with yourself, especially when comparing your life to the facade of perfection on social media. Allow time for curiosity and fun, and leave the laundry for when you usually watch your favorite show or while listening to an interesting podcast or the next must-read on Kindle.
3. Solo walks in nature are magic. Even when the temperature drops, it's important to get outside and immerse yourself in nature to reduce stress and feel happier. Tree bathing, as the Japanese call it, has been scientifically proven to significantly decrease depression, fatigue, anxiety and confusion. Be sure
to use all of your senses to take in the beauty around you and focus on breathing rhythmically in and out of your nose for maximum benefit.
---
Cocktail Hour with Allen Parker of Good Word Brewing
Allen Parker started working in restaurants at 16 and has worked in every position since, from dishwasher to line cook, and is now the bar manager at Good Word Brewing. His energy goes into creating new and exciting cocktails, though the classics always serve as inspiration, especially a Manhattan or a Negroni. Below, he shares the recipe for his favorite beverage, a Dark Rum Hot Toddy, which is perfect for warming up by the fire with family. @goodwordbrewing,
www.goodwordbrewing.com
Dark Rum Hot Toddy
A delicious pre- or postprandial adult beverage
Ingredients
• 1½ ounces fig-infused
Denizen Vatted Dark Rum
• ½ ounce lemon juice
• ¾ ounce spiced fig syrup
(available at Total Wine & More)
• Hot water
Instructions
Mix the rum, lemon juice and fig syrup in an 8-ounce glass before topping with hot water.
---
Entertaining Tips from Lifestyle Influencer Nikka Shae, Oh!Nikka
A lifetime obsession with fashionable clothing, spaces and events led Texas native Nikka Shae to Atlanta and ultimately to the discovery of her alter ego, Oh!Nikka. Wife, mother and social trendsetter, Nikka loves entertaining family and friends this time of year. As she transforms into a haute holiday hostess, you can find her breaking out wonderful seasonal decor and dazzling guests with fabulous table settings. @ohnikka, www.ohnikka.com
Entertaining Tips
A great way to dress up your holiday is to use a popular theme like The Great Gatsby. Use curvy-font place cards, gold- and/or silver-toned chargers and fluted glassware all set on a white linen tablecloth.
For a simple rustic theme, and, as a bonus, support local female-owned businesses, pick up a centerpiece from a shop like Roots and Blooms or JJ's Flower Shop. Use pinecones from your yard and tiered candles to complete the look.
Nikka says a charcuterie board is another great way to show off your entertaining chops. Start with nuts and berries, then layer on cheese and assorted meats. Olives and a locally made jelly are a great addition. Don't have time to make one at home? Shop premade boards from The Charcuterie Chick or Shmore Boards, the latter of which is even hosting holiday workshops so you can learn how to make one on your own.
---
Reinvent Your Leftovers with This Sandwich from Ozzy Llanes of Cubanos ATL
Ozzy Llanes, the creative mind behind Cubanos ATL, got his start cooking alongside his Cuban family, where he developed his love for the country's unique flavors. Priding himself as a foodie and not a chef, he delivers authentic Cuban sandwiches and coffee to the Atlanta market. Bringing his childhood memories to life, his holiday dish selection is a true feast for the senses and his favorite meal to cook at home. For a tasty dish for the day after Thanksgiving, you can use the steak specified in the recipe or sub in your leftover turkey or other meat.@cubanosatl, www.cubanosatl.com
Bistec de Palomilla and French Fries
A unique and delicious way to use up your leftover meat
Ingredients
• ½ cup sour orange juice
• 2 cloves garlic, thinly sliced
• 1 teaspoon garlic powder
• ½ teaspoon salt, plus more for seasoning potatoes
• 1½ pounds top sirloin, sliced lengthwise ¼-inch thick (or whatever leftover meat you have)
• Vegetable oil
• 1 onion, diced
• 4 white potatoes, cut into julienne strips
• White rice
Instructions
In medium bowl, stir together sour orange juice, fresh garlic, garlic powder and salt. Add steak. If needed, add more orange juice so meat is covered. Cover and refrigerate overnight.
When ready to cook, heat skillet over medium-high heat and coat bottom with oil. Cook steak until brown on one side, about 1 minute, then flip and cook on other side. Do not crowd skillet, and do not discard marinade. As steak strips are done, transfer to plate. Cover plate loosely with foil to keep warm until all steaks are done. Do not wash skillet. Add onion to pan and saute until it starts to soften.
In a medium saucepan or deep skillet, bring marinade to a boil. Reduce heat to medium and add steak, any accumulated juice from plate where they were resting, and the sauteed onion. Cook 5 to 10 minutes or until steaks are tender.
While steaks are cooking, in a Dutch oven, heat 3 inches of oil to 375°. Add potato strips, but do not crowd oil. Fry potatoes until golden, 6 to 10 minutes depending on size of strips. Remove from oil, drain and sprinkle with salt. Continue until all potatoes are cooked. Serve steaks, onions and fried potatoes over rice.
---