Maybe you're stuck in a rut with your current look, or perhaps you're simply craving a fresh style for the new year. Either way, we've got your roundup of the latest cuts, coloring methods, styling tools and more. For the scoop on what's on point in 2016, we spoke with industry experts and got their take on hair trends in the coming year.
Runway Hints
One of the best indicators of future hair trends is often what looks show up on the runways at New York Fashion Week. "This season, each of these defining looks had a bit more interest. Some messy buns had an added braid, ponytails were anchored at interesting points and the gentle waves were more elegant,"
notes Maggie Mulhern, New York City-based editor and art director for Modern Salon Magazine.
According to Professional Beauty Association members, this is an "anything goes" era with hair color. From brilliant hues to muted pastels to new hair-painting techniques to splotch coloring and hand-pressed color, there's no end to the color experimentation. Even glitter hairstyles sparkled on the runway at Los Angeles Fashion Week, along with simple, single-process hair colors like Taylor Swift's monochromatic blonde.
Color & Cut
Balayage will continue to be the highlighting method of choice, but the Salon Spa Business Network believes that the painted stripes have faded in favor of more organic, solid-appearing colors. Tailoring the color to your face shape and skin tone gives a more natural effect, as does a move back toward more shades such as bronde (a combination of brown and blonde hair), buttery blondes, rich red and strawberry tones. For those curious to try something really different, there are some great eggplant shades and silver blonde styles, which look very sophisticated.
With cut, it's all about the LOB, or "long bob," in 2016. "The LOB with shattered ends continues to be the hottest look right now," Mulhern says. As for styling, braids, buns and ponytails will continue to be big, predict Intercoiffure educators and stylists. Embrace your natural texture and enhance that with styles that are twisted, tied in knots and bows or accented with ribbons and large headbands. Winter waves are also big hair trends at the moment, which use a large barrel curler or flat iron to put very soft waves in the hair.
Tool Trends
Other styling tools and products to keep in your arsenal include dry shampoos, dry conditioners, frizz fighters and curl definers. For the pro, every artist should have a mini-crimper to add volume at the root or underneath. And with a return to natural textures, a good diffuser is most important.
Guys have plenty of options this year as well. Both the Professional Beauty Association and the Salon Spa Business Network agree that longer hair for men is in at the moment, as is facial hair. However, maintain the grooming meticulously so those styles don't become unruly. The man bun has also grown popular, as have pompadours, and both work great with a well-kept beard.
If you're still unsure of what style will suit you best for 2016, be flexible and a little adventurous. Try a deep side part for a while and then switch the part to the middle. Enjoy sleek straight hair, then braid it wet and sleep on it for a frizzy look the next day. Change you hair color, play with ponytails or updos or clip in faux fringe. Whatever you do, OWN it. This is your look, and this is YOUR year!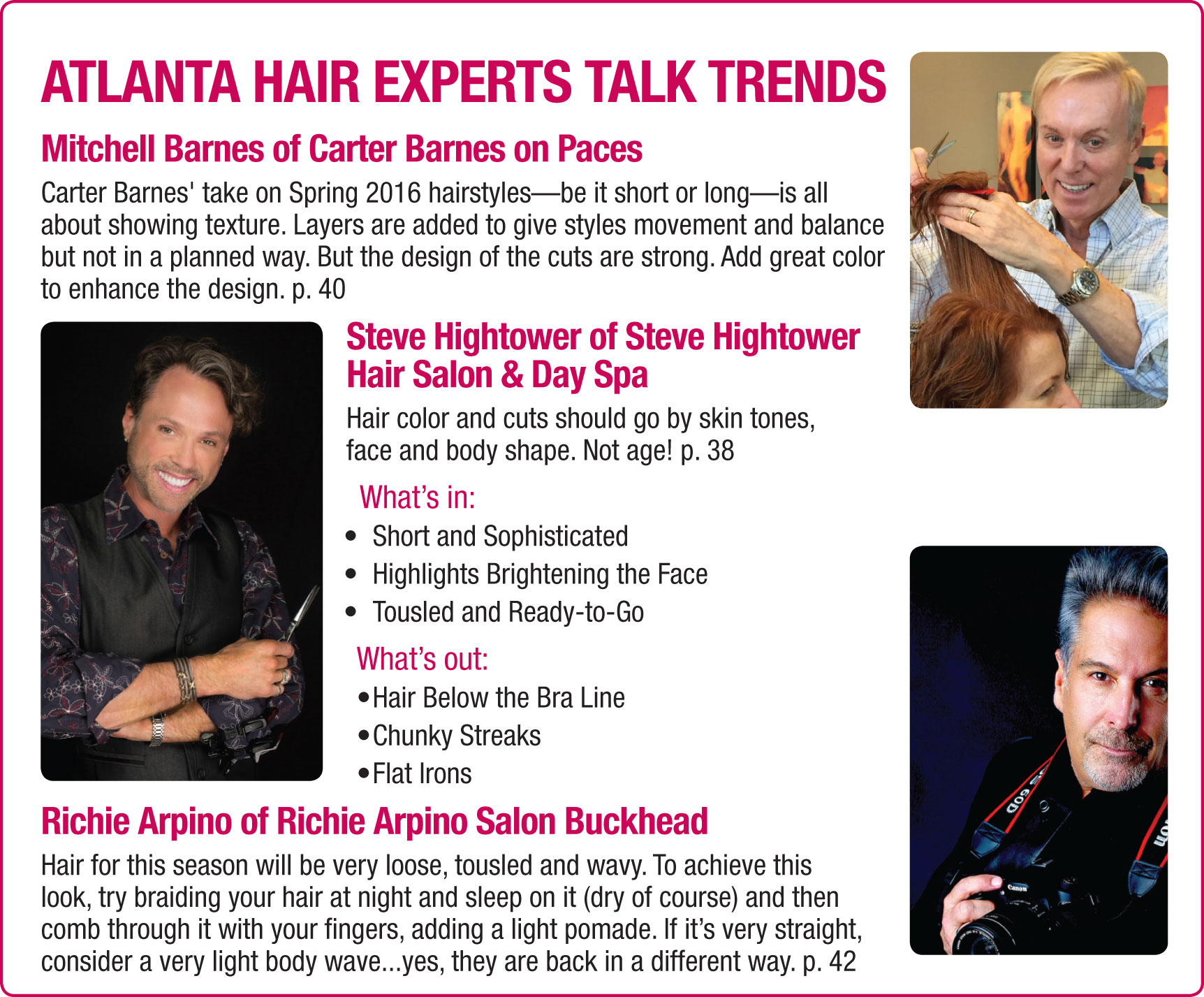 Editorial Resources
Professional Beauty Association — www.probeauty.org
Modern Salon Magazine — www.modernsalon.com
Intercoiffure — www.intercoiffure.com
SalonSpa Business Network — salonspanetwork.org
Hair & Make Up Credits for Hair Trend Photos:
Hair – Candy Shaw and the Sunlights Artisan Team
Make Up – Candice Holloway
Photography – Tom Carson