Day 7 of Healthy, Beautiful Skin – HydraFacial at Dr. Randy Rudderman M.D., F.A.C.S
By Best Self Associate Publisher: David Leonard
HydraFacial at Dr. Randy Rudderman M.D., F.A.C.S
The HydraFacial is the perfect summer alternative to a typical chemical peel. This innovative technology combines cleansing and exfoliation by using hyaluronic acid to nourish and a vortex suction to clean out the pores.  The facial can be customized for the client's skin type by adding in more antioxidants or gentle acid peels to moisturize or dry out as needed. Ultimately, the treatment gives the skin a younger-looking glow without overdrying.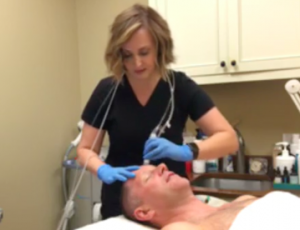 The talented Tonya Grismer L.M.E. provided me with all the detailed information about the HydraFacial machine and the skin boosters that she added to customize my facial.
I was excited to have this treatment because I had heard such good things about it. As a busy working dad, I don't spend a lot of time pampering myself so this was a fun opportunity for me.
In addition to receiving the facial, I also had a chance to relax in a room where essential oils were diffused and soft music played. After the facial, Tonya helped me to stay in that state of tranquility with a head, neck and shoulder massage. My skin felt amazing. I honestly did not want to leave because I was so comfortable.
As the day went on, I could tell a difference in my skin—it was brighter and felt clean. Overall, this was an amazing and easy procedure that I really enjoyed. Even a day later, my skin feels and looks great … my husband agrees.

For more on this treatment, check out this Facebook LIVE video featuring Tonya Grismer L.M.E.  and David Leonard.
Details: 678.566.7200. 3400 Old Milton Pkwy., Alpharetta, GA 30005. drrudderman.com
Skin Love!
As with any skin care regimen, consistency is the key to overall good results. A consistent daily regimen of cleansing, moisturizing and protection against the sun is a must. Also, don't forget to get your skin screened in support of good health and skin cancer awareness month.