Custom and Compassionate Plastic Surgery Care at MetroDerm, P.C.
Ready for a change? Let Dr. Farzad R. Nahai of The Center for Plastic Surgery at MetroDerm, P.C., help you look and feel good. His experienced team offers unparalleled care to meet your needs from head to toe.
At The Center for Plastic Surgery at MetroDerm, P.C., the phrase "full service" isn't just a buzzy slogan; it's a reality. Founded in 2013, the practice is dedicated to meeting their clients' needs, no matter what their skin care situation or aesthetic desires. That means a lengthy list of procedures that includes everything from facelifts and breast augmentations to cancerous surgery repairs and other medical related surgeries.
Dr. Farzad R. Nahai helms The Center for Plastic Surgery at MetroDerm, P.C. He is an Atlanta native, The Westminster Schools and Emory University alumnus, a published author, and a father of two whose passion shines through his skilled hands. Dr. Nahai says it's important for his patients to look and feel good but also be confident in their medical professionals. In fact, Dr. Nahai personally trained his staff and oversees all procedures no matter how simple or complex they might be.
Injectables, for example, are among the most common cosmetic enhancements. These include services like Botox® Cosmetic and facial fillers. While billboards or advertisements might allude to bargain prices or luxurious procedure environments, those perks will only get recipients so far.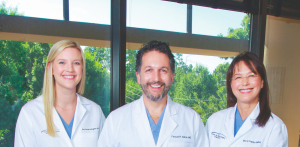 According to Dr. Nahai, the science in achieving desired results rests with the person behind the needle. "There is a lot of skill level involved with these procedures. We pride ourselves on the experience level of our injectors and our estheticians. Our most senior registered nurse injector, Mary Popp, has been in the business for over 20 years," says Dr. Nahai. The same applies to laser treatments such as laser hair removal and aesthetics such as facials and peels. It's the specialist that counts.That quality expertise is one of the reasons The Center for Plastic Surgery at MetroDerm, P.C., has a full-time physician's assistant, Ann Patrick Meagher, who only focuses on plastic surgery. She assists Dr. Nahai in tending to patients. It's a team effort backed with extraordinary skill.
Dr. Nahai insists their care standards and their facility standards are what separates The Center for Plastic Surgery at MetroDerm, P.C. from other practices. "We take care of a lot of skin cancer patients as well [including] putting them back together and keeping them whole," says Dr. Nahai.
He continues, "There are a lot of cosmetic procedures on the face and eyes that we can do in the office under local anesthesia obviating the need to go to the operating room and under general anesthesia." The office also houses an on-site pathological laboratory resulting in quick result turnaround.
So what is an experience at The Center for Plastic Surgery at MetroDerm, P.C. like? "All patients undergo a thorough exam and explanation of the findings and a discussion of the features of their face [or body] that they want to address," says Dr. Nahai. While wish lists might include a trip to The Center for Plastic Surgery at MetroDerm, P.C., especially during the holiday season, Dr. Nahai says to start by giving the gift of a consultation. "A consultation, visit with the esthetician, and products can be gifted, [however] we really prefer that patients seeking aesthetic enhancement seek consultation first before deciding on what interventions to do." That ensures patients are good candidates for desired treatments and allows the patient and Dr. Nahai to establish an overall cosmetic plan.
However, if you simply can't wait to get started, and want to look your absolute best for impending holiday soirees, consider booking an appointment soon. "Filler results are immediate while neurotoxins like Botox take several days to take effect," says Dr. Nahai. For best results, he recommends planning services at least a month in advance. Of course, there's no time like the present to make an appointment, so you can feel good and look great.
In between appointments, you can find Dr. Nahai at Buckhead Diner. And after work, you can find him at Bones having dinner with his family or riding his bike on the Northside Trail of the Atlanta BeltLine.
metroderm.org, The Center for Plastic Surgery at MetroDerm, P.C.,
875 Johnson Ferry Rd. NE., Ste. 300, Atlanta, 404-257-9933.  
The content for this article is brought to you by The Center for Plastic Surgery at MetroDerm, P.C.