Breast Augmentation | Dr. DiFrancesco | DiFrancesco Plastic Surgery | Masters of Makeover 2018
DR. DIFRANCESCO
DIFRANCESCO PLASTIC SURGERY
DRDIFRANCESCO.COM | 404.377.3474
When we hear the term "breast augmentation," we tend to think of bigger breasts with more cleavage. Due to aging, childbirth, weight fluctuations and genetics, your body and breast shape may not reflect how you feel or want to look. Implants not only enlarge naturally small breasts, they can restore volume and symmetry in breasts that have deteriorated from pregnancy and breastfeeding or a major weight loss. This will create a more balanced and proportional look.
Now more than ever, we have more implant choices available to meet your aesthetic goals. Although the most popular remains the round silicone implant, an increasing number of patients choose an anatomically-shaped implant to create a more natural look with less cleavage. Implant style, shape and volume can all be adjusted to best fit your body.
Another option for breast augmentation is fat grafting. Fat grafting is rapidly increasing in popularity as a stand-alone option for breast augmentation or in conjunction with implants to enhance breast shape and size. While using your own fat may seem more desirable than an implant, the procedure is limited by the amount of body fat you have available for transfer to the breasts.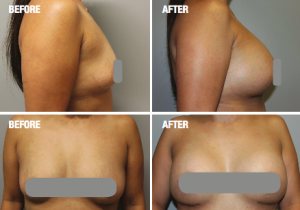 In addition to augmentation, you may need a breast lift, or mastopexy, which raises and firms the breasts by removing sagging or excess skin caused by pregnancy, breastfeeding or weight loss. At DiFrancesco Plastic Surgery, we offer breast augmentation and mastopexy consultations. During your consultation, time is spent discussing your aesthetic goals and concerns. We evaluate your current breast size and shape, quality and quantity of the breast tissue, as well as the quality of your skin, and nipple/areola position. We will then come up with an exclusive plan tailored specifically to your desired look.
Contact DiFrancesco Plastic Surgery to schedule your makeover consultation. 404.377.3474
Info@DrDiFrancesco.com
www.DrDiFrancesco.com 1800 Howell Mill Rd NW Suite 400, Atlanta, GA 30318