A Spring Wellness Checklist for Men
As the occasional warm and sunny day comingles with those late winter weeks, the anticipation of spring draws us to the outdoors. Although the new year is well underway, spring marks the renewal of our favorite lifestyle activities. But have our good habits hibernated for the winter?
Clearing the clutter in our health routines should be at the top of the spring cleaning list. Here are a few suggestions to start you on your way.
Men's Spring Wellness Checklist:
Set up your annual wellness exam if you have not yet done so. Remember, it can often take a month or two to set up this lengthy appointment.
Schedule a dentist appointment. Poor dental hygiene is associated with cardiovascular disease. Your mouth harbors bacteria that— when the gums are not healthy—can travel through your bloodstream and damage the vessel walls.
Don't forget about your yearly eye exam, even if you see fine. Your eye doctor can detect early signs of eye diseases before they become noticeable. This exam not only includes a vision test, but also measurement of eye pressure and examination of the retina (back wall of the eye). An eye doctor can also detect early signs of other diseases such as diabetes and high blood pressure.
Take inventory of your mental health boosters. Streamline your daily routines, especially at the beginning and end of each day. Also, set aside some time to foster the relationships you have with friends and family.
Make a good night's sleep a priority. Spring is also a good time to rotate and clean your mattress per the manufacturer's instructions.
Check your medicine cabinet for expired medications.
Stock up on sunscreen. Even when the sun is not glaring, we need to protect our skin.
Buy a pair of new shoes. You don't realize that your athletic shoes have exceeded their lifespan until you buy your next pair. A new pair will also motivate you to exercise a little extra.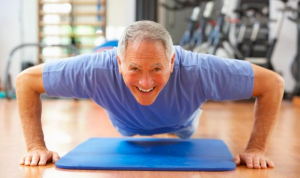 Spending more time outside will hopefully increase your activity level. Now would be a good time to revamp your exercise routine to include a balance of strength, aerobic, and flexibility training. Check all of these boxes on our men's spring wellness checklist and you'll be sure to have a spring in your step.
Look for my article on "Men's Health Recipe: The Secret Ingredient" in the next issue.
Scott D. Miller, MD, is the Medical Director of Robotic Surgery at WellStar North Fulton Hospital. He is a urologist with WellStar Urology in Roswell and has practiced in Atlanta for over 20 years. WellStar North Fulton Hospital offers the Know Your Heart Screening that can determine your risk of heart disease, stroke, and other serious conditions. Call 770-956-STAR (7827) to learn more or schedule an appointment.
Scott D. Miller, MD WellStar North Fulton Hospital • (470) 956-4230 • ScottDMillerMD.com