Get a Sneak Peek at The 2022 Over 40 & Fabulous Top 10 and Super 6 Winners
Thank you for voting for 2022's Over 40 & Fabulous contest. Meet the Top 10 and Super 6 below in no particular order.
A Special Thank You to Our 2022 Over 40 & Fabulous! Presenting Sponsor LifeHope.
Top 10
Charisse Braxton
Charisse Braxton has over 30 years of healthcare experience, from LPN to RN to Nurse Practitioner to now Senior Director at Kaiser Permanente. Serving others is not just what she does; it is who she is! She is passionate about closing healthcare equity gaps for the most vulnerable populations.
Dr. Christina Grange

Christina Grange believes mental health is a human right. She is committed to promoting it through clinical service, research, and higher education. She is dedicated to strengthening the psychological well-being of communities, illuminating empowering truths born out of complicated personal stories and cultivating the next generation of mental health providers.
Elana Frank
Elana Frank, mompreneur through IVF and embryo donation, helps intended parents navigate becoming parents through her non-profit, the Jewish Fertility Foundation. She has trained 500+ community and healthcare leaders in infertility sensitivity, matched up hundreds of people with "fertility buddies," "birthed" 99 babies and given over $1 million in fertility grants.
Gulliana Goehring

Gulliana Goehring, originally from Peru, is a busy mom who is a champion for those in need. A fiercely compassionate injury attorney, a devoted foster parent (AAU Pet Rescue), and a volunteer Attorney at Legal Clinic for Veterans, her worldview of "community" explains her deep empathy and commitment to those that struggle.
Meredith Boyd
Meredith Boyd chose to turn her diagnosis into action by partnering with the Arthritis Foundation as a national spokesperson after being diagnosed at age 15 with Arthritis. She also leads team efforts with the Juvenile Diabetes Research Foundation (JDRF), impacting lives in the Atlanta community and beyond. She is CEO of her own makeup line, Meredith Boyd Cosmetics, and a Master Cosmetologist.
Michael Kanyon

Michael Kanyon's life goal is to bring smiles and laughter to his clients by helping them love themselves a little more with each glance in the mirror by putting a confident smile on their faces. Donating his time to help cut and style wigs for cancer patients and volunteering with Operation Underground Railroad are two causes near and dear to his heart.
Nicole Ivers
Nicole Ivers is a health and safety professional and mom to two incredible teenage daughters. She has dedicated her career and community service to protecting the health and safety of workers, as well as empowering other women, especially in the underrepresented construction field. She also loves doing yoga at Peachout Power Yoga, golfing and simply spending time with loved ones.
Onica Blaize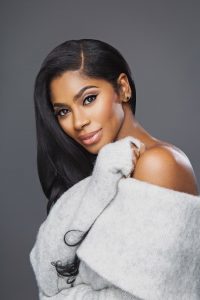 Onica Blaize's passion for service and dedication to people development makes her perfect for the Top 10. Given the opportunity, she believes this platform can assist her with raising awareness of the challenges orphans around the world face due to limited resources and aging out.
Tanya Mendoza
Tanya Mendoza is a Fox 5 Atlanta assignment manager and award-winning journalist who has worked in local news for over 20 years. She spends her off-time exercising, dancing and giving back to the community. She recently won the EDIN Foundation's 2022 Celebrity Dance Challenge and raised nearly $10,000 to combat eating disorders among Georgia schoolchildren.
Yolanda White

Yolanda White is the founder of Dayo Women. She is on a mission to shift the paradigms of loungewear to promote individual style, self-love, and body positivity. Yolanda is purpose-driven and contributes to under-represented populations (including women entrepreneurs and elders). Currently, she serves as a WEOP* advisor and MOWA* board member.
Super 6
Dot Dawodu
Oludotun Dawodu, "Dot," may look younger than 70 but has endured much in life. A sickly childhood–parents didn't think she would live– and was abandoned by a husband (with their daughters, Idunnu and Femi). She does so much for others. Dot also wrote a book, "Freeing Farida," depicting her story of saving a Nigerian girl from human trafficking.
Harriet Adams

Harriet Adams founded Integrated Therapy, LLC in 1999, which is the largest aquatic physical practice in the Southeast. With 39 locations in three states, she is a leader in her field not only in clinical practice, but she published a book, has been recognized by her peers in the American Physical Therapy Association and has spoken throughout the US on the benefits of aquatic physical therapy.
Kathie Stettler
Kathie Stettler has an endless passion to learn and encourage others to be their best in health and wellness as an advocate with a fervent voice who loves her family with a devoted heart. Why light up a room when you can light up lives?
Sharon Henry

Sharon Henry is not merely another real estate professional but a phenomenal servant/leader. This broker and co-owner of EXIT Realty Quality Solutions has been an entrepreneur since 2003 and has built a phenomenal team of professionals who share her core values of living well and giving back to the community! She's a mentor and confidante for the women and men in her community as well as her agents, helping them to live their best lives.
Steve Crossley
Steve Crossley enjoys inspiring greatness. As a Scientist in product technology and volunteer leader-mentor in men and youth organizations, he impacts the development of more sustainable futures and communities. He is also a committed advocate of deeper connections with one's health, purpose, and positivity by doing what tells a better story.
Taylor Vickers

Taylor Vickers is an Autism Mom. Her son Jordan is 28 years old and is the heart of her family. She is always busy working to expand his horizons. Vickers and her family volunteer extensively in their community and represent the growing needs of adults on the Autism spectrum.
Stay tuned to hear more about this year's Top 10 and Super 6 in the 2022 September/October Over 40 & Fabulous! issue.