10 Inspiring Black Women Making History in Atlanta
By Michael Jacobs and Wyndi Kappes
Black women in metro Atlanta are constantly making headlines, from entertainment industry leaders such as Tyler Perry Studios' new president of original programming, Angi Bones, to star performers such as Cardi B. However, Black women are making history every day, often behind the scenes, by working to make Atlanta a better place to live and applying creativity and entrepreneurship to various problems they've experienced. Meet just a few of these amazing women below and learn how you can help advance their work and support them in their mission.
---
Dr. Jackie Walters
Women's wellness warrior
You may know her from her role in Bravo's "Married to Medicine," but Dr. Jackie Walters is making waves as so much more than a reality TV star. Not only does the award-winning OB-GYN run her own women's healthcare clinic and a medical spa in Duluth, she has also developed her own skincare serum, Volition Beauty Skin Rhythm Balancing & Clearing Serum, and a new Super Seamless Mineral Shield SPF 30 that is launching in May.
She has also authored a book dispelling myths around women's sexual health and intimacy titled "The Queen V: Everything You Need to Know About Sex, Intimacy, and Down There Health Care" After the positive response following the release of her book, she started the "Dr. Jackie's Point of V" podcast which tackles taboo topics surrounding feminine health, from infertility to infidelity. Her goal is to educate, entertain and empower listeners on all things relationships, intimacy and feminine health.
A two-time breast cancer survivor, Walters is passionate about caring for women and men diagnosed with breast cancer. "Any physician will tell you that a positive attitude truly has an impact on how well you respond to treatment," says Walters. "I knew that if I looked good, I would feel good, and if I felt good, my treatment would go good. I started the 50 Shades of Pink Foundation to support a patient's psychological needs during and after breast cancer treatment so they can hopefully see the best outcomes possible."
Since its inception in 2013, the nonprofit has empowered thousands of breast cancer patients and survivors through care packages, fashion shows and donations for physical and mental healthcare.
How to help Walters empower breast cancer survivors and patients: You can volunteer to help assemble care packages and attend important events like the annual fashion show to support survivors. You can also donate to the foundation at www.50shadesofpinkfoundation.org.
---
Renee Montgomery
Changing the game on and off the court
Basketball star Renee Montgomery won championships in high school, college and the WNBA. Now she's scoring points with positive change off the court.
After an 11-year pro career, Montgomery walked away from her position as point guard for Atlanta's professional women's basketball team, the Atlanta Dream, in 2020 to focus on social justice through her namesake foundation. Since then, she has worked to push important initiatives forward, like increasing voter registration and education funding at HBCUs. In 2021, she made history by becoming the first former player to be both an owner and executive of a WNBA franchise. But Montgomery hasn't stopped there. She also uses her skills to host a podcast called Montgomery & Co. and works as a TV and virtual-reality basketball analyst.
How to support Montgomery's mission: Volunteer, donate, buy "Moments Equal Momentum" gear at www.reneemontgomeryfoundation.org, or participate in programs such as the fundraising Renee Montgomery Invitational girls' basketball tournament in April.
---
Tiffany LaTrice
Celebrating and curating community for black women in the arts
Tiffany LaTrice brings creativity to entrepreneurship as the founder of TILA Studios, which provides coworking space, community and visibility for Black female artists. As the artistic director of the National Black Arts Festival and a visual artist herself, LaTrice provides business education as well as artistic opportunities to empower Black artists to have sustainable, unstoppable careers.
Her honors include StateraArts' 2020 Martha Richards Visionary Leadership Award and ARTS ATL's 2019 Luminary Award for Arts Innovation.
How to join LaTrice in empowering Black artists:
Follow TILA (@tila_studios) and the National Black Arts Festival (@nbaf) on social media, sign up for their newsletters and attend virtual and in-person events to discover and support local artistic talent.
---
Jasmine Crowe
Fighting hunger in a unique way
Goodr founder and CEO Jasmine Crowe understands that hunger is about logistics, not supply, so her tech-driven company helps businesses deliver surplus food to the hungry and track their donations. Businesses go greener with Goodr by reducing waste and diverting what's left away
from landfills.
The company's social arm, The Goodr Foundation, serves meals to children through their Neighborhood Eats program with partners like State Farm, and Crowe opened the first free Goodr Grocery Store in Ronald E. McNair Middle School this past fall. Crowe also recently published an anti-hunger children's book, "Everybody Eats," which follows a young girl's journey to help her community.
How to work with Crowe to fight hunger: Donate to the foundation, share Goodr's story (@goodrco on Instagram, @thegoodrco on Twitter), and refer businesses to Goodr to help solve food waste problems. Visit www.everybodyeatsbook.com to order a copy of her book; all proceeds go to feeding programs for children.
---
Beatrice Dixon
Shaking up the wellness industry
Neglected by the wellness industry that provided no solution for her bacterial vaginosis, Dixon launched The Honey Pot Co. in 2014 to make gender, body and age-inclusive feminine products free of chemicals, parabens, carcinogens and sulfates.
She has since become one of the first 40 women of color to raise over $1 million in venture capital and has committed to supporting humans worldwide with the tools and resources that promote health. With the catchphrase "by humans with vaginas, for humans with vaginas," she aims to undercut embarrassment and ignorance about women's health.
How to champion Dixon's wellness ideals for all: Share the educational blog posts and buy items at www.thehoneypot.co, where 2% of your purchase benefits The Honey Pot's social initiative CAKE (connection, access, kindness and education), which serves vulnerable populations worldwide.
---
Jaycina Almond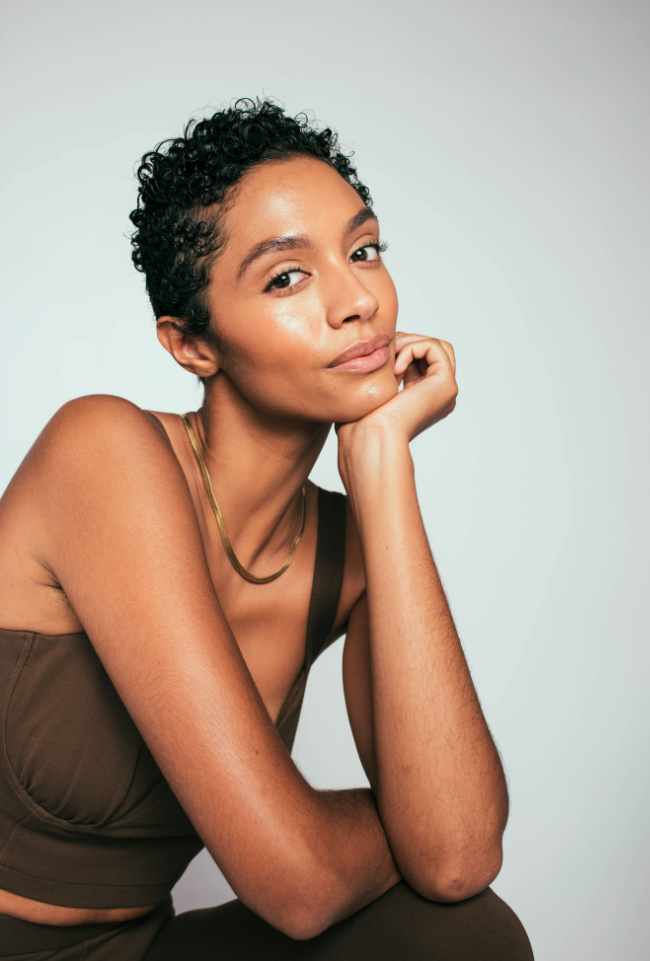 Making her mark as a model and advocate for single moms
Jaycina Almond was an aspiring model when she became a single mom at age 21. Even with access to plentiful resources and a promising start to her modeling career, she quickly found life as a solo parent overwhelming. Now, as her daughter Syx approaches her fifth birthday, Almond enjoys a thriving modeling career in Atlanta, New York and Los Angeles, and has taken it upon herself to provide a safety net and support for other single moms in Atlanta.
Recognizing their special needs, Almond launched and leads The Tender Foundation, which since January 2020 has provided more than $200,000 in emergency aid and grocery gift cards and has distributed hundreds of diapers, wipes and formula to single Atlanta moms living on the margins.
How to help Almond give back to moms in need: Besides raising awareness of single moms' needs and giving money, you can drop off or schedule pickups of donations of baby essentials through www.thetenderfoundation.com.
---
Sukai Crook
Leading the way for women in technology
Sukai Crook cares about empowering women, developing technology and driving value. She applies these passions to her work at packaging company WestRock, where she is the chief of staff and senior director of digital transformation and innovation.
Outside of the workplace, she is an active member of the Georgia nonprofit Women in Technology (WIT), which empowers girls and women to excel in science, technology, engineering, the arts and math (STEAM) from the classroom to the boardroom. WIT honored Crook as its 2021 Woman of the Year in Technology for her business accomplishments and extensive work in the community advocating for women in technology.
How to unite with Crook in advocating for women in technology: Connect daughters interested in STEAM subjects with WIT at www.mywit.org, donate to the WIT Single Mothers Program and advocate for women throughout your organizations.
---
Karen Hatcher
Breaking barriers and promoting inclusion in real estate
No Black woman had led the 112-year-old Atlanta Realtors Association until Karen Hatcher was elected 2022 president on a platform to expand inclusion.
Hatcher is the CEO and head broker of Sovereign Realty & Management, which specializes in creating and maximizing wealth for real estate investors by acquiring, selling, developing and managing residential rental properties. Hatcher earned degrees in finance from Clark Atlanta University and business with a concentration in real estate from Georgia State University. A multi-talented woman, she holds leadership roles in state and national property management and realty organizations, teaches real estate ethics and volunteers with charities such as Habitat for Humanity.
How to assist Hatcher in her pursuit of inclusion: Follow Hatcher's call to move from diversity ("being invited to the party") to inclusion ("being asked to dance") and consider sponsoring the Atlanta Realtors Association at www.atlantarealtors.com.
---
Victoria Raggs
Battling systemic oppression
As co-founder and executive director of the Atlanta Jews of Color Council (AJOCC), Victoria Raggs works against racism and antisemitism while educating Jews, Blacks and other people of color about their overlapping interests and communities.
Her desire to make the world more just and equitable in line with Jewish values has also led her to participate in the Atlanta Black-Jewish Coalition, Jewish Family & Career Services, Bend the Arc and her synagogue's inclusion work, among other nonprofits.
How to back Raggs in her efforts for equity and unity: Donate; attend events listed at www.ajocc.org, such as a celebration of the Ethiopian holiday Sigd; share AJOCC's work; and educate yourself about systemic oppression.
---
Katie Kern
Changing the face of marketing and advertising
Katie Kern makes a living as a storyteller and as a partner and the chief operating officer of the technology PR and marketing agency Media Frenzy Global. But she does more than apply her creative and strategic talents for corporate clients.
In 2020, she helped launch The A Pledge (www.theapledge.com), where she's now co-chair. The nonprofit calls on advertising and marketing agencies to commit to inclusion, with the goal of seeing agencies reflect Atlanta's diversity by 2030.
How to connect with Kern to make a change: Mobilize within organizations for diversity, equity and inclusion and share your stories, because as Kern says, a better understanding of one another produces empathy and meaningful change.
Read more about amazing Wonder Women in Atlanta including Slutty Vegan's Pinky Cole and Mary Kay Andrews here.