Time to Ride: Atlanta's Cycling Scene Gains Momentum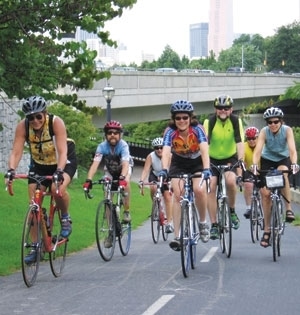 To some, cycling in Atlanta may seem like an inaccessible hobby. With our infamous traffic, incorporating bike rides into day-to-day life is a feat that many of us just aren't confident enough to attempt. And even if you want to enjoy the occasional ride, there's such a range of gear and bike options, it can be tough to know where to start.
Despite those perceived problems, cycling offers many more benefits than challenges. The activity improves your muscle tone and cardiovascular health, provides great social interaction, gets you out in nature and can even eliminate the need for cars on short trips. Plus, in the next two years, Atlanta will take significant steps toward making cycling accessible to anyone who wants it – and you don't even have to consider yourself a "cyclist" to join in the fun.
Get Your Gear
If you're just getting into cycling, gearing up couldn't be easier. "If it has wheels and you can pedal it, that's your entry point," says Rebecca Serna, executive director of the Atlanta Bicycle Coalition.
Head to your local bike shop and consult with the bike pros to determine the best type of bike for your needs. Dan Thornton, president and owner of Free-Flite Bicycles in Atlanta, says to start by asking yourself where you plan to ride: on the street or off road? "This will quickly narrow the decision by as much as 75 percent," Thornton says. Then, also consider the following:
How often do I plan to ride?
Do I want to ride for pleasure, for exercise or for competition?
What is my budget?
Based on your answers, the professionals can help narrow your options, but don't be surprised if your bike still costs $500 or more. "The more you want to do with your bike, the more money you may spend," Trish Albert of Southeastern Cycling says, since race bikes can cost upward of $5,000. If you don't have a big budget but still want quality, Serna recommends visiting a local bike shop that sells used bikes, like Atlanta Beltline Bicycle.
Once you've selected a bike, it's time to think about your other gear. Deciding what you want or need is as individual as you are, according to Joanne Massey, president of Southern Bicycle League, but here are some basics to get you started:
Protection – Regardless of what the laws mandate, it's a good idea to wear a helmet. Mike Wagaman, the owner of Peachtree Bikes, recommends the Echelon II helmet from Specialized, which is adjustable for comfort and safety. To protect your bike from theft, Wagaman likes Kryptonite Kryptoflex combo cables, which give you six feet of cable and a reprogrammable combination for just $29.99. And don't forget to protect your skin with sunscreen!
Water – On a casual ride, a water bottle will likely meet your hydration needs. If you need more capacity for longer rides, try a hydration pack. "Many like the backpack hydration from Camel Bak or Osprey packs," Thornton says.
Repair materials – It's helpful to be able to patch or pump up a flat tire yourself. Thornton says, "We recommend an under seat pack to carry a spare inner tube and CO2 inflator."
Cycling shorts and bike seat – To make your seat more comfortable, wear padded lycra shorts or a baggy style with a padded lycra liner.
And if you're cycling for fitness, which is a great option for anyone looking for low-impact but high-intensity cardio, try these accessories:
Cycle computers – Thornton says, "The new Garmin cycle computers are very popular. These allow the cyclist to map their rides, record heart rate, time of ride, max speed, average speed and many other ride facts." This can help you ensure that you're getting the most from each workout.
Rollers – Companies like Travel Trac and Inside Ride sell simple metal frames known as rollers, which allow you to bike in place and break a sweat even indoors. It's a great workout because it's up to you alone to keep your "stationary" bike upright.
An Ambitious Goal
In 2012, Mayor Kasim Reed committed to making bicycling an integral part of daily life here in Atlanta. To achieve this goal, he allocated $2.47 million in 2013 toward bicycle projects such as doubling the total miles of bicycle lanes and linked, shared-use paths to 60 miles each and rolling out a bike-share program.
Because of these goals, Atlanta recently caught the attention of the national organization PeopleForBikes. Just this April, Atlanta was selected for PeopleForBikes' Green Lane Project, which will run through 2016. Starting now, our city will receive monetary grants and connection with other city cycling experts in order to build a network of protected bike lanes.
Zach Vanderkooy, the Green Lane Project project manager, explains the benefits of protected bike lanes versus the conventional strip of white paint. "A protected bike lane could be planters, trees or posts, but there's some sort of vertical separator between moving cars, people on bikes and people on the sidewalks." So the threat of rogue rush-hour drivers and the fear of not knowing where bikers belong on the road are eliminated. Vanderkooy says, "When you have very busy traffic, protected bike lanes feel a lot safer and more comfortable."
The Green Lane Project has already increased ridership in other cities. "On Dearborn Avenue in downtown Chicago, ridership doubled compared to what was there before," Vanderkooy says. "On 15th Street in Washington, it actually tripled." So don't worry if you've never biked much before – with these new infrastructure changes, everyone can enjoy the road.
Until these changes are fully implemented in Atlanta, the Atlanta Bicycle Coalition can help you find bike-friendly roads with their "bikeability" map, featuring rated roadways to help you find the best routes.
Cycling Events
In addition to these tangible changes in our infrastructure, Atlanta's residents are warming up to cycling more than ever. "There is a vibrant cycling
scene with group rides every day of the week, road races, mountain bike rides, a cyclocross series and dozens of century rides within an hour's drive of Atlanta," Albert says.
If you aren't ready for a century ride, Atlanta offers events for bikers of all levels, such as the annual Atlanta Streets Alive or this year's inaugural Atlanta Cycling Festival, which features bike rides and classes from June 7 through 14. More events can be found on the Atlanta Bicycle Coalition, Southern Bicycle League and Southeastern Cycling websites, so what are you waiting for? The time is now!
Hitting the Trails
Pick a path:
Arabia Mountain Trail
Atlanta BeltLine
Silver Comet Trail
Sope Creek Trails
South Peachtree Creek Trail
Find cycling friends:
Atlanta Bicycle Coalition – www.atlantabike.org
Georgia Bicycle Racing Association – www.gacycling.org
North Atlanta Riding Club – This group focuses on century and charity rides. www.bikenarc.com
North Georgia Cycling Association – Check this group out if you're interested in race teams. www.ngca.us
Sorella Cycling – Join more than 160 women who enjoy all levels and types of cycling. www.sorellacycling.com
Southern Bicycle League – "We're about bringing people together around the common interest of biking," says Joanne Massey, the group's president. www.bikesbl.org
Southern Off-Road Bicycle Association – Find off-road biking and events through this group. www.sorba.org
USA Cycling – www.usacycling.org
Editorial Resources
Trish Albert, Southeastern Cycling – www.southeasterncycling.com
Rebecca Serna, Atlanta Bicycle Coalition – www.atlantabike.org
Joanne Massey, Southern Bicycle League – www.bikesbl.org
Dan Thornton, Free-Flite Bicycles – www.freeflite.com
Zach Vanderkooy, PeopleForBikes – www.peopleforbikes.com
Mike Wagaman, Peachtree Bikes – www.peachtreebikes.com