Pet Ownership
A wagging tail. The happy little flip of an ear. Soft purring and warm nuzzling. A reassuring chirp, twitch or shake. Maybe even a zen-like calming splash or slither. Pets add a special level of meaning to the lives of their owners.
The deep connection between humans and their pets has been evident for centuries, with domesticated creatures offering protection, companionship and comfort. Contact with animals can have hugely positive effects on those facing significant health issues, whether physical, emotional or psychological. Animal companions can help just about anyone—from homeless youth to house-bound seniors, from adult stress to childhood insecurities. The unconditional love of a pet boosts the physical and mental health of humans.
Leader of the Pack
Studies by the American Psychological Association (APA) show that pet ownership not only improves the quality of life for those who are ill, but also for the average healthy individual. According to the APA, many pet owners feel as attached to their creatures as they do to the significant humans in their lives. Survey respondents said that during periods of emotional difficulty for them, conjuring up the image of their pet instantly eased some of their anxiety.
Can the key to happiness be as simple as developing a relationship with an animal? Emory University researchers, among others, report that interacting with animals, specifically cats and dogs, increases levels of endorphins—the brain chemicals released by the body that create a sense of happiness, pleasure and euphoria.
"I see it all the time—a former depressed couch potato is reformed by the dog they adopt," says Kathy Swank, former owner of an Atlanta area pet-sitting business. "When they have a cute dog looking at them and hoping to get out for a walk, it's hard to say no. I've seen people undergo huge lifestyle changes just because they adopted a dog or cat." And, by adopting animals through rescue groups, people can also gain the satisfaction of knowing that they may actually be saving the life of an otherwise wayward stray. "People who adopt from the Atlanta Humane Society can be assured that we will use our best efforts and resources to facilitate a lifelong relationship between people and animals," says Dr. Gloria J. Dorsey, DVM, MPH, vice president of community education and advocacy for the Atlanta Humane Society.
Pick of the Litter
The reality is that those more traditional pet choices of adorable kittens and puppies may not always be the best choice. Perhaps there are significant animal-dander allergies in the household or limitations on the amount of time available to spend with your pet. Before selecting any type of pet, evaluate living arrangements, schedule commitments and the costs involved.
Choosing the perfect pet takes some thought and planning. It's not wise to make an impulsive decision, no matter how much those sweet eyes plead. In the movie "What About Bob," Richard Dreyfus's character, a psychiatrist, explains to his patient, played by Bill Murray, "A journey begins with baby steps. … Baby step out the door, baby step down the hall, baby step into the elevator." If you aren't sure that you can handle the responsibility as a pet parent, follow Dreyfus's advice and take a baby step—maybe bring home a goldfish.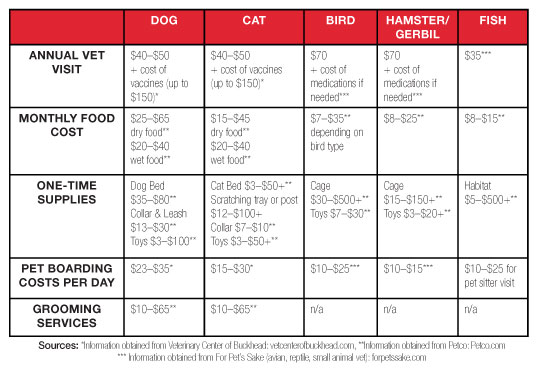 Fish are great for first-time pet owners or kids because they are inexpensive, fit in a confined space and won't chew your favorite pair of Manolo Blahniks. Skip the small fishbowl to house your new pet and splurge on a five- or ten-gallon tank to ensure they have room to grow and good water-to-air surface ratio to thrive. The bonus for the investment? You will likely find that watching goldfish go about their business is a tranquil, soothing experience. As members of groups like the Atlanta Area Aquarium Association (AAAA) can attest, a new pet might also connect you with like-minded pet owners in your area, sharing your interests. Chuck Grisp of Marietta's Splendor Koi & Pond says his shop even offers a "Kids' Guppy Club" to reach out to budding aquarium enthusiasts. "Fish are fascinating pets," he asserts. "They are really responsive to humans and it's fun to watch them interact with each other."
If you hope to find a pet that provides more touchy-feely, one-on-one interaction, but that is still relatively budget-friendly and low-maintenance, baby step your way to a hamster, mouse, gerbil or guinea pig. They are easy on the checkbook, fun to play with and don't require constant attention if you provide them amusement in their cage. For the most part, rodents can live their life without costly visits to the vet—you will mainly shell out for food and bedding supplies. Domestic rodents are a good first pet to teach kids some responsibility.
Cats are naturally tidy, requiring only that you clean their litter box and give them a good brushing to keep hairballs from developing as well as to reduce the amount of fluff coating everything in the house. Generally speaking, cats can be left home alone for extended periods of time and entertain themselves without getting into too much mischief. They're fairly quiet and don't need much in the way of discipline, training or exercise space. However, they can also be somewhat selective with their affection and attention.
Dogs, by contrast, practically invented the words "unconditional love." Most want to spend every second they can by your side or underfoot, which can get a little tiresome when you simply want to go to the bathroom by yourself. Before bringing home a pooch, take a minute to think about your outdoor space, the size of the dog, the thickness/shedding of its coat and the average life expectancy of the breed.
When you decide on the type of animal you wish to bring home, remember that adopting a cat or dog from an animal shelter is not only cheaper than purchasing one from a breeder, but your pet will also be spayed or neutered with no cost to you. Neutering males can keep them from "spraying," or marking their territory; spaying females, of course, is a crucial step in controlling the overpopulation of unwanted animals. "Spend lots of time with the animal before you commit to take him home; returning a pet to a shelter can place a black mark on his record, which will count against him in the future," Traci DeWan of the Atlanta Humane Society warns.
Sniff Out the Pedigree
For all animals, finding a good veterinarian will be crucial for the pet's health and a necessary resource for the owner. Trust friends and neighbors for recommendations or approach humane societies and adoption centers for their input. A vet can assist you with locating boarding facilities and daycare options, grooming and training professionals, or even reputable breeders for specific animals.
If you do decide to buy from a breeder, thoroughly research every detail of their business. Check national organizations, such as the American Kennel Club (AKC) and the Continental Kennel Club (CKC) to see if they're registered. The deplorable conditions in puppy mills and the sketchy practices of some hobby breeders make it imperative to keep a watchful eye on the origin of your pet. Look at their kennels and the conditions for both dams and sires. Ask questions: "How often are the animals bred per year? How many dogs are housed together? Are they exercised frequently? Do they receive regular health evaluations? Are records available for the parents and littermates?"
Need More Snuggle Time? Volunteer!
Fostering an animal for a pet-rescue group or volunteering at an animal shelter is a great way to learn more about a variety of animals and research different breeds. Becky Banner of the Greater Atlanta Veterinary Medical Group explains that the Angels Among Us Pet Rescue in north metro Atlanta "provides a network of volunteers that help find abandoned dogs and cats a 'forever home.' The rescue works with Atlanta residents to foster animals … before they find their new adoptive family." Megan Bowman, a representative of Angels Among Us, describes the group's mission: "We take unwanted animals from a cage to a couch, not a cage to a cage." Fostering a needy animal can be a way to connect you with your perfect pet.
Sharing the joy of your pets with others might also be a rewarding way to spend quality time with animals while supporting the community. For many years, nonprofit organizations such as the Happy Tails Pet Therapy group in Roswell have brought therapy animals to nursing homes, VA clinics, schools and hospitals in the hopes of encouraging healing. The group matches volunteers and their pets with patients in need of a dose of TLC. Arlene Sinanian, president of Happy Tails Pet Therapy in Atlanta, says, "We find that most people who are visited by a volunteer with a pet don't focus on the therapeutic benefits of the visit—they just end up having fun!"
Talk to the Animals
Maybe it's the simple act of caring for an innocent, vulnerable creature or perhaps there's a true symbiosis between man and beast — whatever the reason, pet ownership and developing some kind of relationship with an animal enriches life for both of you. Some pets require much more of a commitment than others, but most reward "their humans" with unconditional love and a heaping dose of low-tech TLC, much-needed in our high-tech lives.
Sources:
American Psychological Association, apa.org
Angels Among Us Pet Rescue, angelsrescue.org
Arlene Sinanian, president of Happy Tails Pet Therapy, happytailspets.org
Atlanta Area Aquarium Association (AAAA), atlantaaquarium.com
Becky Banner, DVM, Greater Atlanta Veterinary Medical Group, gavmg.vetstreet.com
BluePearl GVS, bluepearlvet.com
Chuck Grisp, Splendor Koi and Pond, splendorkoi.com
Dr. Gloria J. Dorsey, DVM, MPH, vice president of community education and advocacy for the Atlanta Humane Society, atlantahumane.org
Emory University, emory.edu
For Pet's Sake (avian, reptile, small animal vet), forpetssake.com
Greater Atlanta Veterinary Medical Group, gavmg.vetstreet.com
Petco, petco.com
Veterinary Center of Buckhead, vetcenterofbuckhead.com