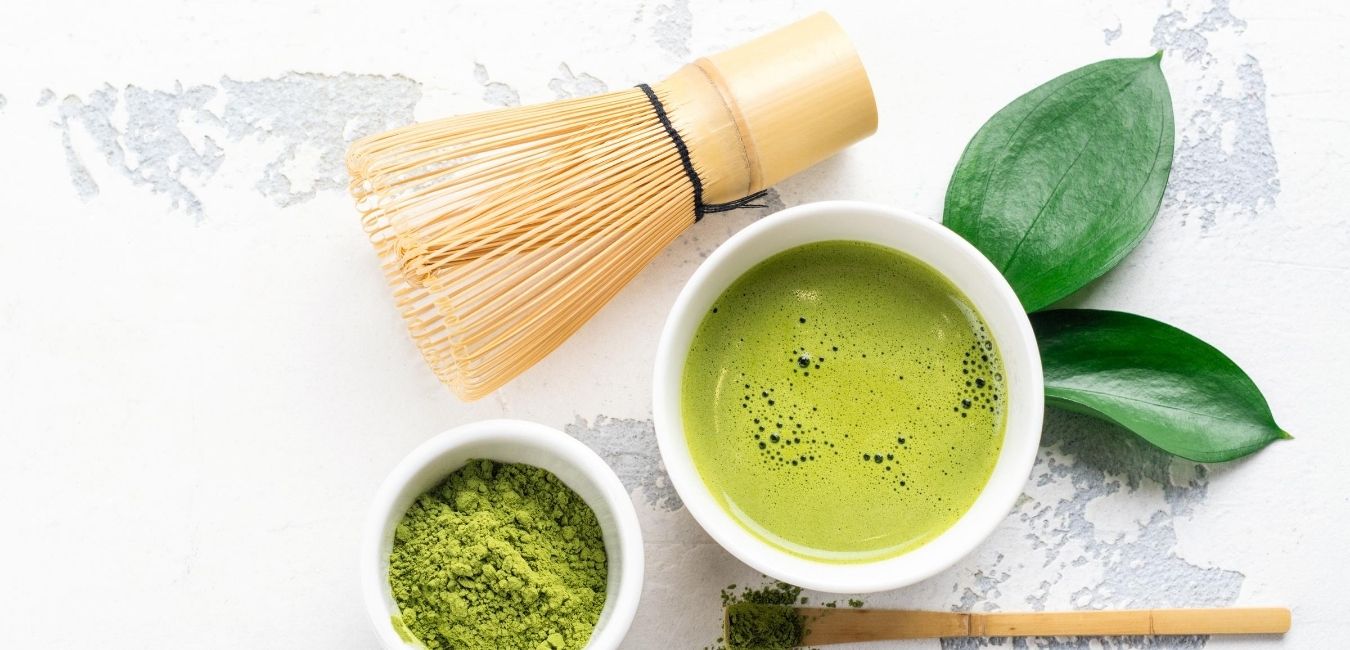 Local Supplement and Matcha Companies
Join Forces to Help Atlantans Live Well
MatchaGi and HiveFit are the perfect blend. Combine this nutrient-packed
tea and clean fitness supplement for increased energy, a boost in antioxidants, and help achieving your wellness goals.
By Jennifer Colosimo
You already know about the reported benefits of green tea: weight loss, mental alertness, long-lasting energy, etc. But do you know about matcha, a powdered form of specially grown green tea leaves?
It's an antioxidant powerhouse, packing a high concentration of the natural calorie burner and hunger suppressant epigallocatechin gallate (EGCG). Matcha's combination of caffeine and amino acids improve concentration and energy levels without giving you the jitters, and it boasts much larger amounts of chlorophyll than other green teas to make it a mighty detoxifier.
But here's what's important to note. "While steeping dried green tea leaves reaps about 30 percent (one-third) of the plant's nutrients, matcha is grown differently and the entire leaf is ground into a rich, fine powder that provides versatility for consumption to unlock nearly 100 percent of the nutrients from the leaf," says Cal Supik, chief operating officer and co-founder of MatchaGi (MA-cha-Gee). Ceremonial grade matcha—the highest grade matcha made from the youngest tea leaves and manufactured by tea sommeliers in Japan—is why Cal Supik and Arya Suprayogi invested in the company in 2016 and flew to Nishio, Japan to begin their own wellness journey with MatchaGi.
"Our mission is to educate people on what high-quality ceremonial matcha is," Suprayogi says. "We believe that matcha is a great 'fuel' alternative for your body to avoid caffeine overload, jitters and the crash that you would typically get from coffee and energy drinks. 'Gi' is Japanese for uniform. Just as a samurai wears a 'gi' during training or battle, we realized that every individual wears their own unique 'gi' while pursuing their goals and passions. MatchaGi provides the fuel to help you focus and achieve your goals."
The passion to deliver high-quality products is why they blend well with HiveFit, an Atlanta-based supplement company that is also committed to 100-percent ingredient transparency. HiveFit offers clinical doses of pure supplements made without fillers, genetically modified organisms, added sugars, artificial flavors, hormones or antibiotics.
"I knew their standards aligned with my own business practices, and it's very comparable to what we're doing—trying to provide a better, healthier product for consumers," says Raul Hiteshew, co-founder of HiveFit. "We have the same vision, we're fighting the same things, so we knew we could make a bigger impact if we did something together."
"There is this 'high-end' life, in terms of health, that most people don't understand," Hiteshew explains. "Most people don't know what feeling optimal means. But when we mix these companies' products together and start replacing things like matcha for your coffee, HiveFit protein shakes for your snacks, etcetera, then people can begin to access that next level of health."
"We believe in it because we've been there," says Supik, who hopes to grow MatchaGi grassroots-style in the community. "We know how much better we feel and how we're better versions of ourselves, and we really want to share that with other people."
"Sandy Springs is the ideal spot for us to do that," adds Suprayogi. "There are tons of gyms, natural food stores, and influencers with a general awareness of what it means to be healthy. If we can start here, we know it will radiate outward.
Join the movement at F45 Sandy Springs during various vendor pop-up events where you can try products, including the natural EnerGi drinks (also sold regularly at the gym), and learn how to start making changes. When the MatchaGi and HiveFit guys aren't busy attending events, they're grabbing a bite at Chipotle or Zoës Kitchen nearby.
HiveFit, HiveFit.com, Info@HiveFit.com; MatchaGi, MatchaGi.com, MyTea@MatchaGi.com.
The content for this article is brought to you by HiveFit and MatchaGi.
Wellness Warrior
With plenty of trendy ways to detox, HiveFit and MatchaGi make it easy to cut through the fat to what makes a positive, lasting impact on your health. Their tasty products deliver increased levels of wellness without the high costs.
Here's proof: Blend this quick and simple smoothie for a powerhouse
pick-me-up whether you require on-the-go nourishment, a low-carb snack or workout recovery drink. Something that goes with everything? Sounds like the best kind of uniform.
Ingredients
• 1 teaspoon MatchaGi
• 1 scoop HiveFit vanilla protein powder
• 1 cup unsweetened almond milk
• Ice
Blend ingredients until smooth.