By David Purdum
Swim Across America Atlanta Open Water Swim
On an early spring morning in May 2013, approximately 300 swimmers of all ages showed up at Lake Spivey, near Jonesboro, Georgia, for the inaugural Swim Across America Atlanta Open Water Swim, a just-for-fun jaunt out into the lake to raise money for cancer.
Conditions were not ideal.
Temperatures may have reached 60 that day, barely, and the lake water wasn't much warmer. While setting up the weekend event, organizers were pummeled by heavy rain and wind. Buoys flew all over the place as the course was being marked, and rain seeped through tent roofs onto volunteers below.
By the day of the swim, the volunteers were covered in mud up to their knees. They pulled the event off, though, even managing to decorate the grounds with reminders of why everyone was there. Yard signs, each with a picture of the face of a child battling cancer, were everywhere.
Current Olympic superstar Amanda Weir and two gold-medal winners of the past, Steve Lundquist and Doug Gjertsen, were among the volunteers. Weir, a product of Brookwood High School in Lawrenceville, started the summer in a position to earn a spot on the U.S. Olympic team for the third time. Lundquist won a pair of gold medals in the 1984 Summer Games in Los Angeles, and Gjertsen won two gold medals at the 1988 Summer Games in Seoul. The trio of Olympians had never met before getting involved in the Atlanta chapter of Swim Across America. Lundquist and Gjertsen even lived in the same area near Lake Spivey, but didn't know each other.
"We all kind of met through Swim Across America," Lundquist explains. "And that's cool. Swim Across America has brought a lot of Olympians into my life that I would never have had a chance to meet. It's fun to get to know them and do some good charity work as well."
Lundquist, who now works on the commercial side of the insurance firm Stewart Title, lost his grandmother to stomach cancer, and his father underwent chemotherapy in the spring for non-Hodgkins lymphoma. "Look to your right and to your left, you're going to find one person you know who has or has dealt with cancer in the past," he says.
For Gjertsen, Swim Across America provided an avenue for him to honor an elementary-school classmate who passed away from kidney cancer during the middle of sixth grade. He attended Austin Elementary School in Dunwoody and remembers learning of his classmate's diagnosis of kidney cancer around Christmas. By Valentine's Day, his friend's hair was gone. In April, he passed away. It was the first time Gjertsen had lost a friend to cancer. It stuck with him.
"It was my first experience with anything like that, so it had a profound impact on me," explains Gjertsen, who has been a coach for SwimAtlanta since 1993. "I have always remembered that. It frustrated me terribly that there was nothing that could be done to improve his situation."
"I think everyone involved in the race will remember that blustery day for a long time," Weir chuckles. With their teeth chattering, Weir, Gjertsen and Lundquist swam alongside participants to help them finish the race and make sure everyone got back to land and some warmth.
Organizers who were trying to jump-start an Atlanta chapter of Swim Across America feared not everyone's memory of the first event would be positive. "We were told that it would be hard to grow the swim given that first year's experience," recalls Sheri Hart, the Atlanta chapter's director.
But it has grown, and three years after that memorable day at Lake Spivey, Swim Across America will accomplish a fundraising milestone with this September's event. (In a strategic decision after inaugural fiasco, the open swim was moved to late summer for the sake of warmth.) Last year, 325 swimmers participated in the swim and 200 attended an Olympic Clinic at Georgia Tech. The Atlanta branch of Swim Across America has raised more than $800,000 for cancer research and expects to cross the million-dollar mark in 2016. Nationally, the nonprofit organization has raised more than $65 million. It also has created a bond between three local Olympic swimmers.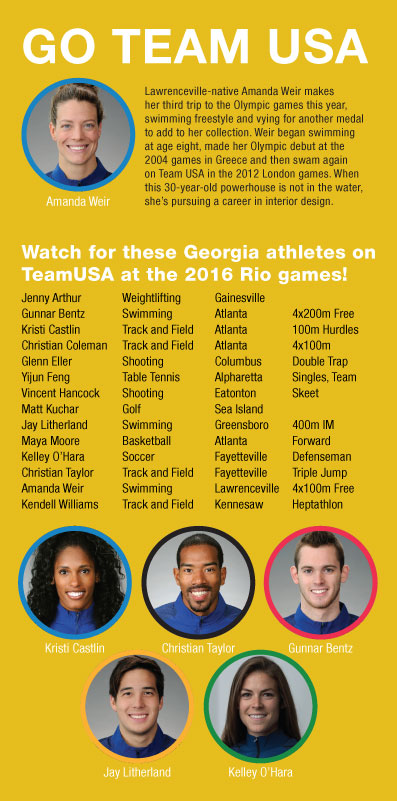 Now in its fourth year, the Atlanta open swim has outgrown Lake Spivey and, for the first time, will be held at Lake Lanier on September 17. The 2016 Olympic Summer Games, which kick off in August in Brazil, always produce a boost in the public's interest in swimming, so the event has a chance to grow even more this year.
Weir, a sprinter who prefers to follow the black line across the bottom of the pool rather than swim in open water, is committed to September's swim. She is heavily involved in growing swimming throughout the metro area and says she's around high-school swimmers every day.
"Swimming has grown like crazy in the past several years," Weir said. "[In] the Atlanta area especially, with huge numbers in the summer neighborhood swim leagues, there's a tremendous pool of young swimmers who might decide they love it enough to continue on into year-round club swimming and/or high-school swimming, which is awesome."
Swim Across America attracts a network of Olympians with Atlanta ties. Weir, Lundquist and Gjersten have looked forward to the event for months. They see each other often these days and were having fun together at a photo shoot this spring, talking about what Olympic athletes talk about with each other.
"You always ask about training," notes Lundquist, "and what they're doing—especially the younger athletes—how they have no respect for us old people, because they keep getting faster and faster."