It is often said that taking part in sports from a young age nurtures connection, character growth and a competitive nature—all qualities that make a well-rounded individual. For no one has that been truer than for Atlanta's CW69 "Rise Up Weekly" co-host and media personality, Rashan Ali.
For Ali, the roots of the multibranched, far-reaching tree of her life are anchored deeply in the world of sports. A wide base of involvement in that world on many levels instilled her with resilience and ambition, as well as a keen sense of self and purpose.
"Sports played an integral role in my development as a woman," Ali says. "It allowed me to know what leadership looks and feels like. It shows you how to literally fall down and get back up."
This awareness of the power of sports in shaping her life inspired her to start Sporty Girls, Inc. The 11-year-old nonprofit seeks to empower minority girls by exposing them to sports not traditionally offered in metro-Atlanta public schools such as golf, soccer, swimming, and tennis. To date, the organization has graduated nearly 25 young women from its Sporty Tract To Scholarship Program, many of whom have received academic scholarships. And Get Girls Sporty and Sporty Clinic initiatives have served 800 girls since the program's inception in 2006. This summer will mark the introduction of lacrosse to the Get Girls Sporty program at the organization's new Day Camp Experience.
Sports have been a vital part of Ali's life since she was a child. Her father, William "Buck" Godfrey, is the winningest coach in DeKalb County history, having sent 270 young men to college on football or academic scholarships. Her mother, Joyce Godfrey, was a Pop Warner youth football coach whose team of boys was undefeated one season.
Ali played softball, soccer and basketball, and was also involved in jazz, tap and ballet. But swimming was the sport that would take her the furthest. She and three other girls made up the The Worthington Valley Dolphins' relay team, which was a part of the DeKalb County Swim League [now known as the Atlanta Swim Association]. "We were the only black girls in the water at the time and we were fast,"Ali recalls of the team her dad coached.
All four of the swim team members went to college on swimming scholarships, and they remain close to this day. "The beauty of our bond is that it did not end in the pool," Ali says. "These three women were bridesmaids in my wedding almost 15 years ago. Our bond is unbreakable, and it all started because of swimming."
Whether she was achieving in sports or in the professional world, Ali felt the constant warm encouragement of a loving cheering section. That support and a degree in broadcast journalism from Florida A&M University helped her start her broadcasting career in 2001, when she beat out hundreds of competitors to secure a spot alongside the popular Ryan Cameron on his Hot 107.9 FM morning radio show.
"Because I am an Atlanta native and a Decatur-raised woman, I already have a built-in cheer squad," she says. "I received so much love from the city and that love has never died. I feel privileged to represent Atlanta in every facet of my life."
Her work in radio and the countless media and sports reporting jobs that followed that first one brought Ali many chances to gain personal strength.
"Radio gave me my thickest skin," she says. "To be let go after doing a shift can be heart-wrenching. I thought that was an isolated situation, but after it happened two additional times, I knew it was the culture. I think the greatest professional challenge I have faced is that there is always someone in position who either likes you or they simply don't. That in turn, determines so much. I suppose that's the case with many jobs."
When Atlanta's CW69 became the official local TV partner of the Atlanta Falcons, Ali was asked to join the Saturday lineup as a co-host. Today she can be seen with former Falcons and University of Georgia player, D.J. Shockley on "Rise Up Weekly," which takes a behind-the-scenes look at the lives of the team's players.
"I truly enjoy hosting this show! Out of all of the shows I've been a part of, radio included, I enjoy this one the most. It's not just the Xs and Os of the game, we feature the Falcons in the community and tap into their fashion hits or misses in our segment, "Rocked It or Dumb Jocked It!" It's a fun segment. So much so that head coach Dan Quinn's wife told her husband it's her favorite part of the show," Ali says.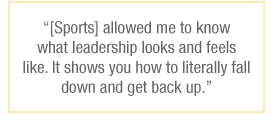 And now, at 41, after an extremely successful and layered career as a TV personality, radio show host, sports reporter and founder of a nonprofit organization (not to mention children's book author, wife and mother), Ali is drawing from yet another foundational sports principle: reinvention.
Having built an impressive professional life freelancing her well-honed skills as a broadcast journalist and media personality, the lifetime Atlantan is experiencing a renewed spiritual connection that is drawing her to a higher purpose. She's ready for her "big gig," as she calls it.
"You have to take greatness into your own hands. You can't let others determine your greatness," Ali says. "There's another level of me that is totally untapped, and figuring out what that looks like can be daunting. But you have to give yourself permission to say, 'This is my life.' A life is like a fingerprint; there's nobody's life that's like yours."
Many of the grooves of Ali's unique life fingerprint were etched inside the sports arena. And mastery and remastery of new skills—new approaches, new angles, new techniques—is a lesson she learned well in that setting.
And although Ali is not certain exactly what form her work will take in this next phase of her life, she feels strongly that it will be revealed to her as she continues to connect and align with her deep spirituality.
"I truly believe that you have to have faith in something greater than yourself," Ali says. "Whether it's God, meditation, universal thoughts … it's important that we reach for something outside of ourselves."
"It's a work in progress; it's a constant search," she says.