Changing Lives Inside and Out
The 2016 Over 40 & Fabulous! Advisory Board members share memorable client and patient success stories.
Crown of Glory
Steve Hightower is proud to serve all types and ages of clients, including those with fine and thinning hair. He tells us: "I'm happy to be known for special cutting and styling techniques and products designed for fine and thinning hair. Also, my salon is the only salon in Atlanta that offers Laser Hair Regrowth Therapy. Clients have actually cried with joy when I finished their hair because it looks better than they dreamed possible."
"Hair is your crown of glory. I've seen women lose breasts to cancer and they were more upset about losing their hair than their breast—I've seen them so excited when I showed them how to style their problem hair. The products, the growth treatments, I've studied it all so I can help people. "
Steve has had clients that are loyal to him for decades. Sometimes when one passes away, the last thing he can do for her is her hair at the funeral home. Steve says, "These women aren't just clients—they're family. It's sad that younger stylists can think that kind of work is 'dated.' Only five salons in Atlanta do roller sets, and I'm one of them. I'm proud of that—these are grand ladies, they're someone's grandmother and they like to look a certain way. I give them a cup of tea, fix their hair and they feel beautiful. It's so special that I can show someone of any age how beautiful they are and make them feel beautiful."
Details: stevehightower.com
Use Your Natural Strength
Platelet-Rich Plasma Therapy (PRP) is a game-changer for facial rejuvenation. Tara Hamm, clinical and PRP coordinator at Artisan Plastic Surgery says, "What I love about this technique is that the PRP stimulates new collagen and blood vessels, thereby helping to repair and regenerate damaged skin and reverse the signs of aging. The growth factors and platelet gel help rejuvenate the skin from the outside in and the inside out with a totally natural, soft, beautiful result. Over the last 12 years of using PRP, I have seen hundreds of fresh faces and happy patients!" Tara goes on to say, "I have used PRP to treat patients for varying cosmetic issues, including facial rejuvenation, collagen volumizing, acne-scar removal, improvement of scars and stretch marks and even hair loss." PRP is a natural approach—using your own natural tissues and growth factors to rejuvenate and heal your body. Artisan Plastic Surgery is very excited to offer this program to enhance patient anti-aging programs.
Details: artisanplasticsurgery.com
Best Face Forward
Does your chin have you seeing double? This isn't the case anymore for Leslie Avery, who struggled with her double chin for years. This area had become increasingly bothersome for Leslie and it was all she could think about when speaking with friends, family and coworkers. Her self-esteem was dwindling, but her solution was right around the corner.
In February of this year, Leslie came to Dermatology Consultants for her annual skin exam with Dr. Anna Paré. While in the waiting room, she saw a brochure for a new injectable treatment called Kybella that is used to reduce submental chin fat. Leslie explains, "I started reading the brochure and learned that Kybella was a permanent solution to my double chin! As soon as Dr. Paré walked through the exam-room door, I asked her how I sign up. Dr. Paré explained to me that fat under the chin sometimes is influenced by genetics and is unrelated to a person's weight. I am active and not heavy and could not understand why this part of my body would not decrease with diet and exercise. I am three weeks out of my second injection and my results are incredible! I couldn't be happier."
"Leslie was a perfect Kybella candidate," says Dr. Paré. "We are thrilled with her results and are so happy to have been able to make a difference."
Details: dermatologyconsultants.org
A Healing Journey
Dr. David M. Whiteman recalls a patient, Denise, who first came to Southern Plastic Surgery (SPS) after successfully battling breast cancer. "She had undergone a double mastectomy and was ready to take on reconstruction to restore her breasts," he says. "As a mother of three adult children and with a zest for life, Denise knew that she had much for which to be thankful. With a passion for triathlons, Denise led an active lifestyle and wanted to improve her overall health well beyond her procedure. Denise's SPS experience didn't end after breast reconstruction, but continued as she chose to refine her thighs with liposuction, rejuvenate her face with laser treatments and facials, and partner with our in-house NESTA Weight Management Specialist during her recovery. Today, Denise is feeling great and continues to focus on healthy eating and regular exercise—enjoying life and refusing to take anything for granted."
Details: southernplasticsurgery.com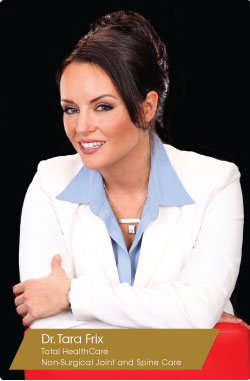 Renewed Hope
"I often hear from patients who are grateful to find relief from their pain," says chiropractor Dr. Tara Frix. "Recently, I heard from Howard Kristler, a patient who had suffered from the lingering effects of a whiplash injury he sustained in a car accident. He told me he felt so fortunate to have come across Total HealthCare, explaining,'Everyone in the practice is a compassionate, caring and knowledgeable professional; they are there to help. The staff takes pride in watching me get better.' He told me he was impressed that we listened to him and reacted to his concerns. He was no longer frustrated and was feeling better than he had since the accident—actually, better than he had ever expected to feel again. He trusted our process and his attitude is so positive. Providing that level of care and helping to change a patient's life is truly rewarding work."
Details: totalhealthmed.com
Check the Stress
Cardiologist Dr. Tara N. Hrobowski remembers her patient, Ana Browning: "She came to us with a history of fatigue and shortness of breath. She was stressed, worked long hours and couldn't spend much time with her husband and son. We diagnosed her with cardiomyopathy (where pumping of the heart is severely reduced). I felt it could've been the result of a flu-like illness she'd had earlier, compounded by the enormous stress in her life. I told her that she should invest in herself and her family, not just her work.
When I saw her later, she told me, 'I feel so much better with the medications you prescribed. I walk in the evenings with my husband now and we feel more connected as a couple.' She said that while she was recovering and off work, they replaced her and moved her to a different department. She smiled, though. 'I'm sorry this had to happen for me to see what I was doing to myself and my family, but it made me realize what's important. I feel like I have a story to tell!' She stated that she wanted to counsel women in the workplace about the importance of maintaining a healthy work-life balance. She added 'I want this experience to mean something.'"
Details: piedmont.org/red
Daily Rewards
Karen Foley, general manager of Windy Hill Athletic Club, loves her job. She says:"When I come to work each day, it's a joy to talk to some of our members who have been with us for over 25 years. Don Rooks is one of those members. Every day, I ask him, 'How are you doing today?' And he responds with, 'Great today, but I'll be better tomorrow!' When asked about his personal motivation, he says that working out is about being positive both physically and mentally. He wants to keep moving every day.
One of the most touching encounters I've had was when I was teaching swim lessons and there was a lady who was 83 years old. She came to me and said, 'I don't know how to swim, and I want to be able to swim with my grandchildren.' So every week she took a swim lesson with me and went from not being able to blow bubbles in the water to being able to swim across the pool. That was such a rewarding experience for me—to be able to help someone in that way."
Details: windyhill.com
A Bright New Future
"We're fortunate to be in a field where our work has a powerful impact on a person's life," says Dr. Debra King. One of her favorite patient success stories involves a patient's unique family trait—a gap between their two front teeth. Three generations in the family shared this trait and embraced it as their "special quirk." As she advanced in her career, she discovered her gap was holding her back. When the opportunity arose for a high-level promotion at work, she was overlooked because her appearance was described as "unprofessional and unintelligent." Motivated to overcome this, she booked a consultation at the Atlanta Center for Cosmetic Dentistry. She was shown her custom imaging and was brought to tears by the potential of her new smile. After completing the recommended treatment, she was thrilled with the results. She then headed to her family reunion, nervous about how they would receive her new smile. They commented on how beautiful she looked. It was as if her smile was always meant to be this way! Her story has two happy endings: not only did this young lady land the next promotion, she also met her future husband a few months later!
Details: atlantacenterforcosmeticdentistry.com
Empower Each Other
"As we grow, more things become important to us," says Madison James. "For me, it was giving back—the positive effects are so rewarding. When I'm advising 40-somethings about ways to get inspired and to find meaning in life, I suggest starting with looking at the world around them. A lot of them don't know where to start. I tell people, 'Look at your children's school, your place of worship or research an issue that has impacted your life and the lives of those you care about.' It is so rewarding to help people find ways to volunteer and get behind a cause. I tell people to make it a group event and invite friends and family—it's a good tool to teach selflessness. The BeltLine has great opportunities for everyone to connect with the community and has partnered with Hands On Atlanta. Volunteer with different charitable organizations in your community to feel really connected. The BeltLine is committed to connecting communities!"
Details: beltline.org