Bringing Healthcare to Bali
An Atlanta fitness icon is making healthcare accessible in one of the world's poorest communities.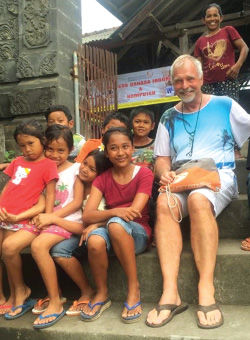 The serenity of the Indonesian island Bali has long been treasured by Tony de Leede (above), the wellness entrepreneur that brought Australian Body Works, among other popular fitness companies, to Atlanta. Partnering with his wife, Sue, the two are now using their business knowledge for humanitarian efforts to help the people of their beloved tropical paradise live longer and healthier lives.
Taking On The World
In a way, the Balinese people gave Tony his start in business. As a 20-something, the Sydney, Australia native developed his first successful venture with a clothing business importing pieces from Bali and the Philippines.
On the other side of the world, fate smiled on Tony as a two-week stay in Atlanta morphed into 20 years. During those decades, he founded the hugely successful Australian Body Works (ABW) fitness club chain, capitalizing on the growth of the city as it paralleled with the growth of the health/exercise industry. He served as an envoy for the Australian team during the 1996 Olympics in Atlanta and continued that relationship in 2000 when the Olympics headed to his hometown of Sydney. Later that year, Tony sold ABW and returned to Australia, continuing his career in fitness by helping build one of the largest fitness club chains in the world, Fitness First Australia, and later transitioned into boutique wellness brands and digital content. Those boutique brands include luxury resort retreats such as Gwinganna in Australia and Hotel Komune in Bali, smaller targeted studios, specialized fitness venues (like Club W), and virtual studios. These business shifts illustrate the unwavering commitment Tony gives to understanding lifestyle trends and encouraging people to find their own path toward healthy living.
Bali Calls
As Tony streamlined his business focus, he and Sue enjoyed more time visiting Bali and found themselves often discussing priorities for their next phase of life. "We both wanted to leave a mark on this world," Tony muses. The stars aligned in early 2014 when Tony and Sue met another Australian couple in Bali who founded a health-focused charity. That couple, Sue and Ray Bishop, had been looking toward their own retirement years when they fell in love with the Balinese people and recognized their dire need for better local health resources, founding the Bali Sehat nonprofit health initiative in response to that calling. Their efforts spoke directly to the heart of the de Leedes, who soon joined forces with the Bishops to champion this cause.
Bali Sehat (which is Bahasa Indonesian for Healthy Bali) provides healthcare and education to villagers, many of whom live on less than $100 a year, in the poorest regions of East Bali. "This community lives on the side of a volcano," Sue de Leede explains. "There's limited education and no contraception. People can die from what would otherwise be simple infections."
The de Leedes began supporting Bali Sehat's work financially and collaborating with the Bishops to create opportunities to expand its impact. "Our initial involvement was by way of sponsoring the 'Healthy Days' that the foundation conducts four to five times a year. They get a group of volunteer doctors, nurses, dentists, pharmacists, etcetera to go out to a remote area in the region and administer medicine, advice or even perform minor operations for the day. Typically, they see between 200 to 400 local villagers," Tony explains. Sue de Leede notes that it takes some patients hours to walk to the Healthy Days location to access the clinicians.
Today, Bali Sehat functions from a small clinic facility with a two-room school next door. "We want to help break the poverty cycle through education," asserts Sue de Leede, "help the people here [get jobs] in the tourism industry. So far, close to 100 people have graduated and become employed."
While the clinic space has certainly helped Bali Sehat serve more villagers than it could through Healthy Days events alone, it still does not meet the needs of the more than 7,000 patients that seek its services. That is why the Bishops launched the Bricks for Bali initiative toward the end of 2018 to raise funds to establish a larger clinic/small hospital with enhanced services and facilities. "This new space will be able to serve more patients with equipment, a maternity section, dental services, an emergency department, separate male and female wards, and the ability to get patients to a major hospital should they need it," Sue de Leede confirms.
Through an online donation link on the Bali Sehat website, patrons can fund construction costs. Those who donate $100 will have their name and business name engraved onto one of the bricks that the new facility will be built with. "The Bricks for Bali campaign has currently raised close to $50,000.
Sue and I have already purchased the land and the total cost of this small hospital will be around $400,000. We obviously have quite a way to go but our commitment is to fund whatever the shortfall is, however, we would love to see people step up and buy more bricks," says Tony.
Listening To The Heart
For Sue de Leede, the involvement with Bali Sehat awakened a fervent interest in medicine. She watched the medical staff and volunteers as they threw themselves into each task, ready to find solutions and treat any patient who appeared. She listened to their challenges and applauded their devoted efforts … and imagined herself doing the same. So, at age 46, she began studying to become a doctor. "It's something I've always thought about, but life happened around me," she confesses. That is, until she decided to make it happen. "There was a year of premed curriculum, now I'm about three years into the program," she says. "Then, I'll work at a hospital for a year as a general practitioner and after that I plan to work in Bali and at other refugee camps." She credits the Bali Sehat team and their patients as the inspiration for her leap of faith, noting that everyone has some type of hurdle to overcome in life, whether physical or circumstantial.
As Tony and Sue work alongside the Bishops to make the Bricks for Bali campaign a success, they look forward to furthering the nonprofit's overall growth and aid. In the future, it is planned for the de Leedes to become even more involved with the operational aspects of the organization. "These are beautiful, joyful people,"
Sue de Leede praises of the Balinese residents, "and we are so excited to see this unfold."
https://balisehat.org