After Stroke: The Road to Recovery
By Amy Meadows
You've been admitted to the hospital with symptoms like weakness on one side of your body, facial drooping and difficulty speaking. A CT scan and an MRI have confirmed what you and your family feared: you've had a stroke. What happens next? While there is ample information available about identifying the symptoms of a stroke, there isn't as much out there about what you can expect after you or a loved one actually suffers a stroke. And there is so much you need to know to help you navigate the days, weeks and months ahead.
The First 48
A stroke occurs when blood flow to the brain stops, either because of a blockage of the arteries to the brain (an ischemic stroke) or a bursting or leakage of the blood vessels in and around the brain (a hemorrhagic stroke). In either case, the brain is injured, and symptoms appear because brain cells begin to die within moments. The delicate and time-sensitive nature of the condition makes the first hours after a stroke the most critical.
"Whatever type of stroke it is, we have to ensure that the weakness or deficit becomes stable. We have to test to find the cause of the stroke and prevent another stroke from happening," explains Dr. Keith A. Sanders, a board-certified physician with Atlanta Neurology and director of the Stroke Center at Emory Saint Joseph's Hospital. "Typically, a patient will become stable within 12 to 24 hours." Once the patient has stabilized, a flurry of activity will begin.
Early Intervention
"We have to get a lot of information fast so we can make the next choices," notes Lisa-Ann Wuermser, MD, Chief of Physical Medicine & Rehabilitation at Grady Memorial Hospital, home to The Marcus Stroke & Neuroscience Center. Initially, those choices involve the three types of rehabilitation therapies that the patient may need: physical therapy, occupational therapy and speech therapy. Physical therapy focuses on gross motor skills, such as walking. Occupational therapy deals with daily living tasks, including grooming and feeding oneself. Speech therapy tackles speaking and swallowing deficits. While some individuals may need all three types of rehabilitation, others may not.
"Every stroke is different. The type of rehab given depends on the location of the stroke in the brain, the extent of the damage and even how long it took to get treatment," says Tiffany LeCroy, a clinical nurse specialist with the Brain Injury Rehabilitation Center at The Shepherd Center. Therefore, as soon as a stroke is diagnosed, a specialized therapist from each modality visits and evaluates the patient to see which areas need to be addressed. Then, an individualized treatment program is created – and it will begin in the hospital within those first 48 hours.
The Recovery Setting
Comprehensive therapy must get underway as quickly as possible. According to Chika Odioemene, stroke coordinator at DeKalb Medical Center, "When patients are in the hospital, once they are medically stable, our goal is to get them discharged in three days into rehab care."
Rehab care can happen in a variety of settings. According to the National Institute of Neurological Disorders and Stroke (NINDS), an inpatient acute care facility, which offers the most intensive therapy, is either freestanding or part of a larger hospital complex. Patients typically spend two to three weeks in this unit receiving rehab "at least three hours a day, five to seven days per week," says Kelly Wright, inpatient center supervisor at DeKalb Medical Center. Less intense therapy over a longer period of time is offered at a sub-acute care nursing facility, in which Wright says patients usually receive therapy for 90 minutes per day over the course of two months or more. Some patients may be able to receive outpatient care, living at home and traveling to a therapy center several times per week for rehab. Elizabeth Wyble, head of physical and occupational therapy at Emory Saint Joseph's Hospital, notes that home health therapy is an option in some cases, with a therapist traveling to the patient's residence. Ultimately, the rehab setting decision comes down to the patient's safety – if they can safely handle the stairs at home, for instance – and what their insurance will cover. Wuermser observes, "If inpatient rehab is the best thing for you, but your plan doesn't cover it, it is a rude awakening."
The Daily Grind
Once the rehab setting is chosen, the real work begins. Daily therapy can involve any number of activities, from one-on-one sessions with therapists to working on specific exercises alone outside of the assigned therapy sessions. And the exercises and tools used for each type of therapy are designed specifically with the patient in mind. "We are going to work together to get you back to functioning as close as we can to how you were before the stroke," Wright says.
Physical Therapy
The legs and the arms are the primary focus of physical therapy, especially when there is any kind of paralysis involved. Melissa Nalder, stroke coordinator at Eastside Medical Center, says, "Someone who could take care of themselves may have lost the ability to do that. And they now have to relearn gross motor skills." Therefore, a physical therapist will help a patient practice isolated movements, change from one kind of movement to another and rehearse complex movements that require coordination and balance, according to NINDS; the therapist will use techniques like selective sensory stimulation-based tapping or stroking, active and passive range-of-motion exercises and temporary restraint of healthy limbs to encourage the use of impaired limbs. According to Wyble, electrical impulse equipment may be used as well to help get muscles to begin working again. As therapy progresses, she says, "We have even used Wii therapy to help people with balance and to get them to move an arm or a leg."
Additionally, with advancements in technology, many physical therapists now – or soon will – have access to virtual reality and robotic assisted devices. "The robotic assisted devices utilize a robot to direct an upper limb or a lower limb to show how the movement should take place. The robot will correct you so you can learn how to make the movement in the right direction. It helps the brain learn better," Wuermser notes. "It's fascinating. But all of these interventions are used as additional tools with the ongoing one-on-one rehab with the therapist."
Occupational Therapy
"Physical therapy and occupational therapy overlap," Wright observes. Occupational therapy also focuses on a patient's physical ability, but it zeros in on what NINDS calls self-directed activities such as personal grooming, preparing meals, housecleaning and even driving. According to NINDS, occupational therapists also "teach people how to develop compensatory strategies and change elements of their environment that limit activities of daily living." From using Velcro fasteners instead of buttons to installing grab bars in the bathroom, occupational therapists help make a
patient's daily living easier.
"We use activity-based therapies. We look at what their goals are and the lifestyle they want to get back to, and we cater the program to that," LeCroy says, noting that while the typical age of a stroke victim is late 60s or older, there has been a shift in recent years. "There has been a surge of younger people having strokes. We may have a young mom who has to cook a meal and care for a young child. There could be a college student whose goal is to be able to socialize and be around friends without feeling different or uncomfortable. We have to look at what their interests are and what exercises we can do that are interesting, fun and engaging. Many times, we have to think outside the box."
For a younger population, that includes using today's technology. "Laptops, iPads – these are tools the younger population uses every day," LeCroy continues. Wyble agrees. "With occupational therapy, we're dealing with fine motor coordination," she says. "Many businesspeople use a laptop, so we have their family members bring it in so they can learn to use it again."
Speech Therapy
Many patients who have had a stroke deal with aphasia, which involves everything from trouble finding words to the inability to speak, read or write. It is a cognitive impairment that has physical ramifications. NINDS reveals that speech therapists use many forms of therapy to improve comprehension, such as a patient repeating the therapist's words, practicing following directions and doing reading and writing exercises for long-term language rehabilitation.
One of the areas people don't often think about, though, is the ability to swallow after a stroke has occurred. "Difficulties with swallowing have many possible causes, including a delayed swallowing reflex, and inability to manipulate food with the tongue or an inability to detect food remaining lodged in the cheeks after swallowing," NINDS notes. Speech therapists will work with patients to identify these issues and use various exercises and techniques, including slowly increasing the texture of food, to strengthen the muscles and improve the ability to swallow. According to Wright, meal groups can be extremely beneficial when offered in a rehab setting. Bringing two to four people together to eat a meal "allows patients to see other patients going through it too," she says. "There is a social aspect that is very helpful. That's why we also bring former patients into these groups. These people are now out living in the community and being active. They come in over lunch and talk to the current patients. They talk about their recovery and show that it can happen."
With all three types of therapy, patience – from everyone involved – is a key factor in recovery. "No stroke is by the book. Everybody is different, and everybody responds to the therapies differently. It can be frustrating if a patient isn't progressing like they should, but that's when we try different things," Wyble says. "And for me, as an occupational therapist by trade, it is so rewarding when somebody performs a daily living skill, like brushing their teeth or putting their shirt on, and they know they're going to be able to do it on their own."
Family Matters
From the moment a stroke occurs and through the rehab process, a patient's family becomes a lifeline. "Patients find great comfort in knowing that a loved one is there," Wuermser says. "It's very frightening. Even if you've lost the ability to speak, you can look around and see concern, you can hear the tone of someone's voice. Knowledge that a loved one is there and understanding it and getting all of the information for you can make all the difference in the world." Nalder adds that stroke patients need practical support as well. "You need someone to take you for follow up appointments, to help you with your meds, to take you to get labs done. Support is truly needed."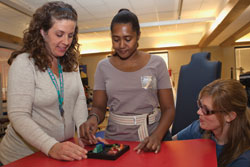 Wuermser adds that being supportive – not taking charge – is the key to successfully helping loved ones through the rehab period. "It's hard to watch a loved one struggle, and that's what therapists are asking the patient to do. But do not step in and try to help," she says. "Learn from the therapist what you can do facilitate the therapy – the therapists can guide you."
That is particularly important when post-stroke depression sets in, stemming from the loss of independence after a stroke. Grief over that loss often turns into depression, and family members can provide support when this occurs. They also must realize that it is common and treatable, which is why a neuropsychologist usually is a member of the team for a stroke patient. Medication can be valuable as well. Wuermser explains, "It's no different than a diabetic who needs insulin." The condition is usually temporary, especially when a patient receives counseling and finds a helpful support group, so as a patient recovers, depression can subside.
The Bottom Line
When a patient follows his or her rehab plan and sticks to it, recovery will occur. That is the most important thing to remember in this type of situation. "If you stay positive, you will recover," Odiomene says. "You will get those skills back." It may take many months or even years, but the recovery will happen. According to Wright, "You can continue to have gains years after you've had a stroke." While there is no guarantee that a stroke survivor will get back to being 100 percent, the improvement can be dramatic, and the activities that brought happiness before can be done again.
"When you're first coming out of a stroke, your life has changed. It's a scary time," Wyble says. "But you have the capability to recover. We see it every day." Wuermser concludes, "Life may never be the same, but there is life after stroke. There is joy to be had."
The Faces of Stroke
Robert Pritchard-Worthy:
Against the Odds
Natalie Pritchard never expected her healthy, active 22-year-old son, Robert A. Pritchard-Worthy, to have a stroke. No one did. A football player and recent college graduate who was about to start graduate school at the University of Central Florida, Robert was the picture of health. But when he went out for an evening on the town with his cousin in July of 2012 and began to have seizures, his life – and his mother's life – was turned upside down. He was diagnosed with cerebral venous sinus thrombosis, a rare form of stroke that results in a blood clot on the brain.
"When he was put into acute critical care, the doctor told me that he was the number one priority in the ICU that night," Natalie recalls. "They had to remove part of his skull to relieve the pressure on his brain. They didn't think he would make it through the night. And if he did make it, he would be severely disabled. He was that critical. It was a massive stroke, and he was in an induced coma for more than two weeks." Robert, Natalie's only child, had never been sick in his life. But when he woke up, Robert was completely paralyzed on his left side. He began intensive therapy and rehabilitation at Shepherd Pathways, the Shepherd Center's comprehensive outpatient rehabilitation program.
"When he came home, he was having seizures, so I had to be with him. He had to wear a protective helmet. I had to bathe him. He required 24-hour care. And he wanted to get back to school. My job was to encourage him and do everything I could to get him back there," Natalie says. "I drove him to Shepherd every day at 8 a.m. and stayed until 1:30 p.m. I was able to work while he was in therapy. My company was beyond accommodating." And when she needed help at home, her mother, sister, cousin and aunt were by her side. "Family is so important. And the community as a whole embraced us and carried me," she says.
Today, after months of therapy, Robert is preparing to graduate from UCF with a master's degree in criminal justice. Now 25, he lives on his own in Florida and is preparing for the next chapter of his life. And that is exactly what his mother wanted for him. "When this happens, you feel helpless and hopeless. He was so young. But you can't lose hope," she concludes. "You have to know you can do this. He is proof that you can return to your life."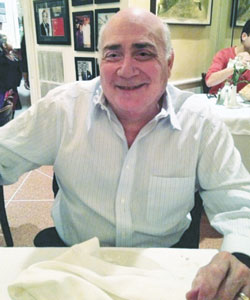 Barry Green:
Overcoming the Stigma
Barry Green had a stroke the night before Thanksgiving in 2012. After it happened, he suffered from aphasia and weakness on his right side. "I couldn't talk. I couldn't type. I couldn't sign my name," he recalls. "I would read and try to say the words. But even if I knew what a word was, I couldn't get it out. I couldn't put the words together."
A successful sales and marketing consultant, Green's job "depended on my memory. It was tough in the beginning. I wanted to be back to 100 percent. Four weeks of outpatient physical, occupational and speech therapy put the 64-year-old stroke survivor on the long road to recovery. He supplemented his therapy with his own regimen of sit-ups every morning, playing Words with Friends on an iPad and reading. "You have to be self-motivated to get through this," he advises.
But there was one thing he didn't do right away. "I didn't tell my clients about the stroke. Only my closest friends," he says. "For me, there was this stigma. I thought it was a weakness. It took me a while to begin telling people."
Prompted by a major seizure Green experienced five months after his stroke, he finally began sharing his story. He was surprised to find that most people could not even tell. "Other people couldn't see anything wrong," he realized. "They were surprised that I had a stroke and got over it. That helped give me support – now it's much easier. When I meet new people, I tell them right up front. I can say I'm a stroke survivor."
Jeff Kagan:
Time Heals
Jeff Kagan's children thought he was joking when he went into a Starbucks while on vacation and ordered a cheeseburger. "I thought I ordered coffee," he says. "I had no idea that the word 'cheeseburger' is what I said." Several other odd behaviors, like leaving the car in drive and sleeping for hours during the middle of the day, led his family to realize that something was wrong. The then 46-year-old husband, father and well-known technology industry analyst was brought to a hospital in Hilton Head, SC, and diagnosed as having had a stroke.
It was 2004, and while it may sound impossible, Kagan was told that, aside from a pharmaceutical regimen to prevent a future stroke, there was no real treatment for him. "I was told to let time heal," he says. "I could talk, and I could walk. If you didn't know me, you wouldn't know I had a stroke." Yet his memory was greatly impaired, and he had trouble thinking clearly. When he met someone, he would forget their name before their handshake had ended.
He tried his best to find a sense of normalcy as his brain took its own time to heal. "During the first five years, I felt waves of recovery," he remembers. "Every three or four months, I would feel a wave taking over my brain. Suddenly, I could do more things." By year five, he was able to write a book, "Life After Stroke: On the Road to Recovery." Now five years later, he is working full time and busier than ever. He is even working on a second book about stroke recovery.
"Stroke changes your life," Kagan concludes. "In the beginning, it can be like hell. You don't have control over different parts of your life. But you have to keep working day in and day out for years. You'll take two steps forward and one step back, but don't get discouraged. Life will get better. Recovery will happen. Just keep a positive attitude."
Kim Phuong Nguyen:
Getting Past Post-Stroke Depression
When Kim Phuong Nguyen woke up one morning, she got out of bed and fell to the ground. "I couldn't get back up. My body had become jelly," recalls the Emory Healthcare pharmacist and mother of five, who was 52 at the time. "At that moment, I didn't think I had had a stroke. But when I tried to raise my left hand, it just dropped. I couldn't control it."
Quickly, she realized what was happening. Her husband called 911, and the dispatcher told them to get to the emergency room immediately. The diagnosis was a stroke, but it was an unusual case. The stroke had been brought on by Moyamoya Disease, a rare, progressive cerebrovascular disorder caused by blocked arteries at the base of the brain. Without surgery, the disease can be fatal. The problem was that Nguyen had to complete the therapy from her stroke before she could have that important procedure.
She was able to have outpatient physical, occupational and speech therapy at the Emory Stroke Center, spending one hour on each modality several days a week. A friend drove her to the facility, where she had to work to recover her ability to do the technical side of her job as a pharmacist. "I would screw and unscrew a bottle for 30 minutes. I did a lot of puzzles. But my hands would hurt," she says. She got tired very quickly and found herself falling into a depression. "I had to put my faith in God," she notes. "I would go to church every day, and we would have a prayer group." That sense of community and connection helped her work through her post-stroke depression. One month after her stroke, she was able to have the surgery. Immediately, she felt a difference. "After the surgery, I functioned like normal. It was like nothing had changed," she says. And while she does still get tired at times, she has learned when to scale back and take breaks. Most importantly, though, she tries to see the experience as a positive one. "You have to look at it as lucky," she concludes. "The stroke happened, but I was still young enough to have the surgery. It was caught at such an early stage that I was able to gain everything back. I'm just so grateful, and I'm so happy."
Editorial Resources
American Stroke Association – www.strokeassociation.org
Tiffany LeCroy, MSN, RN, FNP-C, ACNS-BC, CRRN, Brain Injury Rehabilitation Center at The Shepherd Center – www.shepherd.org
Melissa Nalder, RN, BSN, Eastside Medical Center – www.eastsidemedical.com
National Institute of Neurological Disorders and Stroke – www.ninds.nih.gov
National Stroke Association – www.stroke.org
Chika Odioemene, MSN, RN, NP, DeKalb Medical Center – www.dekalbmedical.org
Keith A. Sanders, MD, Atlanta Neurology, Emory Saint Joseph's Hospital – www.atlantaneurology.net, www.emoryhealthcare.org
Kelly Wright, PT, DPT, DeKalb Medical Center – www.dekalbmedical.org
Lisa-Ann Wuermser, MD, Grady Memorial Hospital – www.gradyhealth.org
Elizabeth Wyble, OTR/L, Emory St. Joseph's Hospital – www.emoryhealthcare.org